Long Island City is a neighborhood in transformation. Once an industrial hub on the western edge of Queens along the East River, LIC, as the locals call it, has been in the midst of a construction boom ever since New York City rezoned it in 2001 to attract more commercial tenants.
The neighborhood of 170,000 residents has expanded so fast that last year the city announced a plan to shore up infrastructure with $180 million in investment. That comes on top of an already allotted $2.2 billion.
The message is clear: Long Island City is open for business. Its growth is bolstered, as has been the case historically, by access to transportation and its location as the geographic center of New York City. Its location on the water—which, in typical LIC fashion, is being developed—means buildings here have commanding views of Manhattan's skyline.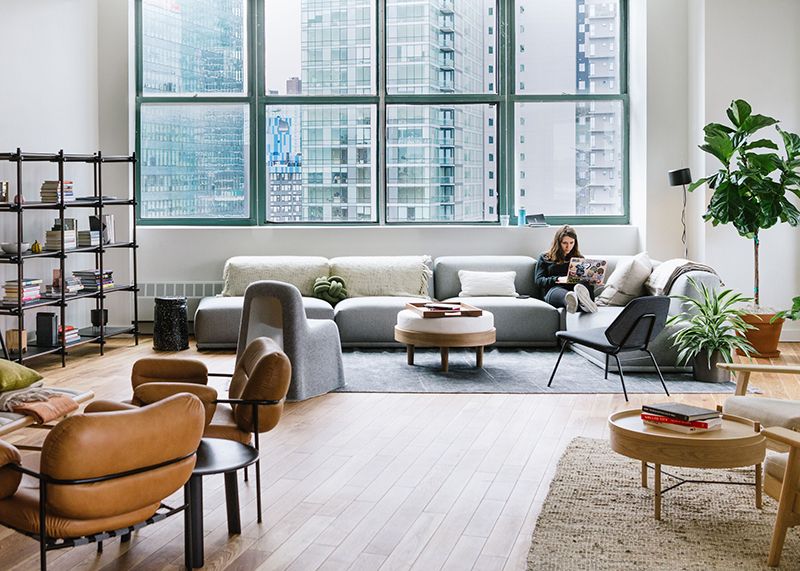 WeWork opened our first location in the area in neighboring Astoria at Studio Square in 2016. In March 2018, WeWork 27-01 Queens Plaza opened across two floors in the Brewster Building, which is also the site of JetBlue's headquarters. The building was once an assembly plant for Rolls Royce and Brewster automobiles.
A third shared workspace in Queens was added when WeWork Gotham Center opened in a commercial tower known as the Jacx in early January, with over 2,000 desks across 11 floors. The space features huge floor-to-ceiling windows that look out onto greenery, and a variety of workspaces for different styles and kinds of work.
"It's a privilege to be able to do what you love for a living, but it's an even greater privilege to be able to do it in a community that inspires you. For me, that community is Long Island City. The sheer level of growth and innovation taking place here is off the charts," says Cody Fisher, CEO of Blue Ox Marketing. The marketing firm set up shop temporarily in WeWork Queens Plaza last fall, but will move into Gotham Center.
"Gotham has the space and network I'm really looking for to grow my business," Fisher says. "I'm also excited to be one of the first to move in and help contribute to and shape the culture there."
He'll join a membership that Gotham Center community manager Karly McCabe says reflects the history of Queens. "LIC is a growing community of entrepreneurs and small business owners with a tenacious and focused work ethic," she says.
The epicenter of the city
The old is new again in Long Island City. Shuttered factories are now luxury condos; warehouses have been repurposed to become bright office spaces. Today's Fortune 500 companies have moved into assembly plants once occupied by 20th-century tycoons. Being in the neighborhood gives people a chance to experience what once had been as well as what's to come.
Long Island City—along with the rest of Queens—became a part of New York City in 1898. Transportation has always drawn businesses to the neighborhood. Back in the 19th century, commerce took off when the Long Island Railroad moved its station to Hunters Point in the neighborhood, after Brooklyn banned locomotives in 1861, according to the Gotham Center.
It's no different today. Long Island City boasts eight subway lines, two Long Island Railroad stops, three NYC Ferry stops, and 15 bus lines. Queens is also home to New York City's two airports, LaGuardia and John F. Kennedy. Cars have access to major expressways, the Queensboro Bridge, and the Queens Midtown Tunnel.
Despite the development boom, Long Island City and its environs maintain a homey vibe, one that's echoed in the WeWork locations in the area.
"I'm new to this city. There are 12 million people I can meet, but there is a very strong core in my area," says Tommaso Lana, founder of Embodied Learning, a member at WeWork Studio Square, and a native of Milan, Italy.
The office is close-knit, and Lana says he often meets new members while having lunch in the kitchen. "After hours of working, you need to talk to someone," he says. Outside the office, he's run into his community manager, Matthew Lipman, who plays guitar at a rehearsal studio near Lana's home.
"To view our members as not just our coworkers but also our neighbors adds a wonderful layer of connection," says Lipman. "I look forward to identifying and fostering our members' growth here in the WeWork Queens network."
Studio Square is home to a diverse group of founders, with many from different countries. Lana says he's even reconnected with a company from Italy that is now located in Studio Square as well.
A history of business
From neighborhood bodegas to mom-and-pop restaurants, Queens has long been a borough filled with small businesses. A vast majority of businesses in Queens are owned by sole proprietors, 10 percent above the national average. (Queens, a county of immigrants, is the most diverse place in the world.) The neighborhood now has 6,800 businesses and 127,000 employees, according to the Long Island City Partnership.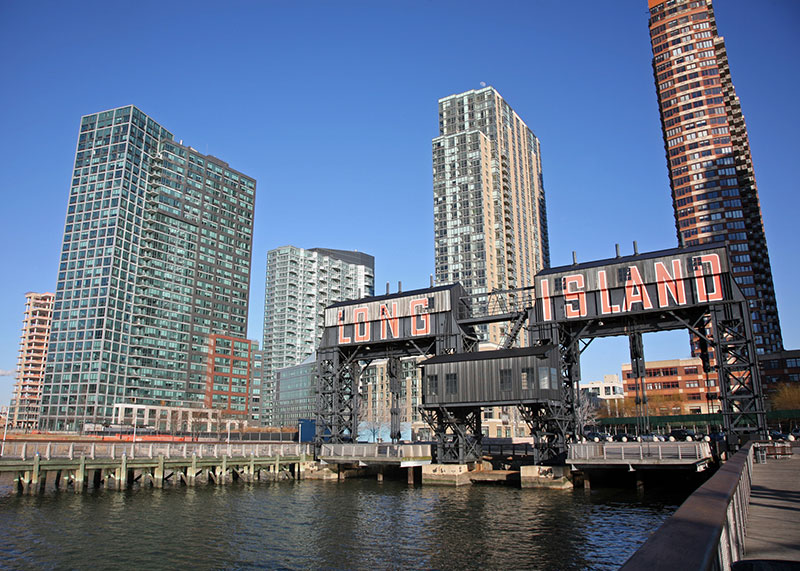 The vast swaths of what was once farmland in close proximity to Manhattan made the land along the East River attractive to manufacturers. The trains brought it all together, and in the 19th and early 20th centuries, factories—including those for Swingline Staplers, Chiclets Gum, and Fischer Electronics—flourished there.
The iconic, curlicue Pepsi-Cola sign, which faces the East River and sits in Gantry Plaza State Park, is a preserved symbol of LIC's manufacturing prowess. The roughly four-story-high sign, erected in 1936, once stood atop Pepsi's bottling plant along the East River. The plant closed in 1999, but the sign remains and was made an official city landmark in 2016.
Silvercup Studios, with its own iconic sign, is still a functioning film studio. Operating on the site of the former Silvercup Bakery, it's where The Sopranos and Sex and the City were shot.
Piano maker Steinway and Sons set up their factory nearby in 1870. Unlike many others, it's still operational. Each piano at the Steinway factory is made by hand—down to the hand-weighted piano key hammers.
The future of business
In an effort to spur business, the city rezoned the neighborhood in 2001 from industrial to mixed use. A residential boom followed. According to one study, more apartments were built in Long Island City from 2010 to 2016 than in any other city in the country—66 percent more units than those built in Los Angeles, the runner-up.
Since 2006, more than 35 hotels have opened, and there have been over 8.7 million square feet of new and renovated commercial space and over 548,000 square feet of retail space, according to the Long Island City Partnership.
Large companies have moved in, attracted by LIC's proximity to Manhattan and by relatively more affordable rent. Asking rent for office space in Long Island City is around $50 per square foot compared to $85 per square foot in Manhattan, according to brokerage JLL. The city also offers sweeteners such as the Relocation & Employment Assistance Program (REAP) program, which provides a tax break for each employee relocated to LIC.
Earlier last year, tech giant Amazon pulled plans to open a second headquarters in LIC after locals protested the $3 billion in tax breaks it would be receiving. That hasn't been the case for many other enterprises, which have scooped up space in some of the newest developments.
WeWork members are in good company. Macy's and New York-Presbyterian have both committed to separate 15-year leases in the Jacx. (WeWork's new Gotham Center location will occupy floors 5 to 15 of one building of the Jacx). Opening in 2020, the Jacx is a 1.2-million-square-foot commercial development that has been the biggest contributor to office space in LIC since the Citicorp building opened in 2010.
Airline company JetBlue moved its headquarters into the Brewster Building, once a car and airplane assembly plant, in 2010, and decorated it with a large JetBlue sign on the roof. WeWork 27-01 Queens Plaza N also resides in this building.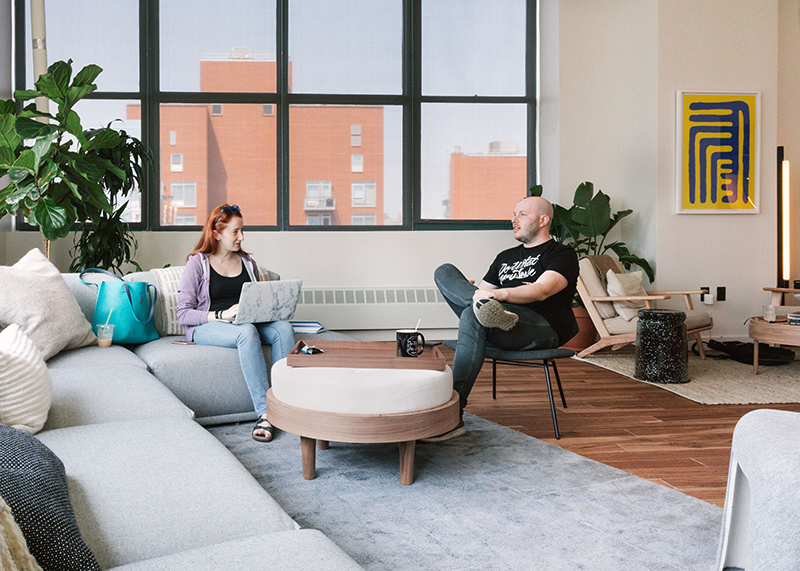 The Factory—built in 1926 and once Macy's furniture warehouse—houses businesses including Uber and the New York City Department of Health and Mental Hygiene. The Paragon and Blanchard buildings, an old oil heater warehouse and fireproof door factory, respectively, have also undergone $30 million in renovations to transform them into new office spaces.
The New York Times signed over 57,000 square feet at Court Square Plaza in 2019, and plans to relocate 350 employees from its headquarters in Times Square. It's one of the largest relocations to LIC from Manhattan. Other businesses with offices in LIC include Ralph Lauren, Brooks Brothers, J.Crew/Madewell, VaynerMedia, Estée Lauder, and Doughnut Plant.
Anjie Zheng is a writer for WeWork's Ideas by We, focusing on business, real estate, and design. Previously, she was a reporter for the Wall Street Journal. Her work has also appeared in Fast Company, Quartz, and LitHub.