As workplace fashion has evolved, focusing more on creativity and comfort, so has workplace layout, design, and décor. As people spend more time at work, it makes sense that they gravitate toward workspaces that effuse the warm, open feeling of home.
So it's fitting that WeWork's new direction in workspace design, one that leans toward a more residential feel, would be spearheaded by someone with roots in the fashion world: Adam Kimmel, WeWork's chief creative officer. The former fashion designer joined the WeWork team in September 2017.
WeWork's new West Coast headquarters is situated on the 36th, 37th, and 38th floors of the Salesforce Tower, a new 61-story building designed by the award-winning architectural firm of Pelli Clarke Pelli. A striking addition to the San Francisco skyline, it's the tallest building on the West Coast. It's here that Kimmel has expanded his creative palette to include architecture and interior design.
"Design and design research are my obsessions," says Kimmel. "They simply have to be in order for us to innovate."
The three floors Kimmel designed for WeWork in Salesforce Tower—the first project Kimmel has helmed from start to finish—are a snapshot of the new design aesthetic at WeWork. Workspaces feel much like stylish yet comfortable living rooms, and pantries call to mind cozy cafés.
In the new space, floor-to-ceiling windows fill the spaces with plenty of natural light and provide sweeping views of the city and the bay, while high ceilings create an airy atmosphere. Natural materials like warm wood contrast with the rough texture of exposed concrete walls around the elevators at the core. The palette is mostly neutral, with original artwork adding bursts of color.
Furnishings—including Thonet café chairs and lighting fixtures by the Italian company Artemide—avoid short-lived trends. The idea, according to Kimmel, is designs that feel ahead of their time.
The goal is to spark energy and positive, happy vibes, and WeWork members who are also based in the building say it is a success.
"It's a really cool building," says Zach Drucker, membership coordinator at Sf.citi, a tech trade organization that recently moved into the building. "You feel like you're at the epicenter of the engine that is running San Francisco."
While his company's offices have plenty of privacy, Drucker says the space doesn't feel closed off.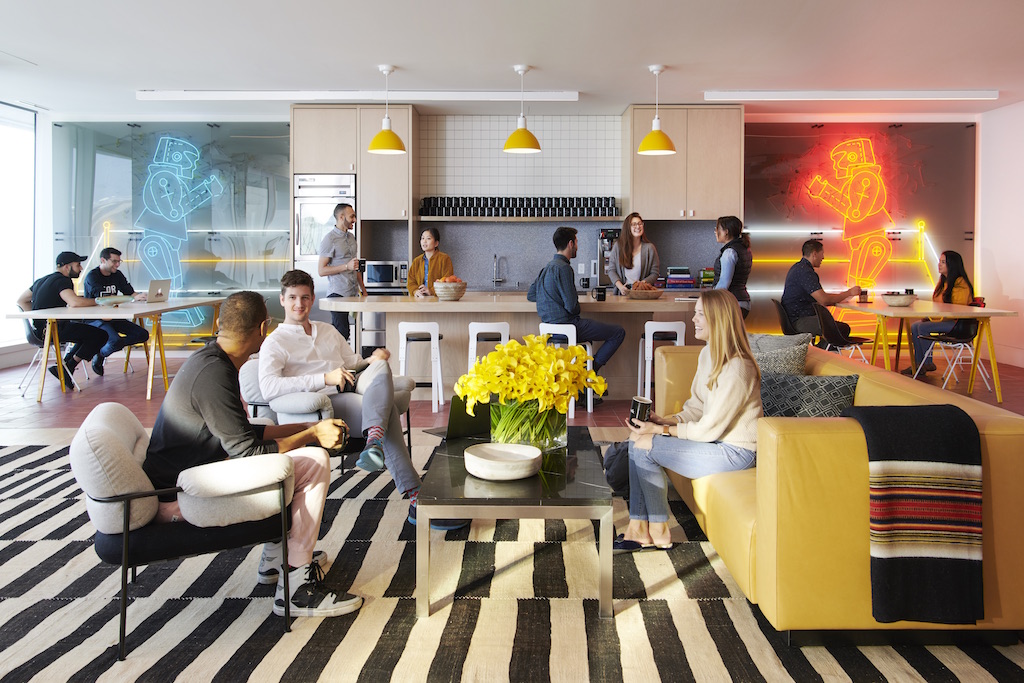 "It is very sleek and modern, with a lot of glass," he says. "It doesn't feel stuffy. It feels open."
Michael Zhao, a member of WeWork's global business operations team for technology, says he likes the variety of spaces that encourage different kinds of work, such as barstools in the pantry areas for casual conversations and phone booths for more concentrated work. Plus, it acts as a comfortable base of operations.
"The building's design language means it's a place I can always return to and feel at home," he says.
Photos by Jason Schmidt and Alexei Hay