Four years ago, Cindy Frei's son Caleb was diagnosed with Crohn's disease, a chronic inflammation of the digestive tract. The solution, a very restrictive diet, wasn't ideal for an active kid.
"This takes all food out of his diet that would increase inflammation: gluten, grains, sugar, and all preservatives," says Frei. "Basically everything a kid eats!"
After reading everything she could about the disease, the Washington, D.C. entrepreneur founded Caleb's Cooking Company, which sells "fast food that's not junk food." All of its organic offerings—think chicken nuggets and sausage pizza—are made to appeal to young people.
Frei says the meals her company prepares are all about making life easier for families of kids like Caleb.
"I'm just trying to be real with what I put out there," she says. "I'm a parent of a child with an autoimmune illness who is on a special diet. I understand what the struggles are. I share them."
Aoife Geary talked with Frei about launching her company, discovering her passion, and winning at WeWork's Creator Awards. (A longer version of this interview is available at Jobbio.)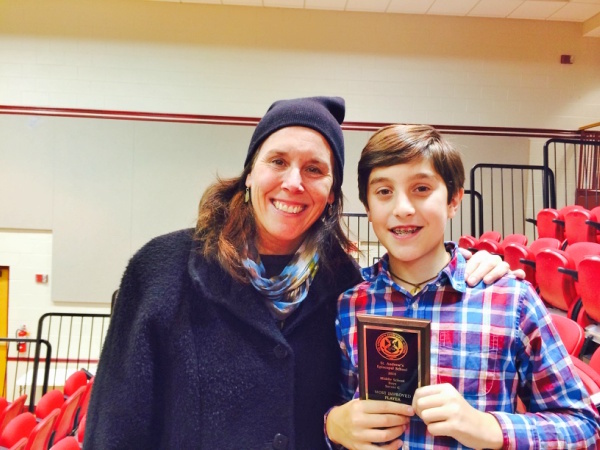 How did Caleb's Cooking Company come about?
Caleb was starting to feel depressed and like he didn't fit in with his buddies. For kids there's that social and psychological component to the illness, too. They're inundated with all this junk food all the time. I thought other families must be struggling, too.
Then I started doing some research and found that we were not alone. It's reported that 50 million Americans suffer from autoimmune illnesses. It become a personal passion of mine not just to help my son, but all the kids out there that were going through something similar. That really was the inspiration behind the company—to create healthy food for children.
Tell me more about the social aspect of the business.
We started Caleb's Club that Caleb himself manages. It's a place on our website where kids with chronic illnesses can hang out and share funny videos and stories. For example, we've got a 9-year-old boy from England in Caleb's Club who also has Crohn's disease. It's great for him to have that connection—he sees that he's just like Caleb and he doesn't feel alone. It's good for children to hear from other children and not just their parents.
How does the company work in terms of production?
We partner with a food incubator called Union Kitchen. They have relationships with Whole Foods, Costco, Trader Joe's—all the big retailers. They provide marketing, branding and packaging, and all the guidance and support that a company needs when starting out. We'll also be selling online from our website.
What was your background before Caleb's Cooking Company?
I've been in marketing for quite some time now. In the 1990s, I raised almost $10 million and started a software company called How2TV where I closed deals with General Electric, Toyota and Samsung. I then started another company called Vizolution, which is a marketing firm and worked with companies like the Jane Goodall Institute.
What's been your proudest moment in your career so far?
Caleb's Cooking Company is without a doubt my shining star. I'm extremely passionate about it as it's so near and dear to my heart. Obviously I need to make money, but this is about helping children for me. First and foremost it's about helping people and giving back.
What's next for Caleb's Cooking Company?
I just secured funding from two investors, so that is a big momentous occasion for us. We're closing our seed funding round, so that allows us to actually get into the kitchen and start to make and sell our food. Now I get to move out of fundraising mode and order all of my packaging, ingredients and get into production. That's the next move now.
What's been your biggest challenge?
Juggling it all is definitely a challenge! I'm working 100 hours a week right now. I'm a single mom with two children who both have autoimmune illnesses and I'm completely broke as I've been working full time on the company. I'm getting ready to sell my house so that I can finance the business. Everything is a gamble, but I'm just going for it.