In Latin America, few activities are more popular than soccer. Every four years, the frenzy goes into overdrive when entire countries come to a standstill to watch their national teams vie for the World Cup championship.
In 2018, when Mexico, Colombia, Peru, and Argentina all qualified for the tournament, WeWork impact teams in those countries saw an opportunity to bring real change to the communities in which they work every day—through soccer.
"As a region, we feel an unparalleled passion for football," said Mauricio Ucrós Maldonado, public affairs manager for WeWork Colombia. "It's not just a game—it's a tool for social change. It integrates communities, keeps children away from drugs, violence, or robberies and, above all, it teaches leadership, teamwork, inclusion, and equality."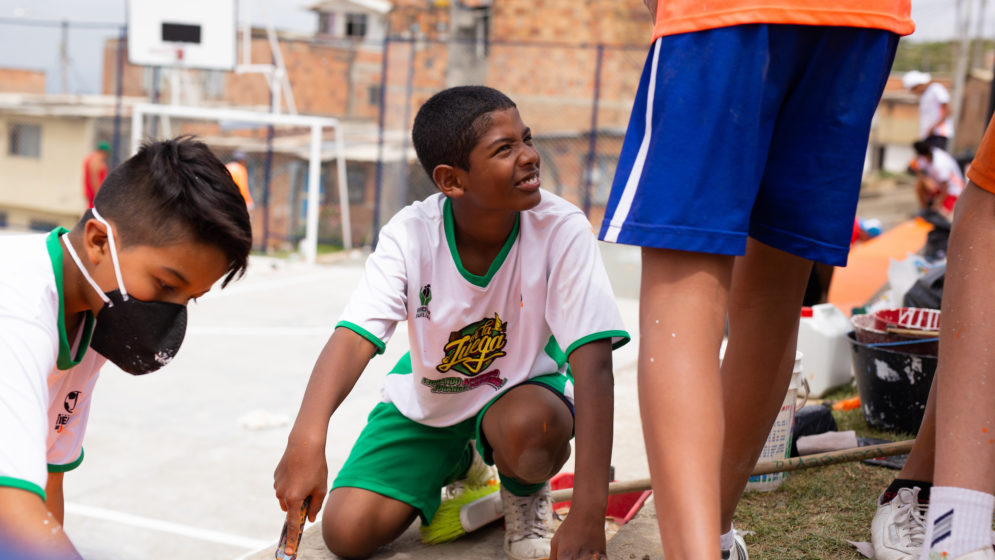 The social-impact teams in Mexico City, Bogotá, Lima, and Buenos Aires launched the "Goles Que Impactan" campaign to repair downtrodden soccer fields in local communities. The effort is inspired by Common Goal, a global football community that tackles large-scale social issues. Their plan: For every win a nation notched during the 2018 World Cup tournament, WeWork volunteers would refurbish a field in their respective cities. Mexico and Colombia both won twice, and Peru and Argentina were victorious once, for a total of six. But the real winners were the area children.
Each location raised money and donated supplies, partnering with NGOs that use football to connect with, educate, and empower area youth. This month, the social-impact team from WeWork Buenos Aires will visit the La Reja Moreno community, donating about $4,000 to Asociación Civil Andar and working with that NGO and Liga de Futbol Inclusiva to install new field lighting and a mesh barrier to prevent the loss of soccer balls.
In other cities, the social-impact teams have already been hard at work. In December, the WeWork Bogota team visited Altos de Cazuca on the southwestern edge of Colombia's capital city. Alongside staffers from Tiempo de Juego, they painted lines and arches onto the hardtop soccer "fields" that double as basketball courts, attached nets to goal posts, and installed light poles. The team also connected with teachers and community leaders to learn how to teach values through soccer. Throughout the experience, they were surrounded by overjoyed area children, says Maldonado.
"The most interesting thing is to see everything the children had to teach us: humility, curiosity, innocence, gratitude, and a lack of prejudice," says Maldonado. "It's very fulfilling."
The team also went to Timbiqui, an isolated community in the Colombian Pacific that in recent years has been affected by an earthquake and the FARC guerrilla movement. They partnered with Gol & Paz to focus on what Maldonado calls "heart work."
"We shared time with the children, learning about their problems as well as their dreams, and after we played a football mixed game," says Maldonado.
The connections the team made with the kids lasted beyond that day. Maria Fonnol, the Bogota social-impact team lead, and two boys formed a WhatsApp group that they named "Electro Cool," which they use to share news about their lives.
Between the two neighborhoods, Maldonado says their efforts affected more than 150 children and their families. At each location, children asked WeWork staffers about their professional roles and even revealed their own dream jobs. "We told them to follow their dreams and do what they love," he says.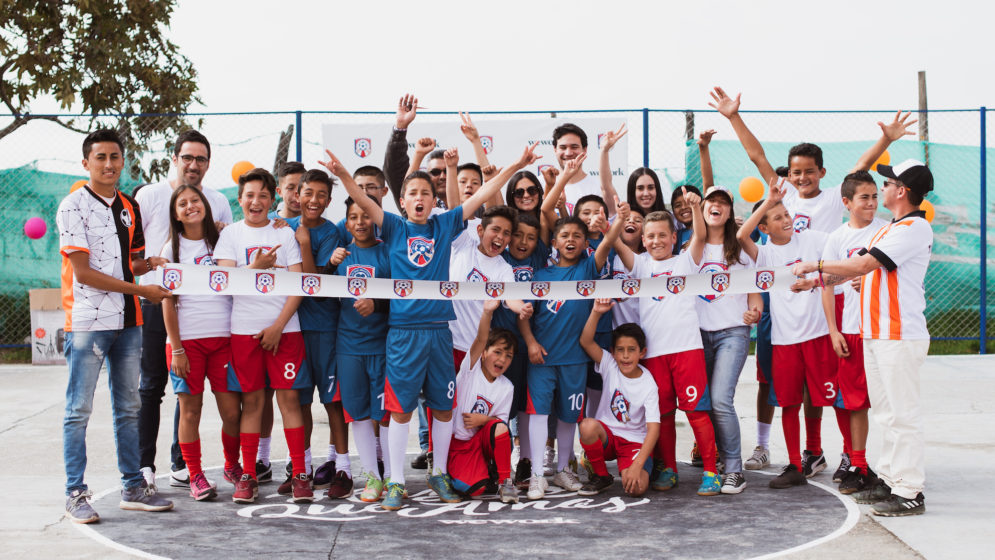 In Lima, 12 members of the social-impact team refurbished a soccer field in Puerto Nuevo, a low-income neighborhood in the port district of El Callao. The team also had support from six members of Los Pioneros, an NGO that helps motivate youth away from negative forces in their lives, says Diego Cánovas López de Castilla, public affairs manager for WeWork Peru.
During two days in December, the WeWork and Los Pioneros teams refurbished a soccer field that is typically occupied by gangs and drug addicts at night. The NGO reported that the field posed a risk to the health and safety of children because it was often full of garbage and street dogs. Teams cleaned the field of trash and installed a new perimeter fence. They painted the grandstands and walls, erected awnings, and provided the uniforms, balls, and cones for the 120 kids who are part of the Los Pioneros soccer academy.
At the opening ceremony, the WeWork team was beaten in a friendly match against a team made up of locals and Los Pioneros instructors. "They crushed us, but it was fun to see a lot of people watching the game and cheering for us," says Cánovas.
In Mexico City, the social-impact team at WeWork CDMX and 10 WeWork staffers partnered with Fundación Homeless and Street Soccer Mexico to rebuild a soccer field in the Santiaguito neighborhood of Xochimilco.
WeWork Mexico City donated about $4,000 to purchase supplies to refurbish the concrete field, says Daniel Rodríguez Fierro, social media associate for WeWork Mexico City. Volunteers painted the walls, goal posts, and perimeters; cleaned the common areas; rehabbed the bathrooms; and installed a mesh roof to keep balls inside.
The experience made a big impact on Fierro. "Goles Que Impactan was a huge challenge that unified us as a region," he says. "This is just the first step to demonstrate to children and young people living in vulnerable conditions that more is possible when they feel they belong to something bigger. This path enables kids to become the best version of themselves."