Crystal Wahpepah is a chef and caterer who specializes in delicious Native American cuisine. Our WeWork Transbay members in San Francisco can't get enough of her food, and looks like they're not the only ones—Wahpepah was featured on the May 10 episode of Chopped, "Tortellini Trials." Below, we discuss her signature dishes, the Bay Area Native American community, and more. 
Tell me a little bit about your business and how you got started.
My business is authentic Native American food. I got started by growing up here in the Bay Area, in a Native community that a lot of people don't know about—there are over 80,000 Native Americans here with different tribes! My family came here in the 1960s from Oklahoma. I was born and raised here. My family was very involved in Native American human rights.
As I was growing up, we always had Native food around. And I always wondered why there were no Native American restaurants, especially in Berkeley! I always knew that one day I would become a chef. One day, I went to school, one thing led to another, I was supported, and my business blossomed into Native American foods. I've catered for up to 400 people at one time! And I discovered I was the first Native American woman-owned business here in California.
I'm about to be inducted into the Encyclopedia of Native Americans, which comes out in May. And I just started to do food delivery. I was very fortunate to meet Luke Lightning, who is a WeWork member, and I've started to deliver to the WeWork Golden Gate building as well. From there, I also got into La Cucina in San Francisco—an incubator for lower income women to help grow businesses—so that's where I got my brand and logo and the ability to shape that into a business.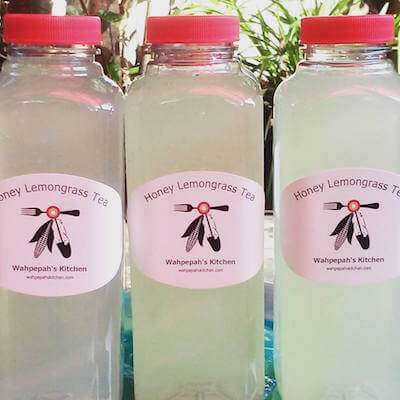 What would you say is your signature dish?
Definitely my honey-lemongrass tea. It's Native American tea that the Asians swapped with my tribe many, many years ago. Back then, we didn't have pharmacies to go to, so this was a healing remedy from many many, years ago. Lemongrass heals your digestive system—your kidneys. In Oklahoma, this is something that our tribe serves. And then for the food, definitely the Native American taco. That's number one—everybody loves them! What's different about me is my pumpkin fry bread—I take my recipes from way back and put them into what's going on now.
I always call my food an "urban rez." A lot of Native Americans were put on reservations, but we don't have the resources to go hunting or things like that. In Oakland, we have over 300 different cultural restaurants, so we can work with what we have in the Bay Area, work with those ingredients and influences.
As the first Native American woman-owned catering business in California, where would you like to take your business next?
I would love to take my business to having a restaurant someday. It's easier said than done. But I'd love to have a Native American restaurant, to show people how beautiful Native American foods are. And for me, it's a lot of research, a lot of beautiful, beautiful foods: squash, corn, wild rice, salmon. My kids are part Ohlone, Pomo—these are California tribes—and I would love to have a restaurant where at the same time you're eating, you can get educated and taste how beautiful the foods are. I feel it's our generation—it's our time to educate our children what the elders give us.
What's your favorite thing about the WeWork community?
For one, they are entrepreneurs like me. And I meet a lot of different people who, while we might be doing different businesses, we all have something in common: we are all doing our passion, doing something that we love. And hopefully it works out! I love their support. It makes me work harder at what I do when I get to serve them, and they hear my passion for what I do, and I hear about what kinds of businesses they do. WeWork is the right place for me.
Photos: Wahpepah's Kitchen