In this series, WeWork's director of digital community selects a WeWork member to get to know better, sharing her fun findings with the rest of the community.
There are many different types of monthly subscriptions—makeup, fashion, even treats for pets—but a whisky subscription, curated from the finest sources and then white-labeled to your unique tastes, definitely caught my attention. Add in a social component of meetups and magazines, and you've got a compelling combination. Read on to meet Amanda Victoria of The Scotch Malt Whisky Society. The communications director and WeWork Madison member talks about how the Society works and its 12 different flavor profiles, the art of appreciating fine whisky, and more.
Tell us a little bit about The Scotch Malt Whisky Society.
The Society was established in 1983 in Edinburgh, Scotland, and today has over 25,000 members worldwide across 18 countries. Essentially, SMWS started off as a very small group amongst friends that had similar passions for whisky, bought a cask together, sharing that expense (and enjoyment) amongst the group of friends.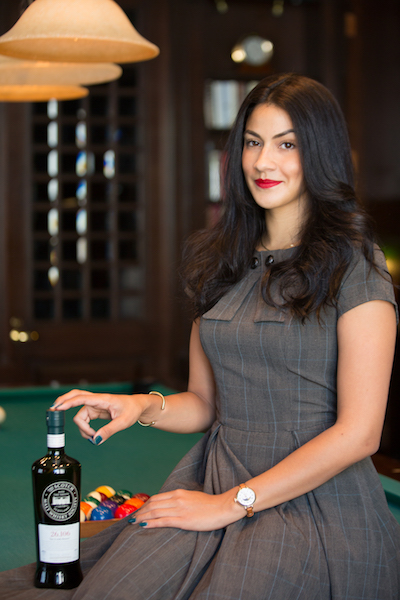 We're not a typical whisky company, in that we are not a brand or distillery. We're a Society! We're also considered "independent bottlers." While occasionally there is a stigma associated with that classification, I like to think we are truly curators of Scotch whisky, choosing the best of the best cask offerings by utilizing an advanced tasting panel concept and a network of great relationships with distilleries throughout Scotland that go back decades. You won't meet many who haven't worked for The Scotch Malt Whisky Society for 5,10 years! We have great, invaluable relationships within the whisky community.
Within the Society, we have something for beginners to whisky, to people who are aficionados and collectors seeking out rare casks. We run, on average, 100 to 250 bottles from one single cask; when a cask bottling is gone, it's gone forever. We don't have access to it anymore. For someone advanced in collecting Scotch whisky, the appeal is to collect these one-of-a-kind cask bottlings.
For beginners who are new to whisky, who might only know that they like to share a drink amongst friends, the Society is very invitational. We've categorized all our offerings under 12 "flavor profiles." So instead of thinking of a brand you are loyal to, you can think of a taste you are loyal to. For example, I tend to like our classification of "old and dignified" quite a lot! For a beginner to whisky, you can let your tongue dictate your journey, going from fruity, to juicy, to mellow, to peaty, or smoky—there's a whisky for everyone. Your palate will evolve and change over time, as will your preferences, and different occasions and times of day will call for different whiskies, as do food pairings. There's a sense of discovery to finding what you really like, and that's part of the adventure of becoming a Society member!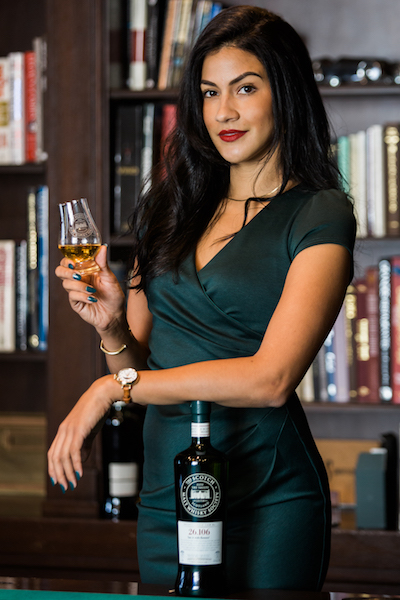 You have meetups, a blog, and partner bars. There's a lot going on with the SMWS! How can people get involved?
By visiting SMWSA.com, you can become a member very easily by following links to "Join the Society." By joining, you get a beautiful welcome package, inducting you into the Society. In the U.S., our club is small and very exclusive; this welcome package includes three "welcome whiskies" which speak to our range and variety. We like to mix it up within the three offerings with something for everyone. From there, you can start the conversation with your palate and personal preferences. From your first sip of whisky, you'll gain invitations to tastings happening in your area as well as "partner bars"— essentially like-minded bars we partner with that offer exclusive SMWS whiskies.
What are some of your favorite insider pieces of knowledge about whisky that people might not be aware of?
Let's go back to the 12 flavors profiles we offer within the Society…There's a whisky to start your evening, a whisky to end your evening, different whiskies for different occasions or food pairings, whiskies that work really well with chocolate, but also whiskies that work really well with oysters and briny seafood! To have a whisky with salinity in it, a slight "sea breeze" as I often refer to it when I detect it in the glass, I love that savory aspect personally very much. And although companies recommend whiskies to be enjoyed one way or another, at the SMWS, we find the best way to enjoy your whisky is how you want to enjoy it.