Do what you love. Create your life's work. Hustle harder.
If you've spent time in a WeWork, you'd know that we're fond of quotes, mottos, catchphrases—small verbal reminders of what this company is about.
In a conference room at our HQ is a mural that reads, "Difficult takes a day, impossible takes a week."
This isn't posturing. In 6 years, WeWork has grown to over 60,000 members, 110 locations (built or in development), and 30 cities, globally. August of 2016 will be our largest month of openings yet with 13 projects, seven new locations, and 9,500 new desks.
We build fast.
Last year, we formalized Product Research as a department, with the intent of adding another dimension to this speed, to add a deeper understanding of the intersections of people, spaces, and technology to our already innovative approach to product, design, delivery, and operations.
What does 'research' mean at WeWork?
Conventionally speaking, research is thoughtful, methodical, and rigorous. Research is an investment in the future. That takes time, and at "WeWork speed," research can appear a bit slow.
"Take the path of most resistance," is another WeWork bon mot.
So what about something as big as anticipating and transforming the future of work and life? This definitely qualifies.
Right now, we are at the forefront of a broad societal shift in the way that people want to work and live and where they want to do it. We think we have a pretty good understanding of what this looks like.
But what will it look like in three to five years? 10 years? Beyond?
This is why we need research. But there is a lot to be done today. In the next month, we will add thousands more desks—and more in the month after that.
So we take an approach to research that balances these forces.
We want to build products and knowledge that have near-term impact, that solve problems, and that capitalize on the opportunities of the present. But we see these things, always, as incremental steps to tackling the big questions.
We're starting with some pretty ambitious goals about the impact we can have on the building industry, on buildings, on people, and on neighborhoods and cities. But these beliefs are grounded. They are core to our business, core to our mission, and core to our capabilities.
We've used these as an organizing framework:
Buildings research. We believe that we can revolutionize the way people design and build buildings and spaces. And by extension we can have an overall positive impact on both our built and natural environments.
Systems research. We believe that we can make people's work-life better and more fulfilling through technology.
We believe that people's relationship to physical spaces is at the center of the WeWork experience. Thoughtful integration of technology can enhance this relationship.
Spaces Research. We believe that our spaces will improve our members' success, happiness, and well-being, and we want to prove it.
We believe that being a member of the WeWork community will increase your chances of success. One way that it does this is through the design of physical space, and the cultivation of and connection with a positive, diverse community.
Cities research. We believe that WeWork will have a positive and lasting economic and cultural impact on the neighborhoods and cities we call home.
We believe that what's happening in WeWork is a smaller version of what happens at the neighborhood and city scale, and that what's good for us—is also good for cities.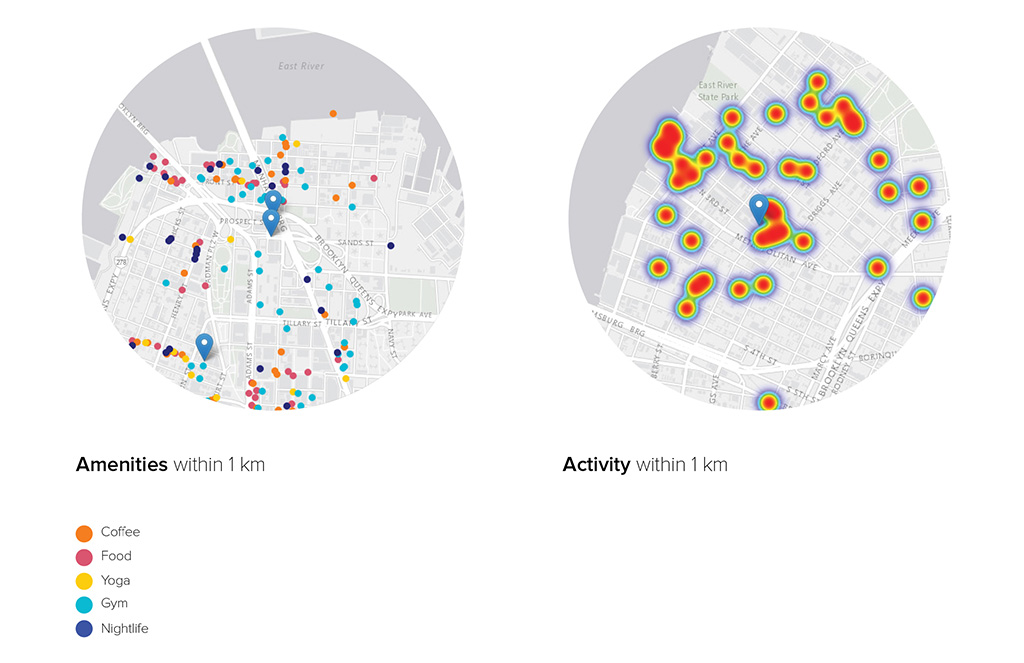 A small but diverse team
We are methodical, but we're fast. We take on projects that touch most aspects of our business.
Our team members are engineers, architects, writers, designers, software developers, MBAs, psychologists, and scientists. And a film guy, because everybody needs a film guy.
We are borrowing some of our technology, process, and user-centered product thinking from retail, hospitality, and entertainment. We are also taking what we know about data driven-decision making and evidence-based design from the architecture and engineering space.
There are some differences though. In most cases, retail and hospitality is about selling a transient experience or consumable product. And most architects and planners don't get the opportunity to work on projects with the scale and reach of WeWork.
In our case, our products — space, community, services — sit at the center of people's lives and livelihoods. According to the American Bureau of Labor Statics, Americans spend 8.9 hours a day at work on an average work day. That's roughly 40 percent of total waking hours.
These aren't value judgements, they are observations. These differences also require that we add our own internal invention and development to meet the dual challenges of speed and scale.
But this isn't just about hard challenges and problems, it's about opportunity. The opportunity to affect this many people, at the core of their livelihoods, at a global scale is exceedingly rare (and extraordinarily exciting).
Through research, both fast and slow, for now and for the future, we aim to turn this opportunity into better buildings and spaces, stronger communities, healthier cities, and happier, more productive members.