Thousands of companies with millions of employees have been forced into a working from home experiment this year. During the COVID-19 pandemic, companies have had to adapt to new work norms extremely quickly. The success of their businesses in the short term depended heavily on how nimble teams could be in adjusting to this change. Now, as cities across the world begin to reopen, employees are slowly returning to the office.
We wanted to know what leading companies have learned during this widespread work from home time and their thoughts on the new workplace. In our conversations with heads of real estate and executive decision makers from industry-leading companies, we discussed topics such as how to return to work and the purpose of the office in the new normal.
Beyond the short-term requirements of creating safe spaces for employees to return to, the mid- to long-term focuses needed to support productivity and a robust culture will center around choice, trust, well-being, and health. 
During a time of great disruption, strong companies and strong workplace culture are built upon leadership, management, and most important, ensuring that people feel connected to their colleagues and to the mission of the company. Here are some of the questions we discussed with a host of enterprise leaders, and the insights we collected.
Q: Is a totally remote workforce sustainable?
For most companies, it's not likely.
The office is not dead. Instead, for many companies, it will be repurposed to become a distributed and collaboration hub. That's because, while parts of our workforces can be productive working remotely in the short term, working remotely does make it harder to work together and to engage in certain client activities.
Industry leaders overwhelmingly feel that the in-person workplace is an important tool to connect people and to help them stay inspired and motivated. They believe it is key to the long-term success of a company. WeWork was built around this idea, and our physical spaces highlight the importance of these elements.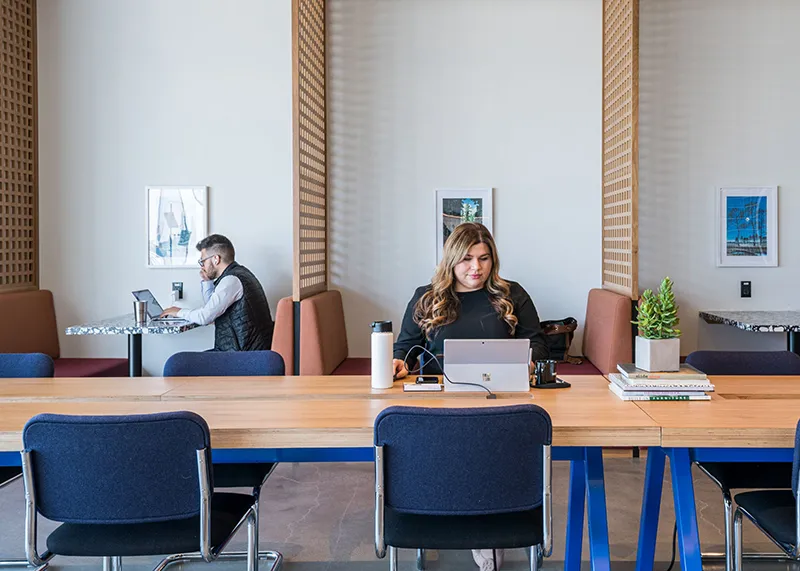 The heads of real estate we spoke with agreed that the future of work will likely be a hybrid model of in-person and remote working. Many companies will utilize the hub-and-spoke model—having a few central locations as well as several flex spaces—so employees can work wherever it's most convenient for them to avoid commuting on public transportation.
Organizations may have a reduced daily headcount, which translates to fewer desks in a space. There may be more technology to bridge digital and physical teams, creating equal experiences for all.
New terms are already emerging that describe the fact that employees should be able to work from anywhere: They include work from office (#WFO), work from near home (#WFNH), work from home (#WFH), work from a third or fourth place flex (#WF 3rd/4th Place Flex).
Q: How can we help people work safely and responsibly?
Keeping employees healthy and safe is at the top of executives' minds.
Company leaders are working together closely to find solutions that balance the guidance issued by government and health organizations with their own internal team functions, workflows, and comfort. Many enterprises have built COVID-19 steering committees that meet daily to discuss their short- and long-term plans.
The topics of trust and choice within the workplace are no longer taboos. This is a cultural shift for many companies. Traditional models of managing people are changing rapidly. Employees will have to be trained accordingly, which is a new concept for some companies.
Leaders are focused on first and foremost establishing operational guidelines for their office spaces. These include establishing guidelines on density, air quality, safety, and cleanliness. Companies are being thoughtful about giving employees the choice to return. They're starting by asking about 25 percent of their workforce to return, and scaling up from there. No company has considered "mandates" to return to working in person.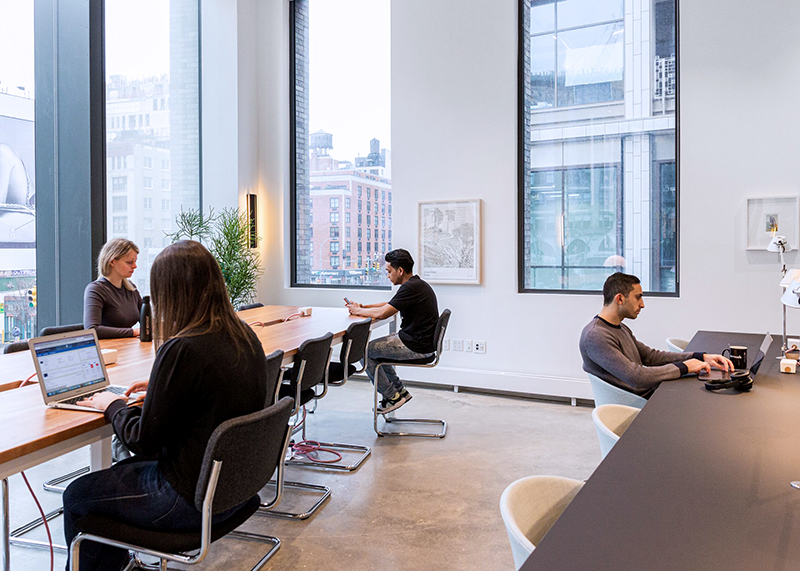 Heads of real estate may monitor staggered attendance and split-team strategies to make sure the spaces are being optimized. Enterprises are also developing new property technology that includes proactive and predictive health indexes for buildings, people traffic trackers, timed ticketing, and remote temperature reporting.
At WeWork, we're working to de-densify our spaces to allow for professional distancing. We are improving interior airflow, monitoring regular cleanings, and adding hands-free wipes and sanitizers throughout our common spaces.
Q: Should we rethink our office portfolio?
If the idea of a flexible portfolio is new to you, then yes.
Flexibility will be key in the future of work. That means companies will likely provide employees the option of working across cities, within different buildings, whenever it makes the most sense for employees.
All enterprises will accelerate efforts to inject a level of flexibility into their real estate. Some expect to reduce their leased footprint by over 25 percent in order to save costs, and to reinvest those savings into things like their core sites or technology.
Even before the pandemic, organizations were reluctant to sign long-term leases because it's hard to predict future needs. But now, with enterprises contemplating partial remote work, a flexible office portfolio will be key to ensuring long-term business success.
WeWork is designed to support this shift. Our spaces that foster community, innovation, and collaboration offer flexibility to enterprises across major cities around the world. These spaces are perfectly fit to be used as a "third space" to support people who can't work from home, dislike the café, and aren't quite ready to get back on subways and buses.
We're stronger together
Enterprise companies have been through crises before, but the COVID-19 pandemic is new and particular. It has forced us all to think differently about the very nature of human connections: how we gather, how we work in teams, how we communicate, and how we can be both flexible and strong.
The future of work will undoubtedly be shaped by this experience. This is partly why it's so important to share what we are learning about how to adapt workspaces, so they are both safe and conducive to productivity. As we talk to heads of real estate and enterprise leaders, we're confident we will all come through this stronger and smarter. We're proud of the work that WeWork and our partners are doing to support enterprises as they tackle these COVID-19 challenges.
Read more about the insights we gathered from enterprises here.
Ronen Journo is senior vice president of enterprise and workplace at WeWork, with experience enabling business transformation, enhancing the workplace experience, and leading global and regional organizations. He is executive sponsor to the world's largest corporations and public sector bodies at both the regional and global levels. Journo has led multiple multidisciplinary teams to develop solutions for core business fundamental objectives using the SpaceAAService platform. Previously, he led the urban We campus concept for WeWork in London and launched the Powered By We business in that region.
Liz Burow is vice president of workplace strategy and enterprise solutions at WeWork, where she focuses on bringing research insights into the physical product, as well as aligning space, culture, and brand. She leads enterprise workplace strategy, which leverages anthropology, design thinking, data science, business, and architecture practices. Burow is an expert facilitator and educator. She received her Masters of Architecture at MIT, and writes and speaks often on the topics of creativity, innovation, design education, and the future of work.