From the 34th floor of WeWork 199 Water St, near Manhattan's South Street Seaport, visitors to WeWork's just-opened workspace can take in the tableau of dynamism along the bank of the East River below. The flashing lights of artist Michael Szivos's public art installation illuminate the ferries, and cruise ships cut across the river. To the left stands Pier 17, where a modern building replaced a tourist trap mall—best remembered for its I Love New York T-shirts and pickles on a stick—with broadcast studios for ESPN, a 1.5-acre rooftop hosting performances in the summer and ice skating in the winter, and an acclaimed cocktail bar. And across the street, a bit farther from the riverbank, is the metal shell of what will eventually be a 50,000-square-foot food hall by celebrity chef Jean-Georges Vongerichten.
The snapshot of development epitomizes the changes in the Seaport area and Lower Manhattan more generally over the past two decades. Defined as the tip of Manhattan below Chambers Street, the area weathered a series of catastrophes—including 9/11, the financial crisis of 2008, and Superstorm Sandy in 2012—which damaged everything from the job market to infrastructure. But 18 years after 9/11, private sector employment has rebounded to levels not seen since before the attacks, and the area has emerged as an increasingly popular destination for a wide swath of New Yorkers to play and live alongside the perpetual throng of visitors.
Landmarks like the 9/11 Memorial, One World Trade, and the New York Stock Exchange helped the area draw 14.6 million tourists last year. But 2018 marked the first year that more New Yorkers than tourists came to the area, said Saul Scherl, president of the tri-state region for the Howard Hughes Corporation, which redeveloped the Seaport. "We're seeing a move away from just the traditional visitors who came down to see Wall Street and to see the Brooklyn Bridge to people from all over New York who are coming to visit Lower Manhattan," he said during a recent panel at WeWork on the future of Lower Manhattan.
The Howard Hughes Corporation played a huge role in that change. It rebuilt Pier 17, is building the new food hall, and also has its headquarters at 199 Water Street, where WeWork just opened. The company is better known for developing and managing enormous, master-planned, mixed-use communities like The Woodlands north of Houston—with 28,000 acres and a population greater than 100,000—and the 22,500-acre community of Summerlin near Las Vegas. But they're bringing a similar approach of community-building and "placemaking" to the Seaport District—activating it with public art, entertainment, dining, and office space for a new generation of New Yorkers to work and play.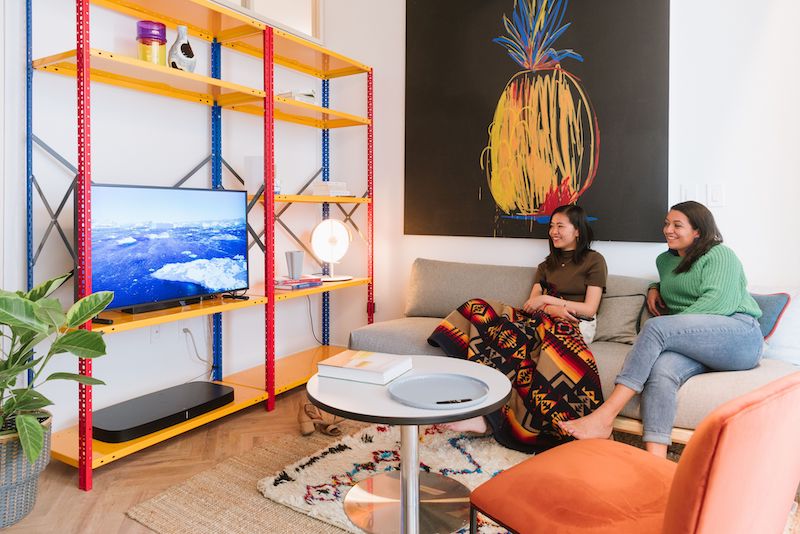 Twenty years ago, said Josh Nachowitz, vice president of research and economic development for the Downtown Alliance, people were asking "whether Lower Manhattan would continue to be viable as a vibrant business district in the future." Office vacancy rates stood above 20 percent, and only 15,000 people lived in the area. "Today, I don't think anybody's asking that question," he said. His fellow panelists—Pamela Swidler, global head of real estate transactions at The We Company, and Mike Mortellaro, chief operating officer for ZogSports—agreed that Condé Nast's decision to become an anchor tenant in One World Trade was something of a turning point. Today, the office vacancy rate stands at 11 percent, with the recent arrival of tech and media companies like Spotify and Refinery29.
"The office tenant base in Lower Manhattan has really diversified and transformed," said Nachowitz. "What used to be finance, insurance, and real estate has really moved into tech, advertising, media, information—creative industries. Flexible-space providers like WeWork have been a really big part of facilitating that transition."
Scherl identified another type of newcomer. "We're also seeing… a surge in residents down here," he said.
Today, more than 60,000 people live in the area. The average age of area residents is 33, and more than one-third of them walk to work. An additional 8,000 units of housing are on the way, and some of the newest units in the area are part of The We Company: 110 Wall Street is the address of WeLive, a pilot project for what co-living could look like, featuring apartments in about half of the building, with shared office space and amenities like a gym and restaurants in the rest. "It used to be a fully occupied office building," explained Swidler. "Superstorm Sandy destroyed all the electrical systems and everyone had to move out. It's been pretty cool to take this asset that was so damaged in 2012 and open this really cool mixed-use concept."
But those assets could just as easily be damaged again in the next storm. "I don't think it comes as a surprise to anyone: The water is rising along the East River," says Scherl. "It's harder than anywhere else to protect the Seaport from flooding on a daily basis," not just in the time of a hurricane. But for the panelists, there's no option to give up on an area with so much history and potential.
"What made us stay committed to [the Seaport District]… was the opportunity to make a difference in New York City permanently, in a neighborhood that for a long time had been neglected in many ways," added Scherl. "Not only neglected in the sense of financial commitment, but also neglected in the vision of what it could be."
WeWork offers companies of all sizes space solutions that help solve their biggest business challenges.