When the call came asking him to interview for an editor position at Esquire, Ross McCammon thought it was some kind of con. As he talked with the recruiter, he typed "magazine hiring scam" into Google.
"It didn't add up for me," says McCammon. "The whole time I was talking to the guy, I kept thinking, 'Why aren't you talking to people in New York? There's gotta be 100 people lined up for this job.'"
At the time, he was in Dallas editing the in-flight magazine for Spirit Airlines (which he jokes was the "Esquire of airplane magazines"), hardly the usual launching pad for a brilliant career in publishing. But McCammon aced the interview, and ended up moving to New York.
He tells this anecdote early on in his new book Works Well with Others, one of the best—and funniest—business books this year. It looks like a typical self-help book, packed with rules in boldface type. Except that they are often hilarious: "Four shakes of the hand will suffice," he writes about meeting people for the first time. "Anything more and it seems like you're trying to hold the other person until the police arrive."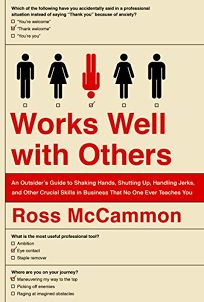 McCammon, who also writes a business etiquette column for Entrepreneur, says that knowing the rules about how you're supposed to dress, or walk into a conference room, or behave on your first day on the job are important, because only then do you have the confidence to break them.
"It's about learning to be your own person, and not a robot," McCammon says.
The book's narrative drive comes from McCammon's own story, beginning with his "starting a job I didn't know I could handle in a place I didn't know I wanted to live." He cringes when he doesn't wear a jacket for his first day at the Esquire office. He compliments an actor for a film he wasn't in. He tells jokes to colleagues that fall embarrassingly flat.
That last part comes as a surprise.
"At work am I funny?" he asks. "I try not to be. It's not that I have to stifle it. I think that a really well-timed joke in a meeting is a great thing. But you can mistime it, and it's just annoying and distracting."
But try as he might, he can't help the occasional dry comment.
"I mean, the workplace is such fertile ground," he says. "The Office has proven that. Office Space has proven that. There's so much humor in this situation."