On Monday evening at Seattle's WeWork Hawk Tower, business leaders, food entrepreneurs, and policy makers sat down to share a four-course meal prepared by award-winning Seattle-based chefs, Renee Erickson and Edouardo Jordan. The sustainable gourmet feast had everything a foodie could want, including spring pea soup, Totten Inlet mussel tartine, and lemon balm panna cotta. There was one thing missing—meat. And yet no one missed it.
The meat-free dining experience was the kickoff of a four-city dinner series, presented by WeWork in partnership with the James Beard Foundation, which aims to spark discussion of how culinary choices and preparation impact the environment. The theme began with the menu itself, which was printed on plantable paper and embedded with seeds, and celebrated WeWork's year-old corporate commitment to sustainability—a pledge that includes eliminating company-provided meat from both WeWork buildings and employee expense reports, as well as cutting out single-use plastics.
Over a meal starring seafood, plants, fruit, and herbs, WeWork co-founder and chief culture officer Miguel McKelvey suggested that consumers and business leaders alike can affect change through what we eat. "We each have an opportunity in our food choices to become aware of the impact we have," he said.
Katherine Miller, VP of impact at the James Beard Foundation, noted that her organization encourages chefs to advocate not simply for new ways of dining, but also for policy change—whether it's lobbying for farm bills or to protect fish habitats. According to a recent study published in the journal Science, just 18 percent of the world's food calories come from livestock, yet they take up more than 80 percent of farmland. Relying less on animals for food and more on vegetable, grain, and other plant crops is a far more efficient way to feed the planet and reduce strain on water and land resources, in addition to lowering greenhouse gasses.
Around the room, attendees discussed how they themselves dine and what they'd be willing to give up to shift their consumption toward a more sustainable lifestyle. Here are four ways every one of us can use our food choices to take a step in a more eco-friendly direction.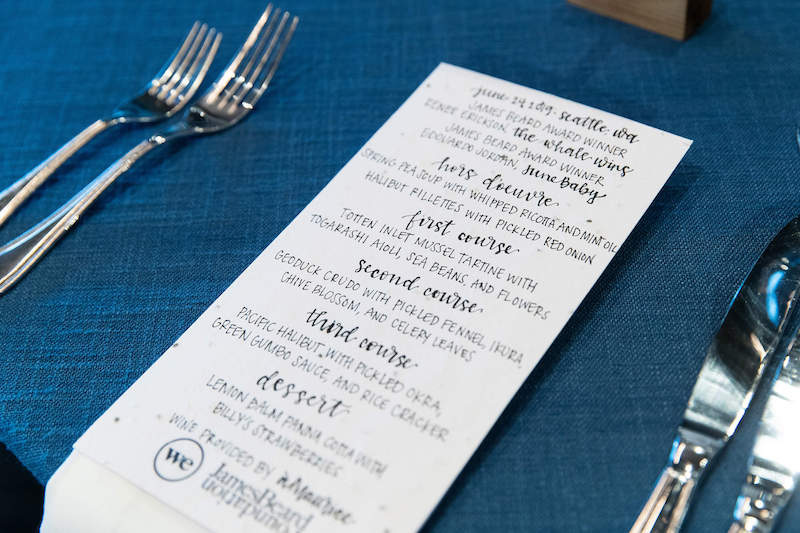 Play with your food
"From the Beard perspective, we typically err on the side of celebrating 'real food,'" adds Miller. This may mean highlighting more plant-based proteins versus eating lab-derived animal protein substitutes, or only eating meat that comes from the most sustainable farming practices (yes, that typically makes it more expensive than non-sustainable products—but if you're intentionally eating less meat than you used to, the cost may balance out).
More chefs are exploring what's possible with meat-free cooking, creating flavors and textures in plant-based foods so that it appeals to carnivore palates (the trademarked Impossible Burger is one example) and encourages experimentation with plant-based nutrition.
"We're excited to see chefs in the laboratory piece of this discussion," says Miller. But every home chef works in their own "laboratory"—whether trying new things to eat on Meatless Monday, a non-profit health initiative encouraging people to eat a vegetarian diet one day a week, or reducing meat portion sizes and offsetting the plate with other proteins.
Respect restaurants as agents for change
Sustainably-sourced food, fairly-paid restaurant labor, and zero-waste food preparation can make for more expensive meals. Support chefs and staff who go the extra mile to celebrate local farms' produce and proteins, and understand that, as at home, restaurants are environments for social change—what's on the plate, how much of it there is, and at what price.
Restaurants shop and serve in volume, and their practices have ripple effects. Erickson, winner of the 2016 James Beard Award for Best Chef: Northwest, and owner and chef of a group of restaurants in Seattle, reminisced about the decade-old decision her restaurants made to charge for once-complimentary bread and butter, which often became food waste. Diners may have complained at first, but they eventually grew accustomed to either skipping the bread or paying for it—and taking home the leftovers to enjoy later.
Demand sustainability as a pillar of good business
Lindsay Baker, WeWork's head of sustainability, explained that climate change is the product of a multi-pronged system—ranging from individual consumer choices to corporate and agricultural decisions. Sometimes, she said, entrepreneurs may not pursue the hard work of sustainable business practices, carbon-footprint reduction, or equity and diversity in the kitchen if that work doesn't serve their investors' perception of the bottom line. But it's always worth it.
Baker pointed to Anand Giridharadas's 2018 bestselling book, Winners Take All: The Elite Charade of Changing the World, which highlights how philanthropy is tilted toward the influence of the wealthiest donors. Entrepreneurs need to educate investors about why sustainable business is good business.
Take advantage of eco-friendly programs and policies
The weight of behavior change doesn't just fall on an individual's shoulders. Corporations and cities are also committing to changes that help the planet.
Chris Page, climate action director for the City of Seattle, explained Seattle's "Fresh Bucks" program for low-income households, which encourages those using food stamp assistance to shop for fresh fruit and vegetables at farmers' markets and grocery stores, with a $1-for-$1 match each time they purchase produce. Seattle also collects yard waste for conversion into compost, keeping it out of the collected trash stream and reducing the waste generated by individual households.
As we all make changes in our diets, our business practices, and our communities, it's important to remember that language choices matter—even when we are talking to ourselves. Cooking and eating in a "plant-forward" way rather than a "meat-restrictive" one goes a long way toward making these changes a seamless part of your life, and a positive way to protect our planet.