Our series What Do People Do All Day? takes a look at the work life, lunch habits, and downtime of people across different industries.
Name: Shaniqua McClendon
Title/company: Political director, Crooked Media
Years on the job: 1
City: Los Angeles
When Shaniqua McClendon joined Crooked Media—the media company founded by Obama White House staffers Jon Favreau, Jon Lovett, and Tommy Vietor—as political director, the 2018 midterm elections were about six months away. First, she launched Vote Save America, a one-stop shop where users can register to vote, find their polling place, and more; then she helped raise $2.7 million for house candidates. "The quickest way to explain my job is that I am the person tasked with making sure our audience isn't just consuming our content, but also getting engaged in the issues we talk about," McClendon explains. In recent months, that has meant working with organizations like Swing Left and Indivisible—"groups that are doing work that feeds into campaigns but are not exactly campaigns," she says—to see how Crooked can help create calls to action. "I've been talking to them to see how can we be supportive?"
The role is exactly what she was looking for when she graduated with a master's in public policy from Harvard last year. "I wanted to work at a company that could leverage its name recognition to increase civic engagement," she says. "Regardless of what the guys are saying on Pod Save America [Crooked's flagship podcast]—they have their opinions and that's why the show has been successful—my job is to make sure that we are equipping people with the tools and knowledge to support the candidates that they feel passionate about, and to hold folks accountable once they get into office." Below is a snapshot of how McClendon spends her day.
Most mornings… I listen to a couple of daily news podcasts. If I'm up before 6 a.m., I'll catch the end of Morning Joe. Then I'm at the gym by 6:30 and at work between 9 and 9:30.
I check my email… as soon as I wake up. Not the best habit, but it helps me keep a mental note of anything I need to respond to once I'm in the office.
I travel to work… by foot. I'm used to living in East Coast cities, so I walk to work and have no intention of ever getting a car.
I start the day by… drinking water. I try to make sure my cup is always full at the office.
Today I'm working on… a presentation about how we define our political spirit. It's a rubric for how we make decisions around what we'll get engaged in, what we'll support, how we approach issues—do we approach issues? It's not super-formal, but it's about finding the balance between us as a media company and us as a political entity that can have an impact in the political space.
The thing most likely to break my focus is… Slack, or Jon Lovett convening a focus group to test his jokes. He'll come out of his office and say, "OK… this is what I'm thinking." Then he'll tell us the joke to see if people laugh and go back to whatever he was doing.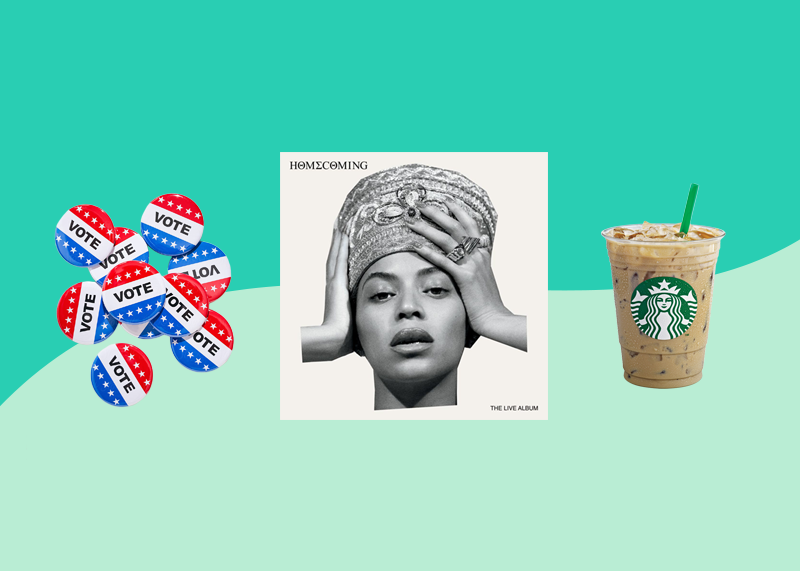 When I'm feeling unmotivated… I listen to any of Beyoncé's live albums. You can hear all the work that goes into them, and that reminds me that you have to get in the zone and really feel whatever it is you're working on and put energy into it. Because if you don't, you're not going to get an amazing product.
The last time I daydreamed in a meeting was… at a weekly Vote Save America meeting.
I'm most likely to procrastinate by… looking at Twitter. It was Instagram—I would pick up my phone for [work] and find myself looking at Instagram instead—so now I don't go on [the app] at the office. I made a rule for myself.
Speaking of Twitter… it's always open. I look at it a lot. It's sad. I look at Twitter more than I actually tweet. If someone looked at my Twitter they would think I'm not on there, but I'm always on there. I'm a Twitter ghost, or a stalker.
We have a Slack channel dedicated to… The Bachelor, but I don't watch the show, so I don't really pay attention to it. But that is a very active channel. There is a Bachelor bracket at Crooked, so it's pretty intense.
I take phone calls in… a small meeting room affectionately known as the Therapy Office.
I eat meals at my desk… just about every day. Bad habit I picked up in D.C.
The last toast we had at work was… for one of my coworkers who was leaving the company. She was the first person to ever leave Crooked, since we're not that old. There was a lovely cake. They did spell her name wrong, but someone managed to fix it.
My office wellness habit is… taking a walk. I do this pretty much every day with one of my coworkers, just to get away from my desk. It's created a bit of a spending habit at Starbucks, but it's so nice to get out.