Alright, let's talk logos.
It doesn't matter if you're planning a rebrand or launching into uncharted territory with a new company, creating a logo—the face of your company—is no easy task.
While we recommend working with the best branding and design talent you can muster, sometimes the funds aren't there. If that's the case for your company, this post is intended to help you feel a little less left in the dark. You don't have to be a designer to create a great brand, as was the case for Reddit—it just helps.

Don't start with a logo, start with goals
Just like you should never "start with the name" when creating a product, as Dilbert preaches, a logo is never your company's first step. Instead, begin with the sort of goals you want to achieve. Ask questions like these:
How would you like your customers to feel when they think of your business? Is your company calming and relaxing, like Breather, or is it more utility-driven and forward, like Dollar Shave Club?
Who are you targeting as a customer and how can you appeal to them? Are your customers dominantly young adult males, like in the Dollar Shave Club example above? Or, is your service gender-neutral and geared for over-worked professionals, like Breather?
Research your competition
If your competition is doing well, their visual identity likely plays a role in this. Learn from that.
You'll want to strike a balance so your company brand feels unique. Again, learn from your competition, but it's in your best interest to not copy them (unless that's your goal).
Simplicity is key
If your budget is small or non-existent, focus on simplicity. Bold, nicely spaced Helvetica is a cliche in the logo design industry (see image below), but a simple, sans-serif or serif typeface will be both legible and flexible.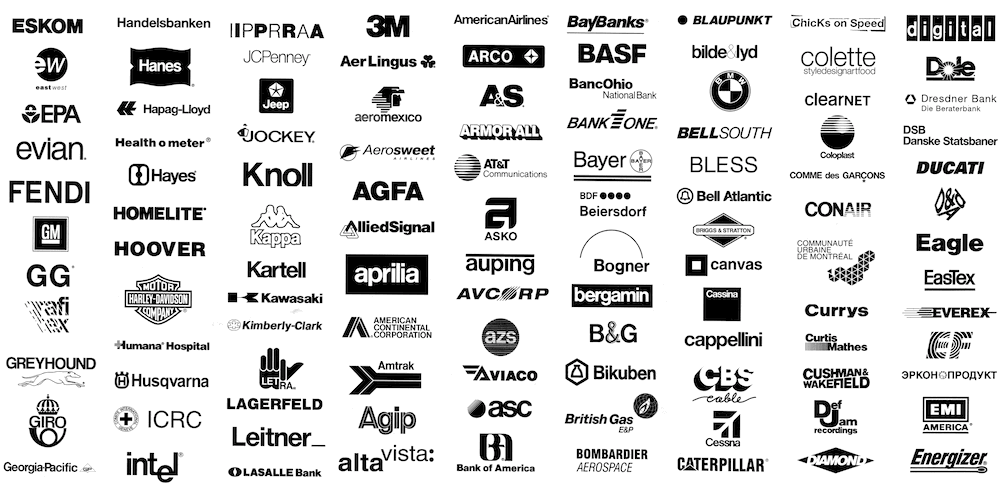 This is not an endorsement of generic logo design, but simply a warning that if you aren't careful, you may run into trouble.
Test your results
User testing is key for designing interfaces, and it's also valuable for evaluating static designs—like your new logo. Seek out potential customers, particularly ones you don't know (they aren't biased), and get feedback before launch. As for the questions you should ask, you might be better off not plainly asking: "Do you like it?" That's a more difficult question than it sounds.
Questions to get you started include: What do you think this company does? What is this company's values? What are some words that come to mind while you look at this logo? What does it remind you of?
If you need inspiration to help you get moving on that new logo, we recommend Designspiration, Brand New, and Logo Design Love for starters. Go on, make something awesome.