Search engine optimization, or SEO, is a process that helps a website rank highly in the organic section of search engine results pages. When SEO is done effectively, your website will rank highly on a search engine for its content, service, or product, and a searcher is likely to click through to your page.
There's a common misperception to dispel about the lifecycle of SEO, especially in relation to its search counterpart: paid search advertising. Many think SEO is something you can switch on; they then expect to rank on page 1 overnight. Where this might ring true for paid search advertising's auction-based practice, SEO is a longer-term process.
It requires a website that adheres to technical SEO best practices, keyword research and planning for the content housed on the website, continual monitoring to ensure your SEO strategy is returning on the goals you've worked toward, and time for search engine algorithms to continually crawl and interpret changes to your website. Doing SEO for a website requires hard work, resilience, and flexibility. But the juice is worth the squeeze.
In this article, we aim to introduce the basics of SEO in order to kick-start your journey to being able to do SEO right and effectively.
Why SEO is important
Google has a 92 percent share of the worldwide search engine market and processes over 5.5 billion searches per day. Google is the main place people are searching for answers to their questions, solutions to their problems, and the products they need. At some point in their journeys to purchase a product or service, people are very likely to conduct a Google search. If a website frequently pops up on search results to answer people's questions, it will have a better chance than other websites to convert those searchers into buyers.
So, be opportunistic and position your website to be visible to current and potential customers by optimizing your website for organic search.
Additionally, organic search provides a cost-effective way to always have a presence on Google. In contrast to paid search advertising, where a cost-per-click budget is required to rank, organic search listings do not require an active up-front cost or outbidding strategy to maintain its rank.
About SEO ranking
On the first page of search results, where you rank correlates with an estimated click-through rate—a percentage of all searchers that will click on your organic listing to arrive at your webpage. The below chart represents estimated click-through rates based on where you rank on Google's first page of organic results; if you rank in position 3, there's a 6.13 percent chance that the searcher will click on the link to your website. The chance that the link will get clicked on declines as your rank declines.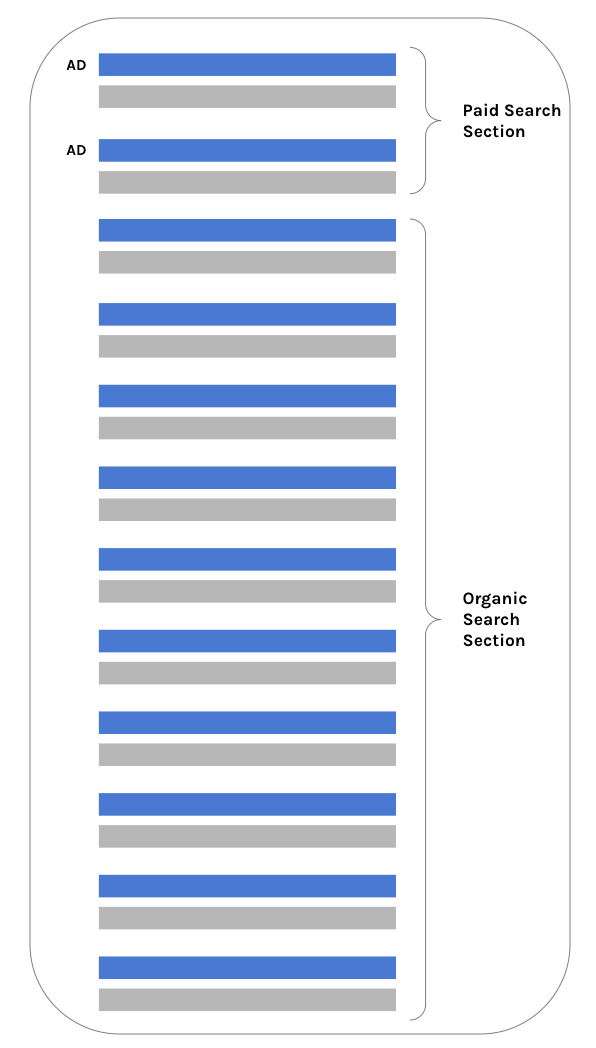 Generally, Google will rank a page from your website only once in its search results for a given search query. However, there are a growing number of organic search experiences that happen before a user even clicks through to a website—giving your website the possibility for more visibility on a search engine results page. One of the more notable ones is the featured snippet, commonly referred to as position 0, or the answer box.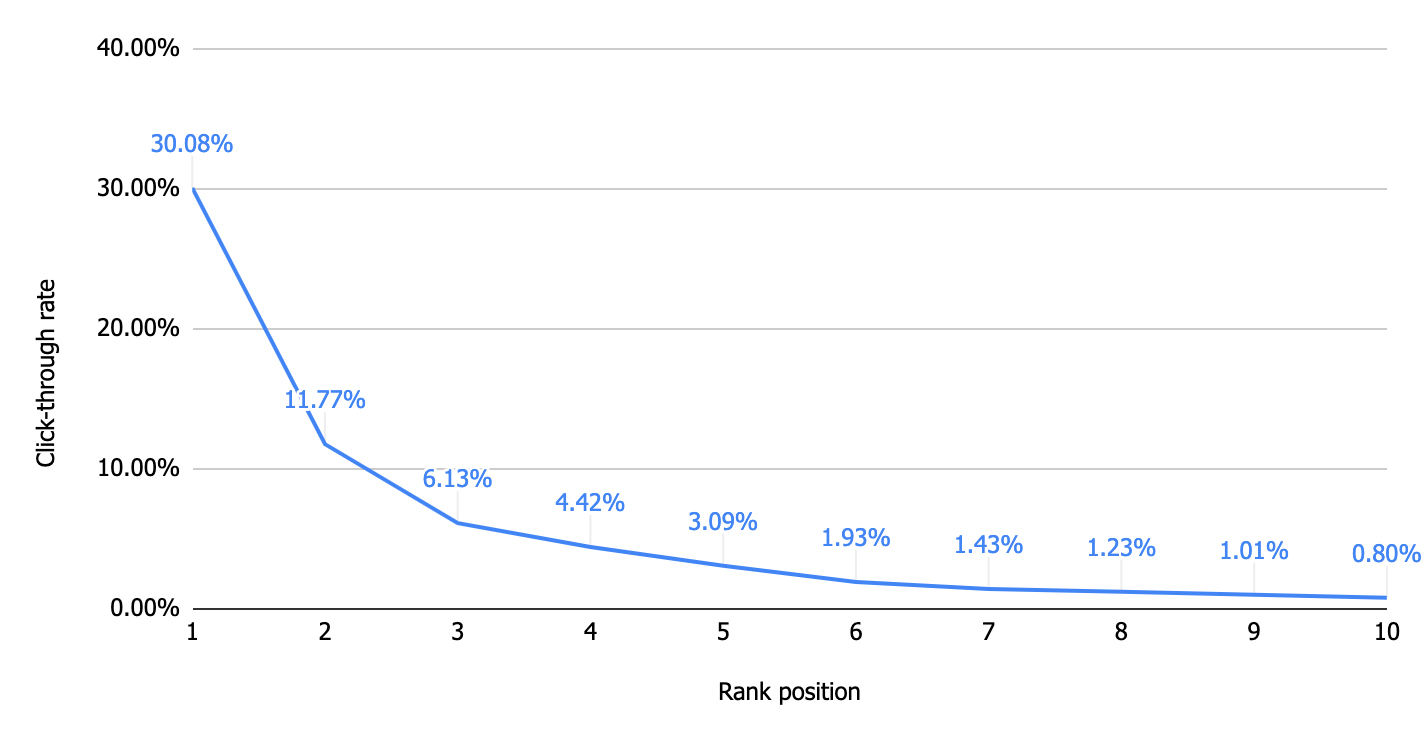 Studies have shown that when a featured snippet appears on Google's first page of search results, it could "steal" about 8.6 percent of the clicks that would have gone to the website ranking in position 1. Thus, not only is it important to optimize your website for traditional organic listings, it must also be done with featured snippets in mind as well. Ultimately, sound SEO practice is integral to being visible on a considerable amount of real estate on Google's first page of results.
How does SEO work?
To do SEO effectively, it's important to understand the relationship between search engines and websites. Search engines send various bots, also referred to as spiders or crawlers, to every website on the internet. These bots will crawl every single website and place them into an index. From there, search engine algorithms assess each website according to hundreds of ranking factors (more on this below).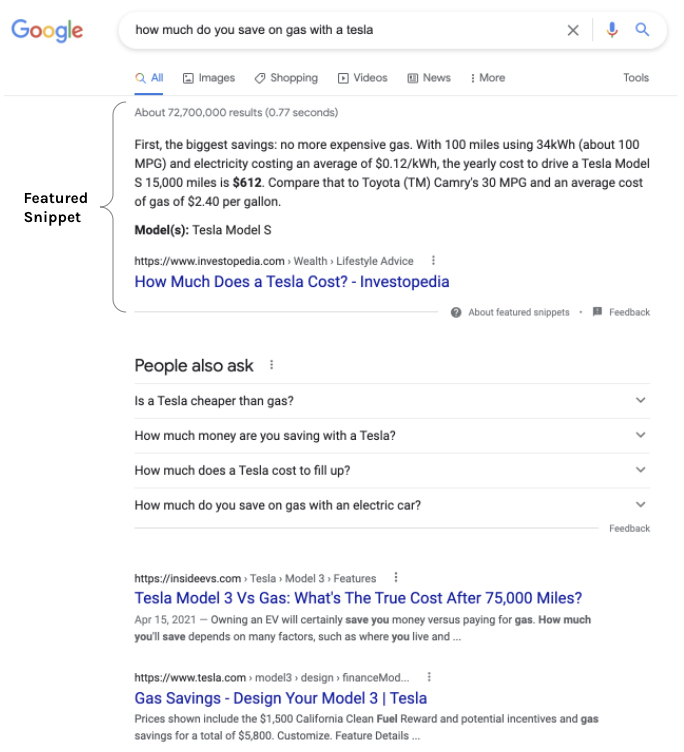 After assessing each website, the algorithms will determine the order in which websites should rank for a given keyword. The final output is what we see on search engine results pages.
Although not all of the ranking factors are known, those that are known fall into two buckets of SEO elements: on-page or off-page. (On-page SEO elements can be actioned directly on your website, whereas off-page SEO elements cannot.) Pulling these levers will help a website improve its visibility on organic search. Below is a short list of some of the main factors that make up good SEO and some tips to achieve them. We highly recommend digging deeper into more SEO topics through training videos, which can be found on Conductor Academy.
On-page SEO elements
High-quality content
High-quality content impacts SEO rankings because it provides valuable information that your customer wants. Conduct keyword research and competitive analysis to ensure that you write your content and optimize your page to match searcher intent. The keywords from your research will generally be used in the URL, title tag, meta description, header tags, body copy, and image alt tags. Do not plagiarize or duplicate versions of similar content within your own website.
Internal and external linking
Links on one webpage to another within your website signals to the search algorithms that all the content is related. Provide links not only between pages on your website (i.e., internal linking) but also from pages on your website to pages on other reputable websites (i.e., external linking). When internally and externally linking, ensure you are hyperlinking keywords that are contextually relevant and ideally related to the keyword research you did for that page or topic.
Indexability and crawlability
This refers to Google's ability to arrive at your page and add it to its index. Audit your website to ensure that pages are returning the correct status codes and are visible to search engine crawlers (if desired). Also, create an XML sitemap that lists out all pages on your website that you want ranked in Google's search results pages.
Off-page SEO elements
Backlink profile
A backlink is a link from another website to yours. You can get backlinks by creating content on topics that are highly linked to, using social media to amplify your content, and by participating in traditional backlink outreach programs. Do not purchase backlinks, because that would be in violation of Google's SEO guidelines. Rather, craft a content-centric strategy to improve your chances of receiving backlinks.
White hat vs. black hat strategies
Search engines are continually improving their algorithms to ensure high-quality results anytime a keyword is searched for. And to help website owners take advantage of their powerful search engines, they provide guidelines. Google's webmaster guidelines, for example, lists out general, content-specific, and quality guidelines for all website owners to adhere to. Those that do are employing white hat SEO strategy.
On the other hand, many other website owners try to gain an unfair advantage by employing black hat SEO strategy, which are tactics that go against a search engine's webmaster guidelines. It's a risky move. Black hat activity could lead to both algorithmic and manual penalties that are very costly and time-consuming to remediate.
For webmaster guidelines for various search engines, please see below:
Learn SEO with Conductor Academy
Whether this is your first time learning about SEO or you want to spread SEO knowledge to your team, congratulations. It's an important practice for accelerating digital presence and nurturing customers.
Conductor Academy is a free online course led by search marketing experts. It has all the SEO essentials and teaches you the basics of SEO and the necessary skill sets to help you and your business create a customer-first marketing strategy.
Sam Lee is an SEO director at Conductor, Inc., a technology company and partner for customer-first marketing. He leads the team at Conductor that works in partnership with WeWork. He has nine years of experience in SEO and specializes in developing global SEO strategies.
Rethinking your workspace?