Coni'seafood sits across the street from an abandoned gas station and a strip mall that seems to advertise everything under the sun, from a price-slashing store promising all its items for under a dollar to a skate shop pushing its "#1 Drinking Water." With its humble blue sign, Coni'seafood looks very small in comparison.
The place would be easy to miss blasting down the Imperial Highway, where it is a tiny box amidst many bigger boxes. Its parking lot could fit maybe four normal cars. There's an SUV in the middle when I get there, so it's stuck at three. Its layout, one with a few tables inside and a spacious backyard that could comfortably hold 50, is one that could only exist in a year-round temperate climate. There's a small tribute to the Virgin Mary with votive candle and flowers. Cheap folding chairs add to the casual atmosphere.
Coni'seafood feels like it belong on the beach, with a travel guide telling you to chill there after a long, hot day of surf and sun. But it's not by the beach. It's in Inglewood, the City of Champions. One of the 88 cities that make up Los Angeles County, it's completely landlocked, with a shade under 110,000 residents. Its moment in the sun came when Tupac told the world, "Inglewood, Inglewood always up to no good" on "California Love."
The salsa that comes out with the complimentary chips is explosive, full of habaneros and tang. It jumps out at me. There's spice, but no spicy aftertaste. It's a marvel. Gaby, the very kind waitress, has no idea what's in it, so she guides me to Chef Sergio Peñuelas' kitchen.
Famed Los Angeles critic Jonathan Gold has called him one of the best chefs in Los Angeles. When Peñuelas leaves a restaurant, as he has done a few times in the past, food blog comments announce they are in a "state of bereavement."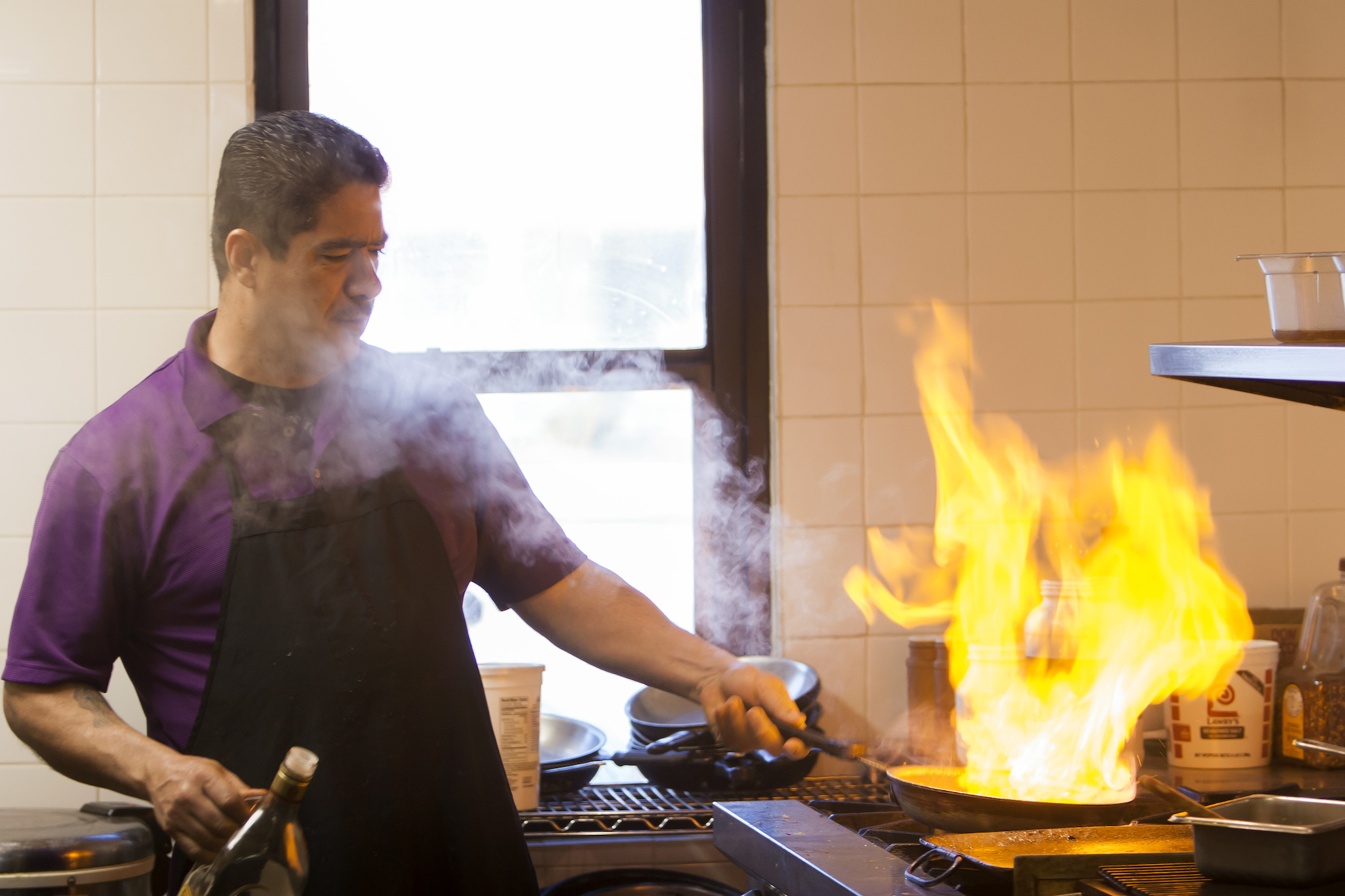 As I'm waiting for the owner, Conchita "Coni" Cossio, I hope to ask Peñuelas a few questions. But he looks unimpressed. His hair is slicked back, he has a deep mustache, and a large-enough-to-be-noticed portrait of Jesus Christ is forever on his right arm. He's working. He gives me the ingredients, and I am on my way.
Cossio introduces herself to me. Where Peñuelas is quiet, she is eager. She quickly apologizes: she has bigger fish to fry today than our interview, namely a try out for Top Chef. She says she's not sure if the restaurant should send Peñuelas or herself to the audition. She quickly points out that her father, Vicente Cossio, founded the restaurant (originally dubbed Marisco Chente), and she comes from a family of cooks. But it seems like she's very sure it should be her. She, after all, speaks fluent English, while Peñuelas doesn't. Before she leaves, she says I'm going to get a little taste of everything.
Unsure of what that means, I take the plates as they come. Tostaditos with marlin and shrimp and octopus. Rubbery, yet crunchy, and sogged down in sauce. Shrimp pose in styles similar to those of 1940s swimming film star and Inglewood native Esther Williams, circling the ocean of salsa with their antennae kicking in unison.
The lunch rush is just busy enough to keep Peñuelas from coming over. Friends come in, as do family members. There's talk of Shaq's days on the Lakers. No one is rushing through here, and it's more full than empty. It's Tuesday.
Peñuelas, freed from his labors, comes outside. He's wearing a bright purple shirt under his apron and has the body of a man who was very athletic in his youth. His hands are those of a wide receiver or a goalie.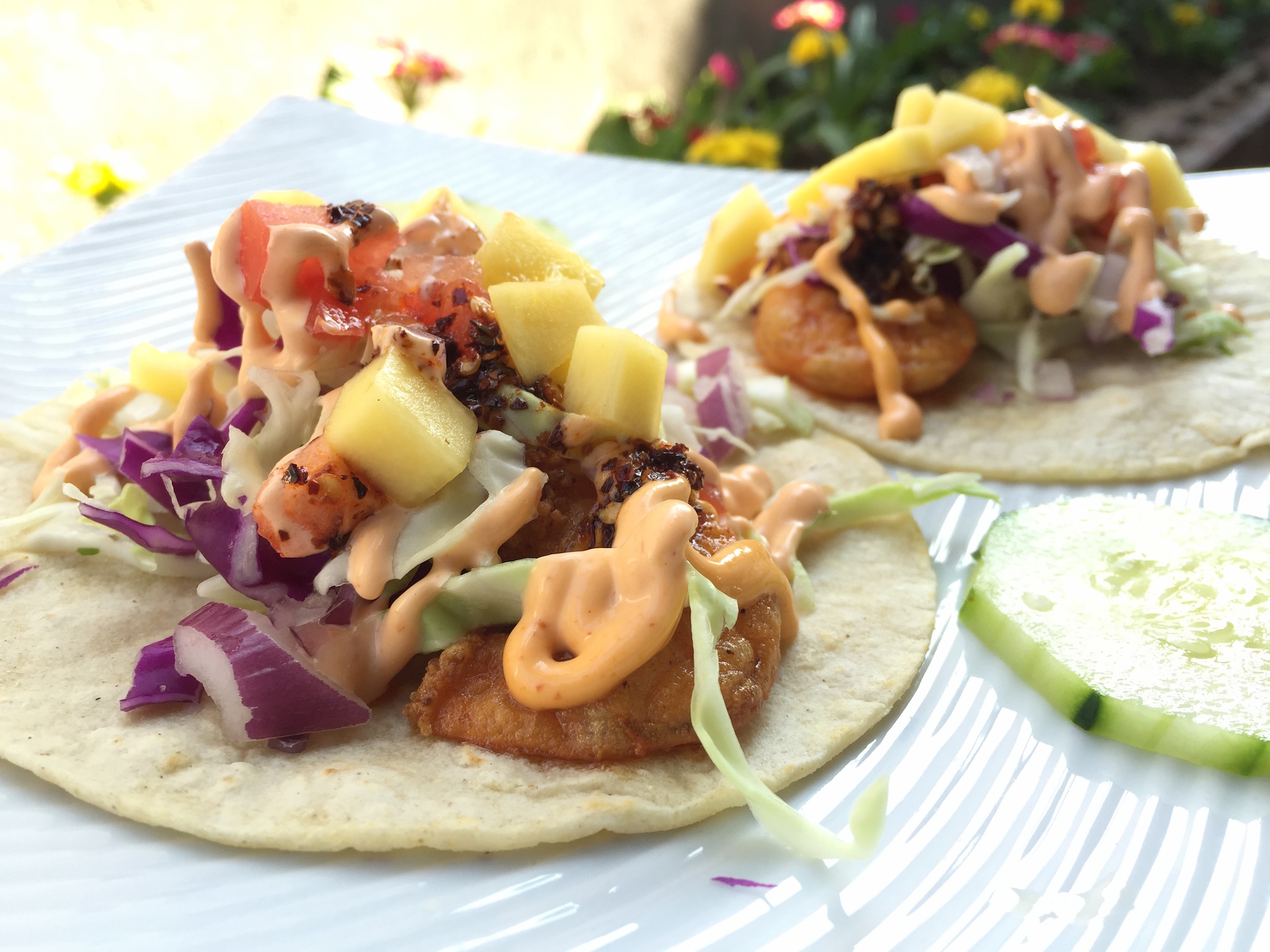 With my photographer Sal, able to double as a translator, Peñuelas sits down to answer some questions. He says that he grew up in the state of Sinaloa in Mexico, 20 minutes from the beach. As a child, he would go to the beach, knife in hand, and slice up oysters. Even in his youth, his friends commended his ability to cook. He moved from Sinaloa to California in 1989, the same year fellow Sinaloan Miguel Ángel Félix Gallardo, the Godfather of Mexican narco trafficking, began to run his massive Sinaloa Cartel from the comfort of prison through a cell phone. In 1990, Peñuelas had a dinner at the house of Vicente Cossio, whose daughter Maria Angie, he wanted to marry. Watching the way he cooked, he sensed his calling in life. He also figured that if he wanted to marry this man's daughter, he needed to learn how to cook. He married Maria Angie a week later, intensifying this need.
He went to work for Vicente, getting familiar with the family business. Five years earlier, in 1985, Cossio had taken the idea of a family restaurant to its logical conclusion: a restaurant in his backyard, on 106th Street in Inglewood. The city finally shut the place down around the same time Peñuelas had shown up, so the mission was clear. Peñuelas went to work at a variety of restaurants around the city, squeezing in practice wherever he could.
Peñuelas tried to get as many meals as he could and wouldn't just critique them in his head; he'd imagine the alternatives. What if this fish needed that garnish? He points to the tostaditos in front of me, which I am still finishing up. They weren't always like this.
Every week, Coni goes down to Mazatlán, the capital of the Sinaloan state, to get the marlin. While this frozen marlin can't truly compare with the joy of getting it straight from the beach, Peñuelas deals with it. With smoked marlin, you don't have to do much to get the flavor; it's already present. With no need to waste valuable real estate on spices, Peñuelas has room to build: the tiny chip is a personal workshop, and it stands on its own.
Peñuelas proves that formal schooling isn't needed to learn how to cook—a passion for it certainly is. He is a deeply ambitious man, proud of catching food critic Gold's eye and ready to handle all comers.
He tells me that not only has he created everything we've seen today, but more is on the way. We're having fun now. Everybody's laughing. He takes us into the kitchen and promises a big fire with tequila thrown on the shrimp. And he delivers. The fire leaps up from the stove to just below the ceiling. Peñuelas is in total control. He cuts up some greens, dabbles them on the plate, and we're suddenly staring at drunken shrimp. It looks so easy because Peñuelas has done this thousands of time before and no one else can quite match his ease and comfort.
Gaby, the waitress, comes out during the photo shoot, amazed that he's smiling. He never smiles, she says. It's a moment of celebration, of getting recognized for what he's done and what's to come. He's looking at tapas and jicama, Mexican yams grown in Sinaloa. Jicama, a fruit, looks like a big fat potato. He wants to slice the jicama very thin so it can bend, to use as tortillas. Sergio Peñuelas doesn't just want to cook seafood; he wants to be the best at it. And the City of Champions should demand nothing less.
Photo credit: Salvador Ochoa