Santa Monica has coffee shops dotted all over the place. And that means a wealth of choices for your morning coffee run, brunch, or afternoon pick-me-up. Next time you need a caffeine boost, consider these options.
Describing themselves as coffee geeks, the baristas at Demitasse take their coffee very seriously. They are also passionate about supporting local businesses, sourcing pastries, truffles, and ice cream from up-and-coming L.A artisans. With free Wi-Fi, it's a great spot to catch up on some emails or plow through work on a caffeine high.
This industrial chic cafe features artisanal roaster Ritual, a firm favorite in San Francisco. The coffee is the main feature, but there are also pastries. It is usually on the quiet side—ideal for a meeting.
A little further afield—but well worth the journey—Groundwork is the first organic certified roaster in California. Each location is lovingly designed to fit the style of its neighborhood. The outdoor seating at the Montana location is a nice touch. For the really early riser, they open at 5 AM.
If you are hankering for something sweet alongside your brew, this is the place.
Everything served here is made at the on-site bakery, the pastry case literally overflowing with delectable treats. They also offer a wide range of salads and sandwiches if you are trying to curb your sweet tooth.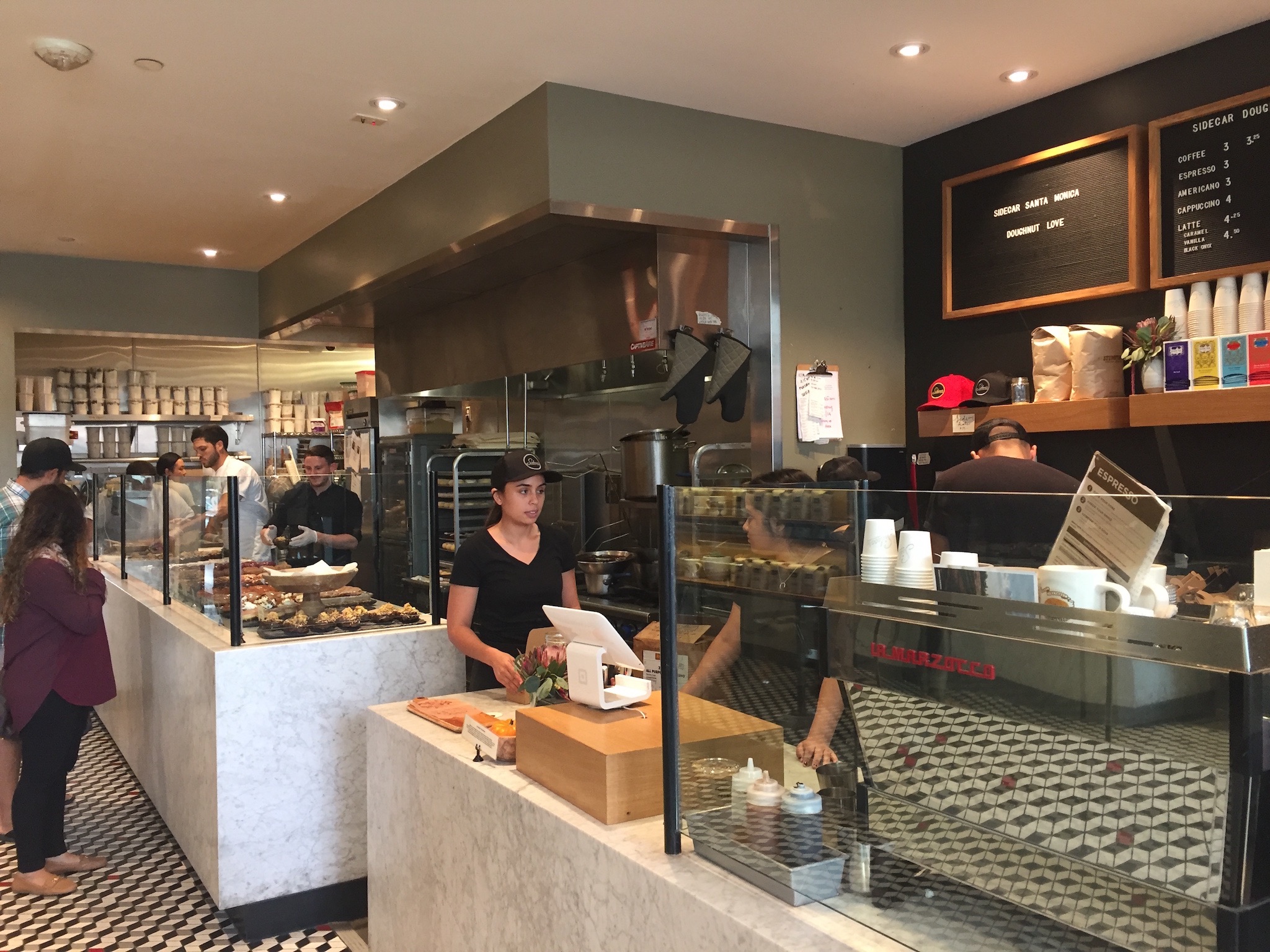 Introduce a potential client—or just a friend, for that matter—to this spot, and you will be sure to gain brownie points. (Or should we say donut points?) Made freshly on the hour, these donuts are delicious, and their coffee is just as expertly crafted.
For pour-over enthusiasts, it doesn't get much better than Philz. That is all they do. No lattes or milk-based coffees—just straight cups of joe. The "one cup at a time" brand has a wealth of different blends to try—over 30!
Another "one cup at a time" philosophy cafe, Funnel sources rare, single estate coffee makers. Prices start at an average of $4 up to an eye-watering $80 for an appointment-only blend. This is the real deal for serious coffee lovers. Be warned: They have free Wi-Fi, but a no cell phone policy.
Photos: Pip Brangam