An old friend who's become a very successful entrepreneur told me years ago that he decided not to have kids because they would be a "distraction" just around the time he wanted to be growing his business.
You bet they are, I replied, but they're a healthy and necessary distraction.
There's been a lot written lately about the struggles of working moms seeking the right work-life balance, or the very real pressures of being a single parent, and even the advantages of not having children.
Much less has been written about the professional benefits of having kids, especially for working dads. I've learned along the way that being a father, or even being a father figure for other people's kids, makes you a better person—not just at home, but at your work.
That stands in contrast to many young ambitious professionals, especially entrepreneurs, who decide to put off having kids for fear that they're aren't established enough in their careers. They think having kids will slow them down professionally, and doubt their own ability to provide for a family until they've built up enough of a nest egg.
I can relate to them, but then again I can't.
Three months after I started my first business, my girlfriend of six weeks told me she was pregnant. At the time I was a rather immature 33-year-old entrepreneur who had long suffered from an acute case of commitment avoidance. While I had now fallen in love, and we had discussed having kids right away, the news still took me by surprise.
Part of me was overjoyed. The other part of me felt a rush of cortisol invade every part of my body. But, when it came to parenthood, I took one of my girlfriend's favorite adages literally: "Feel the fear and do it anyway."
And we had fun doing it, making a lot of mistakes and getting many things backwards. First she got pregnant, then we went on our honeymoon, and then we got married.
Now it's 17 years and three kids later. Since then it's been a parade of homes, schools, activities, play dates, sleepovers, best friends, vacations, and, yes, many euphoric highs and heartbreaking lows.
Despite my best efforts, my wires often got crossed along the way. I remember the constant conference calls spilling into family time, so much so that my kids can do a pitch-perfect imitation of me talking to clients. Or my mood at the dinner table rising and falling based on arbitrary indicators of my professional success or failure. Or, worse yet, my wife rightfully exploded at me when I let a heated email exchange with a client seriously distract me at the moment when I should have been taking her to the hospital to give birth to our second child. Shameful.
When it comes to making a conscious decision to make parenthood a vital part of their identity, fathers often need to work harder than mothers. And yes, pardon the cliché, but it starts with getting in touch with your "inner child."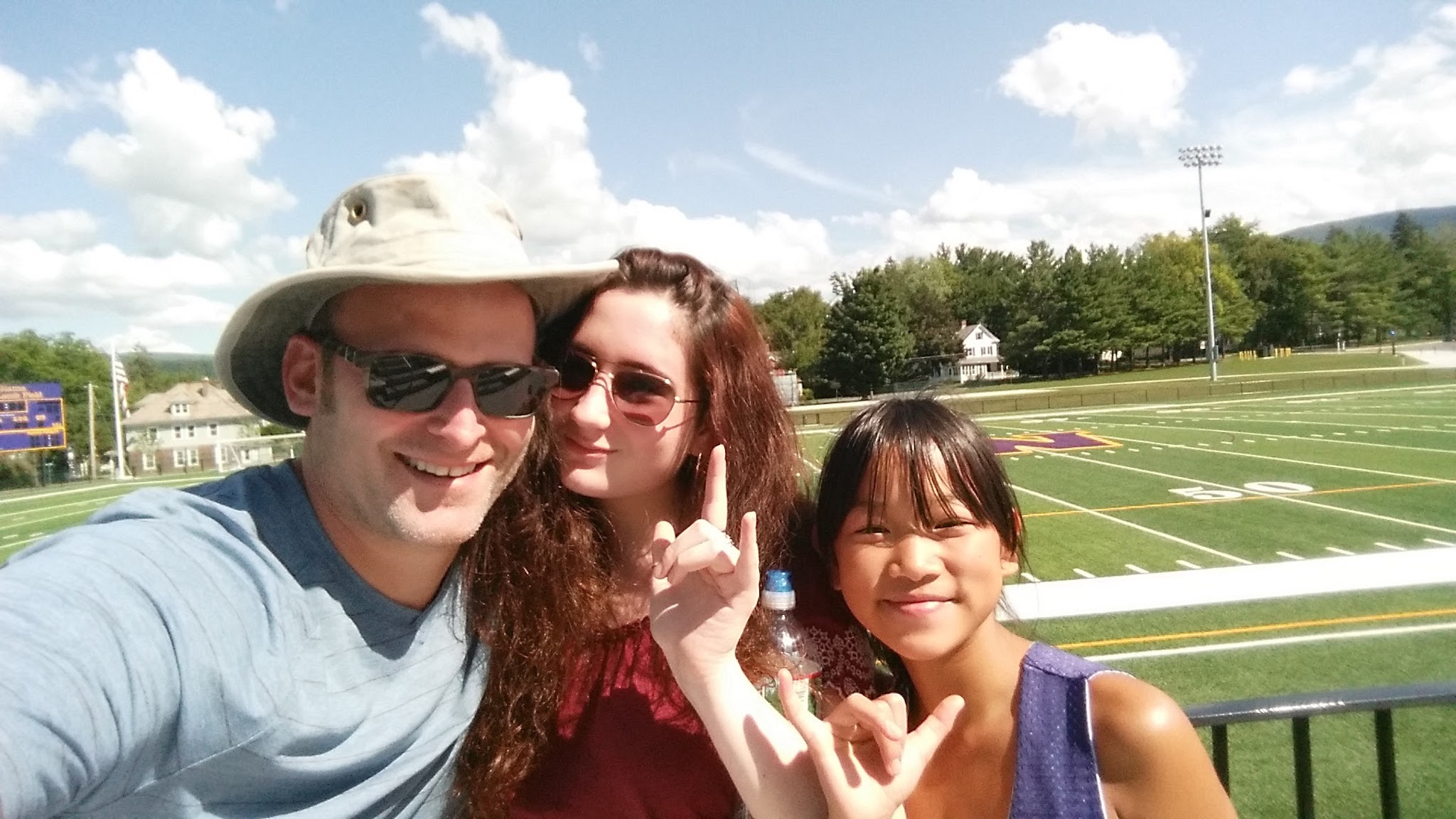 Nothing brought more joy as a boy than hearing the masculine murmur of my dad's Porsche pull up in the driveway to pick up my sister and me. My divorced dad was my knight in shining armor, strapping us in the jump seat and taking us away to enchanted lands: a quick sail on the ocean, maybe, or a horseback ride in the mountains topped off by a steak dinner. Or sometimes, as a self-employed architect, he would design entire summer excursions around the country and around the world.
That was except for the times when dad wasn't around, which could be months on end. I always felt down when dad was away, even when grandparents, aunts, and uncles tried to fill the void or family friends would occasionally show up to take us on outings. I still remember being a 10-year-old boy and the thrill of how a friend of my parents would make my spirits soar just by taking me to see the Dodgers play.
Memories like these motivate me to cut out much of the overdoing and overscheduling at the office. My choices at work become clearer because I have a family waiting at home. I find I become more patient and less frenetic, more compassionate and less self-indulgent, more encouraging and less critical, more responsible and less carefree, and more generous and less selfish.
Sure, being a parent can be exhausting, frustrating, and financially depleting, and it does add immeasurable stress on your relationship. It can also wrack you with guilt that you're not doing enough. You feel like you're dropping the balls in a juggling act, that you're not spending enough time with your kids because you're staring at your smartphone as you weed through hundreds of emails.
Despite it all, you emerge as a leader (or, if you're fortunate to have a strong and collaborative co-parent, a leadership team) and start seeing the rewards of living at the intersection of personal and professional commitment.
The same child who dramatically entered our lives so many years ago is now entering her junior year in high school. She's already jumped into the workforce, confidently and cheerfully waiting tables during a summer job at our neighborhood diner.
As the back-to-school season is right around the corner, us parents are a tad less concerned about the next PowerPoint presentation, keeping the boss happy, or scoring the new customer. That doesn't mean that we're less committed or capable, but rather that we see life in a longer and very different trajectory, and that actually makes us wiser and more efficient at the office. I hope this knowledge is something I've passed along to my children.
I've returned this summer from trips with my kids, both on the West Coast and in New England, which included visiting—or should I say sneaking into—college football stadiums. Having auto-response turned on in my email program meant I could explore these fields of dreams and share the experience with those I love most.
All this came to mind last weekend when I was flipping grilled veggies on the barbecue last weekend with a good friend. I told this fellow dad about what that colleague had once told me about kids being a career distraction. "Distraction?" he asked incredulously. "My kids are my inspiration!"
And as we sat down to eat, I realized that I couldn't agree more.