Donovan England is in a hurry. He's wrapping up a phone interview with a reporter while he and his friends speed to the airport to board a private plane. His destination for the weekend? A bachelor's party in New Orleans.
"Things are going pretty fast," England admits.
The 34-year-old entrepreneur's business—an eponymous line of bespoke suits—is also going places. Just take a look at his Instagram account, where nearly 90,000 followers look forward to his next post—usually shots of him wearing one of his own smartly tailored looks.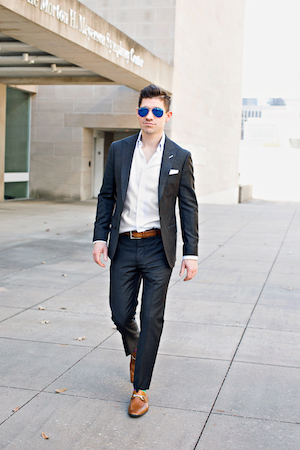 There's nothing off-the-rack about what Donovan England offers clients. Every suit is custom made to reflect each client's personal taste. And the fit is impeccable, with England himself taking 23 different measurements to ensure that cuffs and lapels look perfect.
And can we talk about the fabrics? There's a wide range of colors that go far beyond the usual black and navy blue.
"The fabrics are from England and Italy," says England. "We looked at 100 different manufacturers before we found the right ones."
England started out in institutional banking, but he realized that he wanted to work for himself.
"I've always been an entrepreneur," he says. "I've started a lot of different companies. Some make money, some lose money."
It was a couple of poorly fitting suits that convinced him to start his own custom clothing line with an initial investment of just $550.
"I figure that when you have a lot of money, you're going to spend a lot of money," England says. "We were able to do it with a lot of trial, and a lot of error. But it was all worth it."
For six years England worked from home, but now he's based at WeWork Uptown in Dallas. At his office, look for leather furnishings and a gleaming bar cart with top-shelf spirits.
"Our space that reflects what we're doing with the brand," says England. "We're going for that haberdashery feel."