Tim Kilcoyne never sees most of the people for whom he cooks every day. The thousands of meals that are prepared and packed under his watchful eye are delivered to shelters for people displaced by the wildfires that have devastated California.
But he knows first-hand what it's like to be in their position. Last December, he was one of more than 100,000 people forced to evacuate to a nearby shelter when a wildfire swept through Ventura County, just west of Los Angeles. While waiting 10 days until he could return home, Kilcoyne, the owner of Scratch Sandwich Counter, was eager to find a way to put his skills to good use.
He connected with World Central Kitchen, an organization that travels the globe to provide hot meals to people in emergency situations. Soon he was cooking meals in a borrowed commercial kitchen for his neighbors, who had also been evacuated, and the first responders who had arrived from across the country to battle the blaze.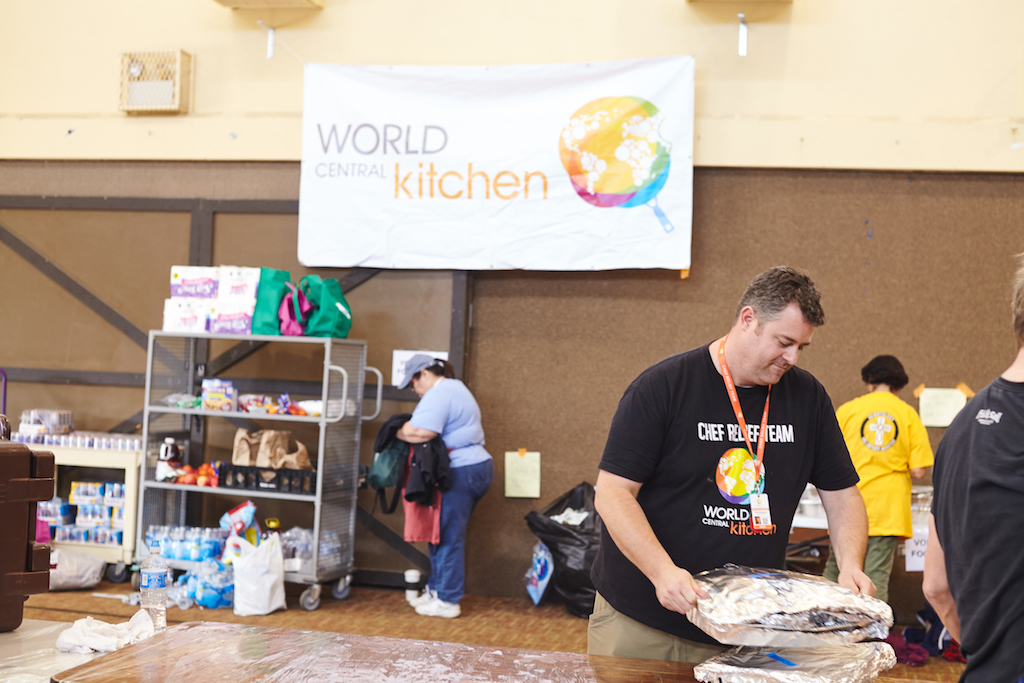 Over the past year he's taken time off from his sandwich shop to work with the organization, leading teams of volunteers after Hurricane Florence destroyed parts of Florida and the Carolinas, and after the Kilauea volcano leveled entire neighborhoods in Hawaii. Now he's back on his home turf of California, where wildfires are once again roaring through his county.
"In each location, it has been tough dealing with the devastation," says Kilcoyne. He was on a break from where he and a regular team of about a dozen people were dishing out meals at Casa Pacifica Centers for Children and Families, a treatment center for at-risk children a few miles from the fires. "But it has been amazing to see the communities come together."
World Central Kitchen, which is based at WeWork Universal North in Washington, D.C., has fewer than 10 full-time staffers, but it's been able to serve more than 4.8 million meals since it was founded by renowned chef José Andrés in 2010. Last year, after Hurricane Maria left most of Puerto Rico without water or electricity, the organization had teams on the ground that provided 3 million meals to suddenly homeless citizens. In California, where wildfires are burning across the state, it's serving thousands of meals a day.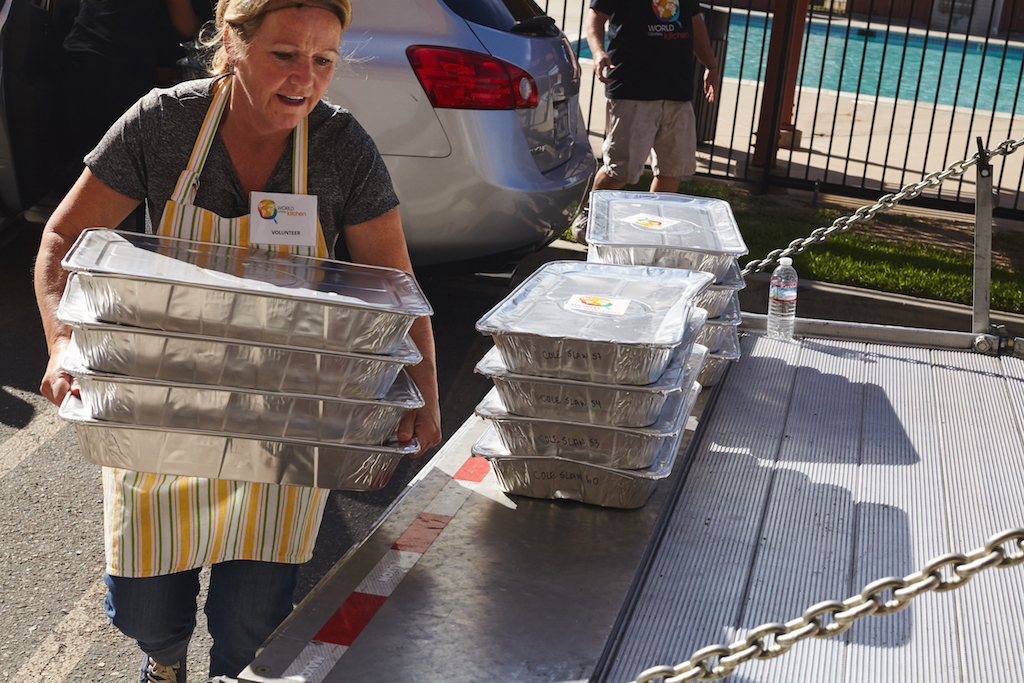 Jeanette Morelan, World Central Kitchen's communications and marketing manager, says that many of the organization's volunteers start out as people in need. "We meet people in these disaster situations and they become part of our family," she says.
Fighting disasters on several fronts
In California, the extent of the wildfires is astounding. In Butte County, less than 100 miles north of Sacramento, the Camp Fire has burned 140,000 acres, taking with it over 10,000 structures, including almost the entire town of Paradise. It's the most destructive and deadliest wildfire in California history, with 73 people dead and almost 700 missing.
The Woolsey and Hill Fires in Los Angeles and Ventura counties have altogether burned more than 100,000 acres, destroying nearly 500 structures, with tens of thousands more in danger.
To make meals for the hundreds of families displaced by the fires, World Central Kitchen partners with local catering companies and other businesses with commercial food-preparation facilities. It also works with local governments, police forces, and fire departments to identify people in need. Many evacuees have gone for weeks without a hot meal.
The menu depends on the location but leans toward hearty dishes like macaroni and cheese. "It's a bit of everything," Morelan says. "It's the community's idea of comfort food."
World Central Kitchen often works with other relief organizations, including the American Red Cross, to feed people at shelters. The Red Cross has more than 500 people responding to the crisis in California, supporting evacuation centers and setting up shelters. In addition to providing places to stay, it offers medical care and mental health counseling to help people get on the path to recovery.
One test facing the Red Cross is finding enough volunteers to work in high-need areas, especially during the holiday season. "It's incredibly challenging, particularly in a community that is so hard-hit, to manage to find the workforce to then provide that response," says Hilary Palotay, a senior associate at the Red Cross. She works from an office at WeWork 1601 Vine St in Hollywood.
Palotay points out that the Red Cross isn't on the ground in only California. Major relief efforts are still underway in the Carolinas, where Hurricane Florence came ashore in September, and in the Florida Panhandle, where Hurricane Michael made landfall in October. Many people volunteering in these areas have lost their homes as well.
"The hurricane-affected regions have developed a sort of resiliency through a cyclical hurricane season happening every year," says Palotay. "That's their community, and I just see people stand up left and right."
Help comes from far away
Not all the organizations responding to these hard-hit areas are based in the U.S. IsraAID, an Israeli nonprofit started in 2001, deploys volunteers around the world. It's working in North Carolina, Florida, and Texas.
"A lot of people see disasters happen and think there's no way to make a change or help people," says Niv Rabino, head of mission for IsraAID.
After wildfires roared through California's Sonoma County last fall, IsraAID—which has an office at WeWork Galleria Office Tower I in Houston—set up shop in a local synagogue. The organization offered mental health programs, including one to help young people deal with trauma and loss in their lives.
Nechama, a nonprofit guided by the Jewish principle of tikkun olam, or acts of loving kindness, is at work on several fronts, including doing hurricane relief in South Carolina, Florida, Texas, and Puerto Rico. Volunteers are also working in flood-ravaged areas of Minnesota and Wisconsin. Another team will soon deploy to California.
David Kaplan, the group's executive director, says that although Nechama is a faith-based organization, a majority of its staff and volunteers are not Jewish.
"We have church groups, we have nonreligious volunteers, we get groups from mosques," says Kaplan, based at WeWork The National in Chicago. "They all come together to work with us because we all have a shared belief that we have a responsibility to help our neighbors, to bring healing to the world, to comfort those who are in mourning."
Much of Kaplan's team focuses on "muck and gut" jobs—emptying outhouses that have been damaged by wind and rain. Other are repairing and rebuilding homes to make them safe, dry, and "shelterable."
When he was supervising his team in Texas, Kaplan met a couple in their 60s who survived Hurricane Harvey by sitting on top of their bed with their dogs, hoping the flood waters wouldn't rise above their heads. The water had come in through one side of their house and broken through the other. "Basically there was a river moving through their home," he says.
A year later, their house was still in shambles. But Nachama was able to make it habitable again by rebuilding it in a matter of days. "You could just see the burden lifting from their shoulders," Kaplan says. "You could see how happy they were from just this simple act of support."
The feeling of a job well done is what makes it worth it for Kaplan and his team. "When you're physically working on someone's home and they've lost everything and they've lost hope, you can bring them home, you can bring them comfort, you can bring them that healing that is needed," he says. "Your passion comes out really quickly. You don't do this work and put up with all the uncomfortableness that comes with it if you're not passionate about the work that you're doing."