Benji Kayne, founder of kayneLIVE, has been an entrepreneur since he was a teenager. We sat down with him for this edition of Do What You Love — a series that showcases the individuals behind startups and small businesses. Here's what he shared:
I'm from Columbus, Ohio. At [age] 16 I bought a small mobile DJ company and turned it into central Ohio's largest bar mitzvah DJ companies and was one of the first to bring a lot of innovative lighting and audio production to bar mitzvahs and other types of events. By the time I got to college—I went to Ohio University in Athens, Ohio—I was running a company. We were doing all sorts of corporate events and parties. I made my way through college doing that. When I graduated from college I had the choice between staying in central Ohio and growing the business or picking up and going to New York and seeing what was there. I chose to do that. Like a good Midwestern guy I packed up a U-Haul and started driving and called my cousin on the way there and said, "can I sleep on your couch?" Now here I am almost ten years later.
kayneLIVE is an experiential event agency. There are three different sides of the business. On the agency side, we work with companies to conceive and execute really cool experiences, mostly with a technological slant; so large-scale lighting, audio, video, interactive type stuff. But our marketing and brand background lets us create full immersive experiences. We do all elements of production.
We peddle in nostalgia. We are in the business of creating memories and unique, once-in-a-lifetime experiences. I'm not saying that we get to transform someone's life everyday, but we get to create moments that will last with someone forever. They will remember the time that they got to experience a psychedelic driving range in an old, abandoned arena. They will remember the time they got to walk through wet rocks in an immersive forest in the middle of Gansevoort Plaza.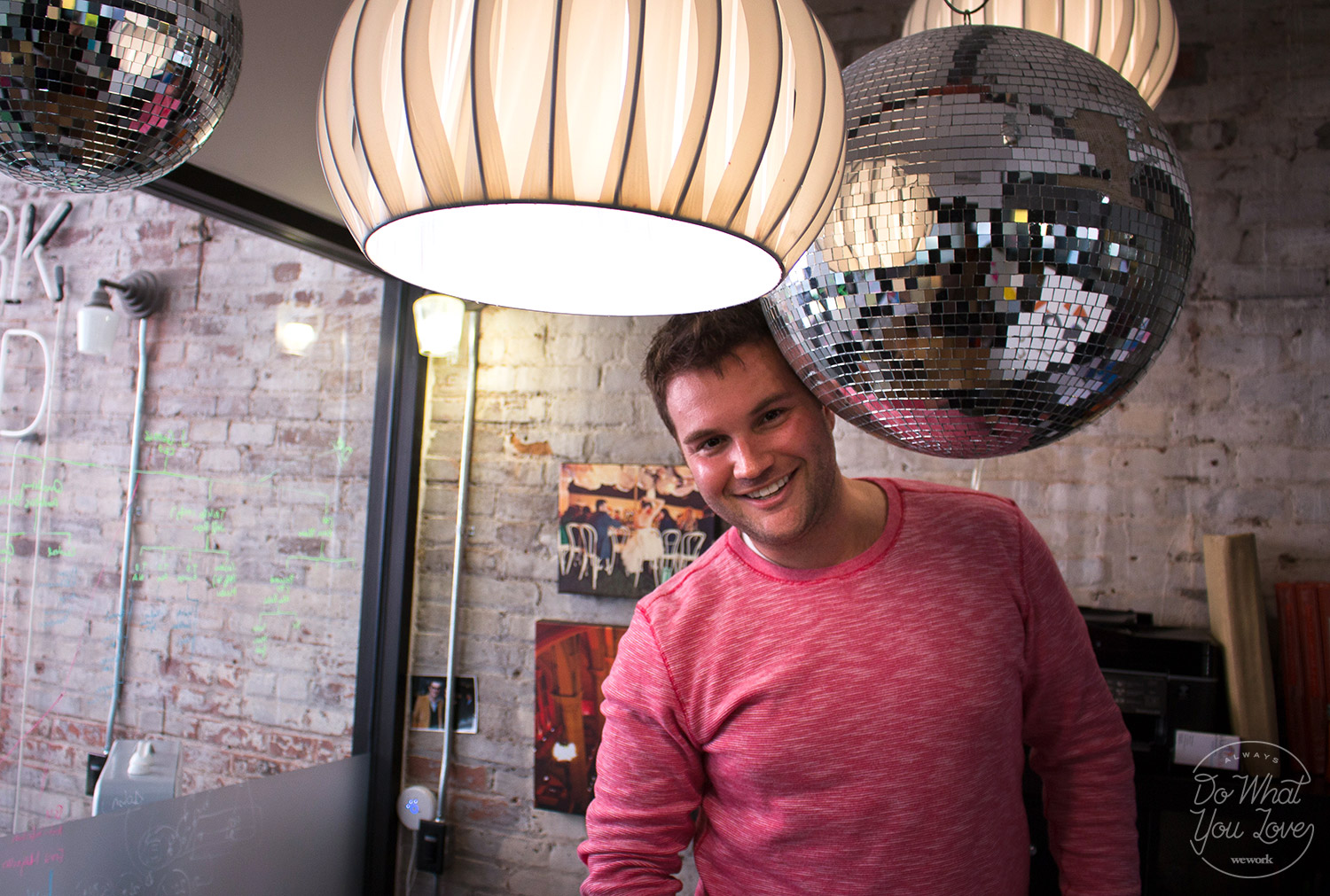 My first word was "light." I'm not even kidding. My mom said I'd go up to a light bulb and I'd point and go, "light." And then very quickly my second word would be "hot" and I'd scream and cry.
I loved lights. For my birthday every year I wanted lights. I used to sit in the basement and make my parents watch light shows that I made. I would poke holes in coffee cans, put lights inside and put them on my Fisher Price record player. And I had a strobe light that my grandpa got me from Radio Shack.
I think [lights are] a really underappreciated medium. It's something that affects us all the time, everyday and somehow I think I knew at a young age that lighting and mood were really connected and lighting and atmosphere were connected. That said—I've never formally studied lighting.
I spend my life in events and there's nothing I hate more than going to events. I'm like an introvert with really good social skills. Everyone assumes I'm this creative, right-brained extrovert who loves events. The truth is as a producer you have to have a version of creative OCD that's sort of un-categorizable, and in that sense I'm left-brained, planning everything out step-by-step. Something that people don't know about producers and specifically about me is that our entire life is thought out in contingencies. We're thinking four steps ahead at all times. If you were to really get to know me you'd understand that that's happening in my brain.
You're going to go broke and that's okay. I think every entrepreneur ever, minus a few very lucky ones, has looked at their bank account and seen 14 dollars and knows payroll's on Friday, some vendor invoices are due the next week and you're just like, 'what am I gonna do?' It's going to be okay. That's where you are. Go out and make some money, go out and talk to the bank, leverage a credit card—whatever. But it's going to be okay.