Black business owners and workers too often face systemic biases: from underrepresentation in the boardroom to higher rates of unemployment. In Black-Owned and Proud, we profile innovative Black entrepreneurs building businesses and bringing much-needed change to the face of enterprise.
Tonya Hicks is the head of three organizations. She's president and CEO of Power Solutions, an electrical contracting firm; CEO of Partners in Action for Healthy Living (PAHL), an urban gardening organization promoting healthy eating and food security; and president and founder of Women Do Everything, a community fostering trade skills for women.
Sounds like a lot of work, right? Hicks doesn't think so. When you're doing what you love and have the capacity for it, she says, it's never too much work—it's your calling. As a businesswoman and electrician, Hicks has lived her life according to this ethos, even when others in the male-dominated construction industry have told her no, shut doors in her face, or disregarded her.
"One of the biggest challenges I've had to overcome as a Black woman is being underestimated and undervalued," says Hicks. That has not stopped her from showing up. Her persistence, her business ventures, and her love of what she does are proof of that.
"I love construction. I love what I do. I don't know if I'd be able to keep doing it if I didn't," she says.
Choosing the hands-on path
At an early age, Hicks' passion for learning about how things work and how to fix things led her to pursue a degree in mathematics and computer science from Central State University in Wilberforce, OH. After two years on campus, she decided not to complete her studies after she landed an opportunity to gain real-world experience at a paper mill. While many people didn't fully understand her leap of faith, she was confident in her decision. Shortly after, Hicks enrolled in a five-year apprenticeship with the International Brotherhood of Electrical Workers and became an electrician.
According to the US Bureau of Labor Statistics, only 3.1 percent of electricians are women and 6.8 percent are Black. Despite the odds, Hicks rose up quickly. She became the first woman electrician in her local (Local 917 of the International Brotherhood of Electrical Workers) and the first Black woman in the state of Mississippi to be an electrician in the union.
In 2000, at just 28 years old, she was encouraged by a group of friends and mentors to start her own electrical construction contracting company after not being satisfied with her career. She founded Power Solutions in Atlanta. Now, at 48 years old, Hicks has a team of 25 specializing in renewable energy and smart-city technology. The firm conducts business overseas and has generated millions of dollars in revenue.
For her, running a multimillion-dollar company is not just about profits. Giving back and helping others acquire skills to be able to earn a living wage is at the core of her personal mission. Hicks' mother was a great inspiration in her early life. Through her, Hicks learned that women know no limits.
"Being a Black woman in a male-dominated field , I know what it's like to be discounted. And I know what it's like to have to be better to be considered equal. So it's always my goal to identify where I can help people, because I never feel like it's by accident," says Hicks.
Current issues, like the water crisis in Flint, MI, Jackson, MS, and on Indigenous land, has inspired Hicks to form strategic partnerships that will impact and inform change. "These are the areas [power, food, and energy] that I sought to operate in because I know these are the greatest things that affect people in poverty," she says.
You have to grow to give
Born and raised in Meridian, MS, to a family deeply involved in agriculture, Hicks knows a thing or two about living off the land and making do. In 2020, she was asked to step in as the CEO at Partners in Action for Healthy Living—a nonprofit with a mission to cultivate community and healthy living through year-round urban gardening—and oversee the organization's 25 locations throughout Decatur, GA.
As the leader of the organization, Hicks has relied on her team to help families in need get through the pandemic. "We saw the increased [need] for food rise to 40 percent; 45 percent of those people had never been in a food line," says Hicks. According to Feeding America, in Georgia, 1,318,500 people are struggling with hunger, and of them, 405,380 are children.
PAHL grows to give. From the 2020 growing season alone, the organization donated 2,000 pounds of food to local churches, food pantries, and schools, and fed 1,000 families. With food insecurity plaguing low-income communities around the nation (and the world), Hicks has leveraged her network to partner with others to share insights from her work at PAHL and inform change internationally. "We're working on a global scale now. We just partnered with the European Union to promote healthy living sustainability in agriculture," she shares.
Paving the way for women to upskill
While Hicks manages three businesses, each of them lends itself to the other and the betterment of the Black community. The third organization she runs, Women Do Everything, is a career and workforce development organization that educates, trains, and creates economic mobility for women (and some men) through the world of trade.
Hicks originally launched the organization in 2015 as a blog and rebranded it in 2019 to be a community resource. Women Do Everything's mission is to provide women the tools, including coaching, training, and staffing services, to access high-paying jobs in technical, male-dominated industries.
"I want women to be in higher-paying jobs so they can expose their children and themselves to more," says Hicks. That requires women to be able to get out of survival mode by upskilling.
While acquiring trade skills isn't traditionally popular for women, Hicks believes it's more important to be concerned about people's environments and what they need to grow than what is popular to do professionally. Oftentimes, that's having a trade skill. By 2023, it is anticipated that there will be a shortage of skilled trade workers despite the potential earning power in those roles. Hicks wants women to be able to fill that gap.
Women in the workforce have also been disproportionately impacted by the pandemic. Hicks is focused on helping women who've experienced job loss level-up. "We have to get these women back to work. And they can't go back to making $7 or $8," says Hicks. She has also teamed up with Gemini Staffing Group to create more access to job opportunities for women.
"I was just telling another woman contractor today, we're so close to the top, we can smell it. We face big giants who will blatantly tell you, 'You're not going to make it. You're not going to be here.' And we don't flinch," says Hicks.
The space to succeed
When shopping around for office space, Hicks highly valued being in a creative space with entrepreneurial energy. So in March 2020 she joined WeWork Labs, and moved into an office in WeWork 101 Marietta St NW in Atlanta. Due to the pandemic, she and her team now work out of WeWork 120 W Trinity Place in Decatur, which is closer to the PAHL headquarters.
"It feels like home. That's what I like about WeWork. Instead of being just a coworking space, it's a collaborative space. I love being able to connect and collaborate with other startup entrepreneurs," she says.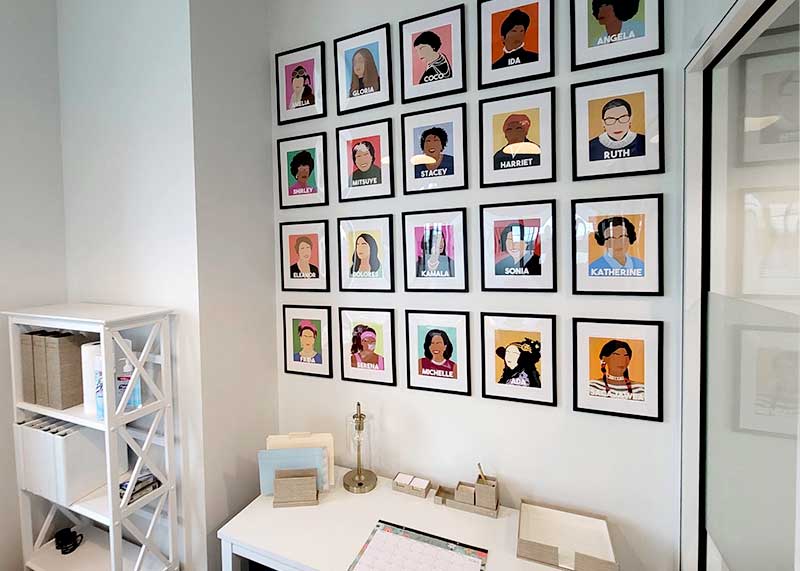 Hicks values the hunger, drive, and energy that comes with being part of an entrepreneurial community. Last year, Women Do Everything was a recipient of WeWork's Black-owned business grant award.
"You cannot discount energy, because [as a business owner] you want to be in an environment where stuff is moving," she says. "In our startup community, we're pulling each other up, talking to each other, and helping each other, and I love that!" She and her team also host events at WeWork for members.
Since working from WeWork, she has formed partnerships, including one with David Hailey of Countalytics, an inventory management technology company. "David is a great guy. I connected him with one of my contacts, and now we have a $200,000 contract that we're doing together!" Hicks says.
Asked how it feels to have made such profound accomplishments, Hicks says, "It feels like legacy. I can see myself on my porch telling my grandkids what they need to be doing. And how to maintain the integrity of our businesses."
Women have never given society a reason to doubt them. Society has. And to that point, Hicks stands firm on her belief: "Women can fix anything men build."
Lydia T. Blanco is a business journalist at the intersection of equity and culture who is passionate about building community through storytelling.
Rethinking your workspace?