Our series What Do People Do All Day? takes a look at the work life, lunch habits, and downtime of people across different industries.
Name: Amy Shecter
Title/company: CEO, Glamsquad, member at WeWork 31 St. James Ave in Boston
Years on the job: 3 years, 3 months
When Amy Shecter—then-CEO of CorePower Yoga—met with her mentor in 2016 to discuss her next career move, Glamsquad was at the top of her work wish-list. She was a longtime fan—and repeat customer—of the on-demand, app-based beauty service that allows you to get a blowout, smokey eye, or fresh manicure from the comfort of your own home. Two weeks after the meeting, she got a random call from a recruiter saying the fast-growing startup was looking for a new CEO, and would she be interested in pursuing the job. "So, I don't know, did I put it out in the universe and ask for it?" Shecter says. "I think I did."
Since joining the company, she's overseen its expansion to D.C., Boston, and San Francisco (the service was already available in New York, where the business was founded, Los Angeles, and Miami); forged a partnership with CVS that's brought express Glamsquad services to select stores; and launched a haircare and makeup line. On a more personal note, she's adopted a nighttime skincare routine that takes her at least 10 minutes to complete. "It's quite the ritual," she says. (It involves face wash, toner, two serums, moisturizer, eye cream, and lip cream.) "But my beauty pros tell me that they see a huge difference in my skin from when I started, and my husband keeps telling me that I'm getting younger and younger, so it must be working."
Below, she shares more insight into what it's like to lead the daily charge at Glamsquad.
I check email… as soon as one eye is open. I scan for anything important from investors, clients, or team members.
I use my commute to… respond to email. But only after I've spent some time meditating. I'll do five to 10 minutes with Headspace, depending on my mood and how much time I have. I take a Via or a taxi from the Upper West Side to Flatiron, so my total commute is about 25 minutes.
I typically arrive… by 7:30. I'm a morning person.
The first thing I do when I get to the office is… talk to the client experience team. They get in early, too, because we have a lot of 6, 6:30, and 7 a.m. appointments. I also make my herbal Bancha tea. I have to start my day with my tea. It calms me and helps me focus.
I get super stressed if… we do a late cancellation on a client, which means we cancel without having an alternative for them. I take it very personally. I think of myself with wet hair, in my apartment, waiting for a blowout. I don't want to leave any woman in that situation.
The last time I got the Glamsquad treatment was… this morning! (Just hair, not makeup.) I have a big meeting tomorrow and I have to leave early for it, so my beauty pro showed me how to wrap my head tonight to make sure I have good second-day hair.
I take my phone calls… anywhere, anytime.
My must-reads for the day include… Daily Mail, WWD, and the New York Times.
But if I'm procrastinating, I'm usually looking at… Instagram, Twitter, Sephora, or Ulta. And then I go down the black hole… The internet can take me anywhere.
We're currently working hard on… New York Fashion Week. It's a very, very busy 10 days for us. We're doing five shows this time, including Lela Rose and Rebecca Minkoff, meaning we'll do hair and makeup for the models and some VIP guests.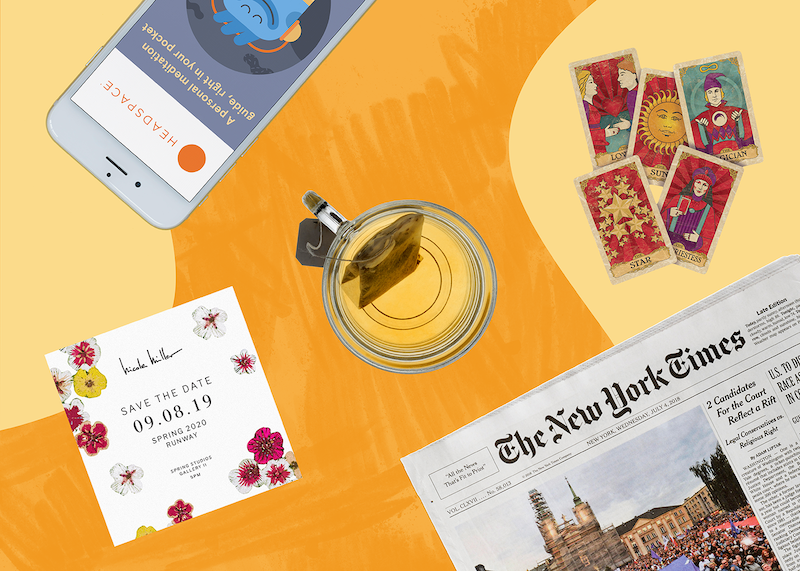 The best thing about NYFW is… being backstage with our beauty pros. It's so much fun to see them in their creative moment. They're so juiced up.
To survive NYFW you need… energy. It's a couple of weeks with no days off, and that's definitely not easy. But it's fun, so it doesn't feel so much like work. In general, I have a lot of energy.
I eat lunch… in meetings. I can count on one hand the number of times I've gone out for lunch. I work roughly 11 to 13 hours a day, and I probably spend 50 percent of that time in meetings.
The last time I daydreamed in a meeting I was thinking about… vacation. I was craving sunshine and the beach, two of my favorite things. I don't vacation that much, but I'm pretty good about taking school-break vacations. We just spent Labor Day weekend on Fire Island.
A critical aspect of leadership is… mentorship. We have a young team, and some staffers are learning as they go. I think it's really important to be available to them so they can grow and get promoted and continue to evolve in their roles.
My go-to advice is… don't be afraid to ask. Come in and say, "This is what I think I should do, and with your approval I'd like to do that today." Also, act as if—that's advice I was given. Even though you don't have the job, don't wait for the job. A good manager will encourage you to take giant steps instead of baby steps.
To bond as a staff… we host different kinds of team events. We have an annual summer soirée, for example, and this year there were crystal readings and tarot-card readings and a caricature artist on hand for anyone who didn't want to participate in the guru-type stuff.
I stop responding to emails… when the lights are out. I do sometimes try to take a free night where I won't answer emails once I get home, but even then I usually sit with my phone next to me. Every day is different with a startup, and you just never know what you're going to find when you open your email.