Lunch is the one meal that brings us together during the workday. Lunch Break examines how WeWork members around the world break bread.
Who you are: Lisa Marie Schnaubelt
What you do: Communications and culture manager, Fort Point
Where you work: WeWork 600 California St, San Francisco
Lisa Marie Schnaubelt—who goes by LM—is used to packing lunch and eating it in a half-hour window. A communications and culture manager at Fort Point, a beer company based in San Francisco whose beautifully designed cans you'd recognize anywhere, Schnaubelt likes to focus on projects and events that improve the organization's culture. Her array of passions and talents make this role the perfect fit for her: Her previous experiences as a professional bartender, a copywriter, and a teacher for special needs students at middle and high schools have made her thoughtful and intuitive and, basically, the person you trust to run things.
Schnaubelt is also a poet, cooking enthusiast, and bicyclist who totes her packed lunch on public transportation from Oakland, where she lives, to WeWork 600 California St in downtown San Francisco, using a practical but "very unglamorous system of jars and Ziploc bags." For those days she does want to eat out, there's no shortage of restaurant options nearby. When asked if she writes poetry during her lunch break, she says, "That's not my poet time of day, let's put it that way." But it is a time to refuel and eat something fresh that she's cooked from the box of farm-fresh vegetables she receives via a weekly CSA (community supported agriculture) delivery.
Q: How would you characterize your lunch ritual? Is it sustenance or indulgence? How does that compare to the culture in your city at large?
A: Our office is in downtown San Francisco, where there are so many good options that it's super fun to go out. You'll see the lunchtime rush of everybody with their little compostable to-go containers. But for me personally, lunchtime isn't when I indulge. It's the one meal of the day that's easy for me to eat really healthy, because I cook it ahead of time.
I come from a background in teaching, and teachers bring their lunch. Period. Every night, you turn leftovers into lunch for the next day, or make something simple. But I always try to make it really flavorful.
For the most part at the Fort Point office, people go out. But for those of us who do make their lunches, we all eat together. I see a lot of salads and roasted vegetables with quinoa or pasta. One of my coworkers is teaching himself how to make Chinese food right now. Every day, he has a very neatly packed reusable container of rice and some amazing-smelling stir-fry that he made.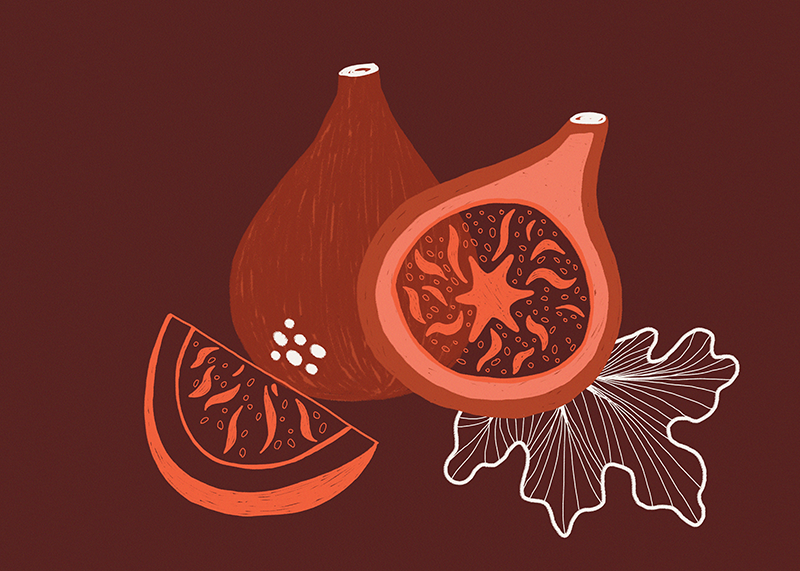 Q: What's for lunch today?
A: I made a curry with butternut squash: ginger, garlic, curry powder, and coconut milk. I put some pomegranate seeds, cilantro, and lime on top so it wouldn't be a super-orange meal.
I also made an eggplant salad. I slice up the eggplant, roast it, cut it into mini pizza slice shapes, and cool it. I toss that with a gingery lime vinaigrette, and then I throw in mint, cilantro, green onions, and crushed peanuts. It's fast to make, and the eggplant just soaks up all the flavor. I get tons of eggplant all summer in my farm box, so I have to stretch it beyond just Italian flavors.
Q: Can you tell me about your farm box?
A: I participate in the Full Belly Farms CSA, which stands for community supported agriculture. I've tried a lot of other farm boxes, and this is my favorite.
I do the vegetables-only subscription. It's usually eight to 10 different items. Sometimes you'll get lots of squash at once, or lots of tomatoes at once, or lots of collard greens at once. And they'll often give you a treat that only someone who works on a farm, or has a garden, could get their hands on—super-seasonal items like fiddlehead ferns or squash blossoms.
Q: Any tips for cooking from a farm box?
A: When in doubt, everything works as a frittata, soup, or pizza.
What's lunch like at your office?
At Fort Point, we make a beverage and it goes really well with food, and we own bars and restaurants. So we're pretty into food, as far as a typical company would be. At lunch, everybody wants to see what everybody else is eating and then talk about it. We'll even be goofy and add one another's condiments to stuff, which makes me very happy as culture manager.
Q: What time do you usually eat lunch? And how long is your lunch break?
A: Noon is pretty typical at the Fort Point office. People are there at 8:30 in the morning, and eat lunch at noon.
I am a pretty solid 30-minute-lunch person. Thirty minutes is a very classic freelancer lunch window. When you're teaching, you have 20 minutes by the time the kids are out of the room. Your break is 30 minutes. It's habit. Thirty is good if I'm just getting down to business, and an hour is perfect if I'm going to make it about another person, or another coworker.
Q: What are some of your favorite spots for food outside the office? What do you love about each?
A: Our office is right at the start of Chinatown. Delicious dim sum is a really good value. To me, that's way more fun than getting a deli sandwich.
I'm inclined to like places for their service even more than their food, and I like the service at Mazarine. Not to be a total cliché and get toast for lunch in San Francisco, but their toast is great.
On Fridays, we'll sometimes get the whole crew together to walk down to the Ferry Building and go to the Fort Point taproom. While the rest of the team gets hot dogs, I'll be the rebel and go into Delica to get a bento box instead. Their burdock root salad is my number-one favorite lunch in San Francisco. It's mixed greens and shredded carrot, sliced marinated burdock root, and lotus root. It's a little bit sweet, and then it's salty and citrusy, and oh my… I just love that salad. I don't know what that squishy thing is, I just eat it.
Rachel Khong is the author of Goodbye, Vitamin. Previously, she was the executive editor of Lucky Peach.