Garth Holsinger specializes in connections, the type that don't get made every day. The cultural canyon between the traditional brick-and-mortar and the startup world is vast, so Holsinger and his Big Brand Week team are bridging those two worlds through a series of events. And between the resources of larger businesses and the hunger of startups, business has been very good.
WeWork plays a large role in Holsinger's business. "I've learned to leverage WeWork's resources really well," he says. "A lot of people don't know they can do this stuff!"
Crucial to Big Brand Week's success are WeWork community managers. Community managers and associate community managers are an important part of daily life at a WeWork, their mission to collaboratively build a community within each of their buildings. Holsinger makes it his business to the know the name of each community manager in every building he works in, and he builds off that relationship by adding to their specific building's community events.
Big Brand Week plans events that are "unique to each location," Holsinger says. That means events centered around the film industry in Los Angeles, the business world in London, and healthcare in Boston.
There's no real business market for what Holsinger does. He's matchless. At 51, he's gone through a variety of professions in a variety of locations: he's worked as a journalist in Mexico City, and lived in both Brooklyn and Los Angeles.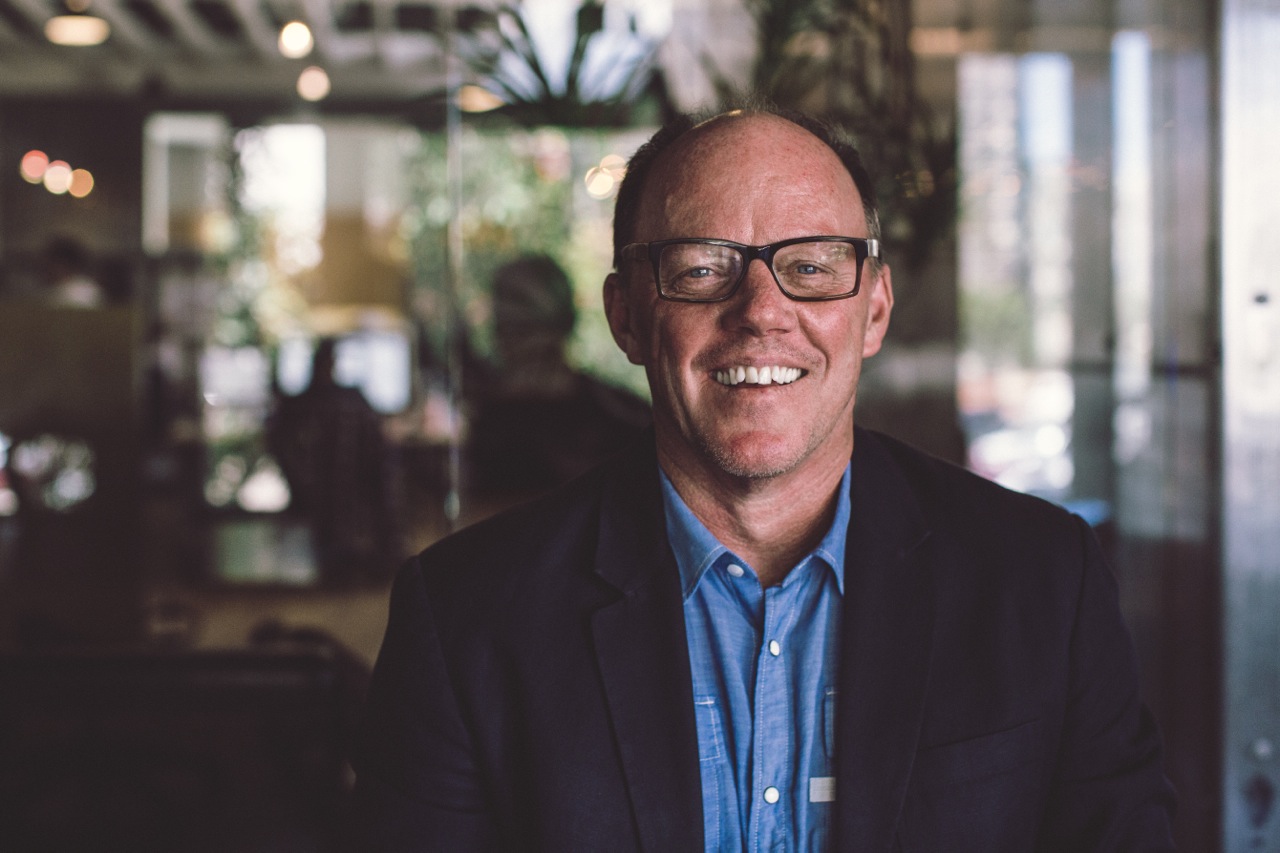 Writing both non-fiction and plays parlayed into day jobs he was equally as passionate about. His first business in the mid-'90s, GoCard, offered free promotional postcards in restaurants, and Holsinger describes it as a "global business phenomenon." He's worked out of various WeWork buildings since the company's inception, which is how he started to notice the connectivity possible among various members. It was only a matter of time before all the possibilities started to show themselves.
For Big Brand Week, the panel discussion is the perfect event for networking amidst larger and smaller industries. And for the ultimate panel discussion, Holsinger asks these questions when looking for a great moderator: "Are they funny? Do they know the subject? Do they keep the conversation moving? They'll be half entertainment and half substance."
When Holsinger himself is a moderator, he says preparation is key. "It's amazing how casual we are at these lousy tech events that go on every night," he says. "Boring, nobody prepared, the level has dropped to new lows."
How did it get this bad?
"Part of it is, there's been so many tech events," Holsinger explains. "The market was saturated, and it all got sloppy. It's very common for people to RSVP to events and not show up."
So Holsinger was faced with a fortunate, yet still nettlesome problem: a product so widespread that it was no longer appropriately valued. His solution? Up the quality, and that starts with the attendees.
"Not to be snobbish about it," he admits, "but invite-only is actually the goal. When 500 RSVP and 90 percent of them don't show up, it's disrespectful. But it's also a sign that there's just too much going on."
By raising the levels of the audience in addition to the speakers, Holsinger provides a powerful challenge to the typical tech event. Having created a quality product, Holsinger now finds himself in a place familiar to most entrepreneurs: testing out different patterns among users and seeing how that affects the overall product. His events have always been free for WeWork members—Holsinger finds that their attitude generally aligns with being productive at each event. But for those who aren't WeWork members, creating a pay structure has proven to be very effective at raising levels of interactivity.
Holsinger wants his events to bring a direct benefit to every person who attends, and that means establishing a local connection. When he wanted to create an event based around healthcare in Boston, a hub for the industry, he didn't know where to start. So he sought out local experts through his WeWork Boston connections, and they helped steer him the right way. With his paid events, Holsinger is careful to donate all proceeds to local charities like Girls Who Code. Holsinger prefers tech-related charities because he's forward-thinking. He looks at his panels and discussions, and the way people from companies large and small are able to connect there and learn. When he donates that money to a tech-related charity, he believes that he's helping the next generation of tech get there too.
Photo credit: Lauren Kallen / Michael Tussey