"Biking is built into my core," says Chad Marra, a longtime cycling enthusiast who has three bikes of his own. When he describes them, each one seems like his favorite.
"I have a fixed-gear daily driver, which is black and simple and fun," says Marra, a member at WeWork Studio Square. "It keeps pedaling even when you stop pedaling. When I want to do the spirited ride, it's very responsive. You lean into it, and it has that nice handling."
His second bike is a gear up from his first: a durable 29'er mountain bike that is "indestructible in potholes." His third is the "Ferrari of bikes," a carbon fiber road bike from the Italian brand Bianchi. He never leaves it unattended because it "cost more than my first car."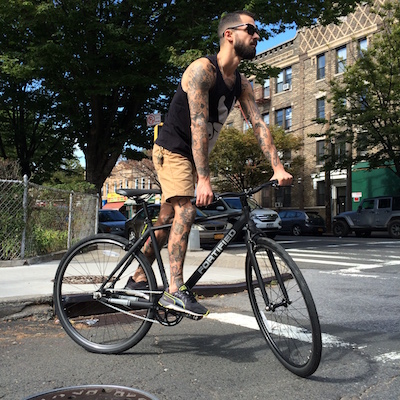 That's why Marra's side hustle is being the first New York City-based brand ambassador for Fortified Bicycle, a startup founded by Tivan Amour, a sales hacker, inventor, and University of Pennsylvania graduate; and Vlad Pick, a maker, product designer, and Bard College graduate. The company is creating durable and lightweight bikes that are designed with theft-deterrent bolts that lock down the seats and wheels.
"I've been biking my whole life, but aggressively picked it up in college," says Marra, a senior account executive at the multimedia and technology company Curse. When he's not working his day job, he's setting up meetings with clients to test ride the bikes.
These meetings usually take place at The Cliffs, a huge rock climbing gym in Long Island City. Marra's passionate about Fortified Bicycle's philosophy on minimizing the number of stolen bikes, even replacing them within 24 hours if they do get stolen. He's also impressed with how well they are designed and built.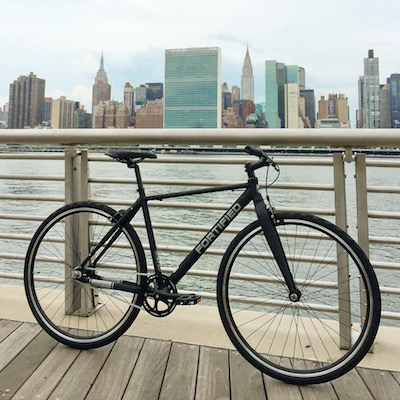 "The main thing that makes Fortified Bike unique is that the frame is aluminum, so it's not going to corrode," Marra says. "The tires are puncture resistant, and there's a bolt system with its own special pattern, so there's nothing you can put on the bike to take it apart."
One of Marra's favorite pastimes is biking down Broadway and catching all the green lights from Columbus Circle and heading downtown. He also enjoys riding over the Pulaski Bridge and coasting through Gantry Plaza Park, which has "cool landscaping" and reminds him of a more spacious version of the High Line in Chelsea.
In the future, Marra says he hopes to stay a bike evangelist, build Fortified Bicycle's brand awareness, and eventually sell bikes and be involved more directly in the business development, marketing, and sales role of a biking business.
"It's about generating brand awareness and my passion for cycling, and getting to do it safely with a turnkey bike," he says. "We stress about so much crap in New York City that this is something you don't have to worry about."
Visit here to meet Chad Marra and test ride a Fortified.