Sali Christeson and Eleanor Turner have been eyeing a specific space at WeWork SOMA for months. Just off the building's newly renovated lobby, it isn't your typical work environment. But they don't intend it to be typical.
Corporate showroom design
Christeson and Turner, who together founded Argent, a San Francisco-based women's workwear company, gave up their previous space at WeWork California St. to take advantage of this sunny space that's clearly visible from the street. They'll use it for their office, of course. But they also envision turning it into a makeshift showroom.
"We expect to get a lot of foot traffic," says Christeson, "especially those who don't normally get exposure to coworking spaces."
The space will be open to the public, drawing in passersby by with cool window installations and racks holding the latest styles.
"We'll be creative in the way we display things," says Turner. "We love to be playful with the old concept of office space—maybe bring back the nostalgia from the old office environment like using cubicles."
A growing number of WeWork members are utilizing their glass-walled offices as showrooms and bringing clients into a completely interactive and immersive retail experience.
Take the fashion and lifestyle brand Becken, which has a space in New York's WeWork Meatpacking. Laura Siegel, president of the company, chose the third-floor office near the elevators because it has a high level of visibility. Through the glass walls, people can view her most recent clothing collections hanging on portable racks above sturdy wooden shelving units. They're hoping to evoke a sense of accessibility and comfort, says Siegel.
"Our building is one of the smallest, which we like for its intimacy and warmth," says Siegel. "People love to come by to touch and feel the collection. In fact, we're hoping to expand into the space next to us so our collection is even more visible when you step off the elevator."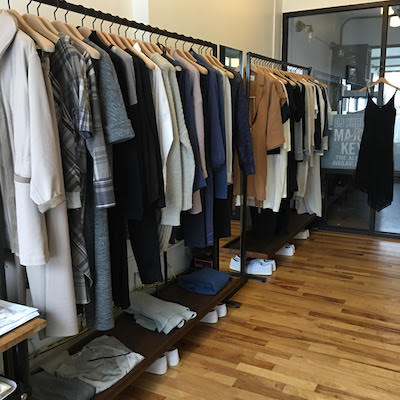 Siegel doesn't plan on stopping there. In the future, she wants to set up showrooms in other WeWork office spaces as she expands her line of clothing and network of business contacts.
Another WeWork member who proudly refashioned her office into a showroom is WeWork Williamsburg member Olivia White. She says her company, 41 Winks, uses its products—colorful, patterned throw blankets and other items—to jazz up the mood. Visitors often come in and touch the fabrics and even drape it over themselves.
"Working at our desk wrapped in our cozy blankets has definitely been a topic of conversation," says White, the company's CEO and creative director. "Some have purchased our blankets as a result of stopping by our office, and others have been inspired to bring their own from home to create a comfy home at the office."
In years past, 41 Winks has utilized common areas in WeWork West Broadway as extensions of their showroom at holiday markets and trunk shows.
"Getting to witness potential customers feel the quality of our product and see the exact, vibrant colors in person was well worth it," says White. "It's certainly something we're looking to do again."
Other WeWork members intentionally give their space a welcoming atmosphere. Semihandmade, a Los Angeles-based custom furniture maker with WeWork offices in Brooklyn Heights, Times Square, and Grant Park, lets other members use their showroom space to relax and hold meetings when it's not otherwise occupied.
"We're making new and well-connected friends every day," says John McDonald, CEO of Semihandmade, who expanded his business to WeWork Pasadena this summer. "Part of how we're able to do that is by having our spaces feel more like a lounge than an office. We also keep them permanently unlocked for other members to relax in or use for meetings whenever we're not there."
McDonald says he plans to upgrade to a bigger space in Pasadena and move into WeWork office spaces in San Francisco and Seattle by the end of the year.
With endless ways to transform an office into a showroom, WeWork's members continue to find innovative ways to design their space.
"We want to look at ways we can make this pop-up office hybrid flexible and work in different types of spaces," Christeson says. "We're paying attention to see if any traffic will convert to WeWork memberships, which will add value to everyone who touches it."