After working as a publicist for 10 years, Laurén Bienvenue turned a critical eye on her career.
"I was looking at my life, thinking, 'This can't be it,'" Bienvenue says. "This was not what I saw for myself."
The alarm bells were ringing. Bienvenue wanted a new life. So she grabbed a paintbrush and created one.
Her company, Once Upon a Laurén, repurposes old leather jackets with hand-painted designs. Bienvenue brings out a specific personality in each one-of-a-kind creation, from a Golden Girls-chic white blazer covered in palm leaves (it's a Sophia, to be exact) to a Foxy Brown-esque knee-length trench emblazoned with "Hustler."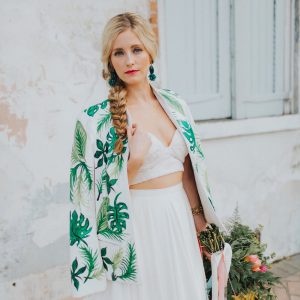 Bienvenue always identified as artsy. She discovered her current niche of leather painting when she spotted a jacket gathering dust in her closet and wanted to give it a new life. Then friends wanted them, and local businesses asked her to do pop-ups. She opened up an Etsy store in 2017, quit her corporate job, and now runs the business out of her Jersey City home, creating a new jacket each day.
What surprised Bienvenue most about being an entrepreneur wasn't the work involved, but the mental roadblocks that arose.
"The hardest part is staying confident and making sure you're on track," she says. "You just have days where you're like, 'I'm failing.'" The best salve for artistic insecurity? Asking successful creatives how they deal with the same issues on a daily basis. "To hear people you admire say that the best you can do is hit the middle ground of 'I'm OK, I'm not a complete loser' is the most helpful," she says.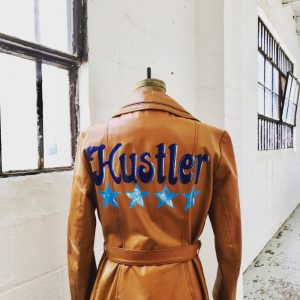 In her first year of owning her own business, Bienvenue has already found some smart hacks for finding her audience and standing out among all the other artists on Etsy. "Etsy can get overwhelming, but they have such a good SEO search term program," she says. She used this to align her product with wedding search terms. Now her "Just Married" jackets make up 80 percent of her Etsy business.
As a one-woman operation, Bienvenue isn't worried about scaling. The New York City Creator Awards winner is focused instead on building her reputation as a leather painter and expanding into smaller leather accessories such as wallets and purses.
"It's fun to be in a business where you are yourself," she says. "It's with so much more confidence that I come in here and talk about what I stumbled on, but love."