Angela Ruggiero has an impressive resume, on or off the ice. The Hockey Hall of Famer helped bring home gold for the US in 1998 at the first-ever women's hockey event at the Olympics, then medaled three more times in subsequent games. She played at the national level for a record-breaking 16 years before attending Harvard Business School and taking on positions on sports boards, including the executive committee of the International Olympic Committee (IOC) and as Chief Strategy Officer in Los Angeles' winning bid for the 2024 Summer Olympics.
Now, Ruggiero is assembling a new team for her startup, the Sports Innovation Lab, which helps clients and partners such as Google, Verizon, and the NBA navigate the intersection of sports and technology. Based in Boston at WeWork 200 Portland, Ruggiero shared which hockey skills help her as an entrepreneur and what she'll be looking out for at the Pyeongchang 2018 Winter Olympic Games.
What did it feel like to win Olympic Gold?
It's a pretty amazing feeling. To actualize your dreams in any capacity is amazing. We'd won world championships before, but what I didn't realize at the time was that winning at the Olympics was so much bigger than myself, my team, my sport, my country. When you're in the Olympics, you inspire people you've never met. They're proud of you or sign up for hockey the next day.
[As an athlete,] you're just focused on your sport, but there are all these bigger implications. We're coming up on the 20th anniversary of the gold medal, and that was the first time women's hockey was in the Olympics. Having women on a visible platform in sports sends a strong message to society.
What are your advantages from being an elite athlete that you harness in your work today?
Being a team player is first. I'm a big believer in the team. Everyone has different responsibilities, but everyone's important. Having direction and purpose is super important in people's lives. In business, trying to define that is important.
I competed 16 years at the national level, more than any other player, which is something I'm proud of. To stay at that level required discipline but also a lot of introspection, being realistic about strengths and weaknesses. It's such a great analogy for business.
How did you make the leap from athlete to entrepreneur?
One of the reasons I started the Sports Innovation Lab was all the experience I had on the sports organization boards, including the IOC. I was also the Chief Strategy Officer for the Los Angeles 2024 bid, which we won in September.
My cofounder Josh Walker having a background at [leading tech advisory firm] Forrester Research and me having a background in the sports industry, we were figuring out what value we wanted to give to clients, and that formed what we did.
Tech is disrupting sports. We describe ourselves as technology-powered services focused on the intersection of sports and tech. We use our tech to quickly understand the market. It aggregates the info that no single analyst can do, constantly pulling different data streams and in real time. We're trying to do a Forrester inside sports, using software to answer questions we get from clients.
[For example,] as leagues are coming up with wearable strategies, they want to know which one should they think about using. Our software can determine what these companies can and can't do, whether you're making a strategic investment or recommendations to players in the league.
Besides wearables, what are the new trends shaping the future of sports?
[The big trends we're looking at are] smart venues, immersive media, new ways to watch sports outside of linear TV, and next-generation sponsorship, where technology is allowing fans to engage in new ways.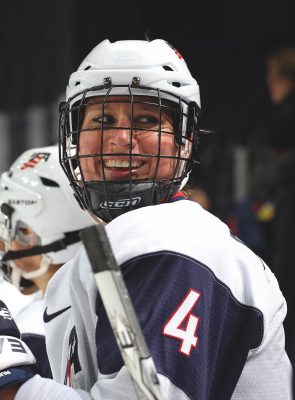 How are you building your team?
It starts with my relationship with my cofounder and having an enormous amount of trust and respect for him and leveraging him. Then as we set out with our plan, we're trying to find people that share our values, some of the intangibles. It comes down to experience and a thorough vetting process.
We have a smaller team relative to what we're doing—12 full time, some part-time, some interns. We put on a massive show at CES [the Consumer Electronics Show, held in Las Vegas] to create the global destination for sports technology. [At CES,] a lot of people couldn't believe how small we are. But it's a testament to our team: Everyone's willing to pitch in and be flexible because it will take everyone to be successful.
You're creating a lab at WeWork 200 Portland where different companies working on similar topics in sports tech can come work in the same space. What inspired that?
At CES you feel energy, you meet people, you feel energized. We want that same feeling year-round with our Sports Innovation Lab, [which will bring together] emerging companies as well as established brands who want to live and breathe innovation. We think partnerships and collaborations could come from working alongside each other.
We have 75 desks available and over 3,000 companies in our database, and that's just technology companies. That's not every global sponsor. The market is huge for who we're thinking about bringing into this space. Sports tech is super broad—it's all the media companies, all the venues, all the sponsors interacting in digital ways. Seventy-five is tiny. We should be in London, New York, Beijing, Paris.
What feelings come up when you watch Olympic hockey games now?
I'll be there at the games in Pyeongchang as part of the exec board of the IOC. Part of my job is to give medals, and my name's in the hat for the hockey games. I'm nostalgic but super proud of the young women and men competing at the Olympic Games.
I'll also be on the ground talking with sponsors and broadcasters and athletes—all the constituents who leverage technology—and listening to how they're using it. I'll put together some live streaming discussions for members at the lab in Boston to talk about what I'm seeing in the games. My first hat is the IOC hat, but I'll make sure I'm taking notes and reporting back on what I'm seeing. I'll nerd out a bit and study what tech is going on.