When Guido Pedrelli thinks back on his childhood in Cesena, Italy, it's all about food and family. There's the traditional trattoria that his great-grandfather bought, and Family Sunday, where all of the uncles, aunts, and cousins gathered at Grandma Eva's house. His Nonna—Italian for "grandmother"—as he calls her, served up fresh pasta dishes like lasagna, tagliatelle, and tortelli.
"I used to only eat pasta," admits Pedrelli, now 34 years old. After a morning or afternoon bike ride, he remembers Nonna saying, "You need to eat. I prepared some tagliatelle. I'll just do a quick tagliatelle for you."
Fast forward to Pedrelli's early adult years, after he received an international communications degree and left for Madrid. In Spain he met his wife—an American who taught English—and they moved together to San Francisco, where they've been living for the past three years.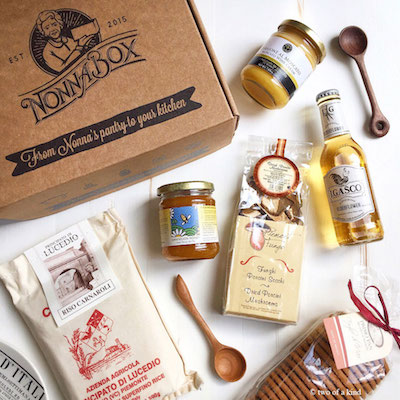 Far away from home, Pedrelli cooks his own pasta—using Nonna's recipes, of course. This got the homesick founder and digital marketing consultant at SoZialia hooked on a new business plan.
Founded in 2015, Nonna Box is a subscription-based service that sends a curated box of six gourmet Italian products—made by local artisans and always from a different region—to your door each month. Available only in the United States, Nonna Box allows you to "experience Italy from your home."
The best part? The box contains three recipes (first course, second course, and dessert) and personal stories, all from local nonnas—"because in the end, those are the ones that are passing down the traditions," says the WeWork Golden Gate member.
The Nonna Box team is lean, but mighty, currently totaling three—Pedrelli is joined in the U.S. by a content manager and certified olive oil expert—"like a sommelier of olive oil basically," he says—as well as an Italy-based sommelier who provides wine pairings for each recipe.
So far, there have been seven months of Nonna Box. That's seven nonnas divulging their favorite memories and recipes, as well as seven rounds sourcing and importing the best products—which is the hardest part, says Pedrelli, but also the most rewarding.
"Product quantities are always limited," he says. "For example, Nonna Box snagged the last of all U.S. importers' stock of pizzoccheri back in March, which means Nonna Box recipients were among the lucky few at the time who could get their hands on the pasta!"
Same goes for April: Nonna Box costumers received a chocolate bar from an 18th-century shop in Genova where a chocolatier named Domenico Ghirardelli first learned how to make chocolate. I think we all know how the rest of that story goes.
Photos: Giovanni Vagirei, Two of a Kind