There's no way around it: Our food choices have a direct impact on the environment. While reducing our meat consumption is a great start to cut the amount of greenhouse gases responsible for warming the planet, there are numerous ways both consumers and food companies can reduce our climate footprint.
As the need for greener diets becomes increasingly dire, a slew of mission-focused food companies are seeking solutions to the climate change crisis. The organizations below, all members of WeWork Food Labs, envision a more sustainable future and, through food, are working hard to make this future a reality.
Transforming food waste into superior taste
Spare Food Co., WeWork Food Labs, 148 Lafayette St, New York
Brothers Adam and Jeremy Kaye launched Spare Food Co. in May 2019 to help solve the planet's unyielding food waste problem: Approximately 40 percent of the food grown in the U.S. goes to waste. Adam, who spent nearly two decades working alongside Blue Hill chef and cofounder Dan Barber, learned innovative ways to use parts of plants that he "wouldn't ordinarily see as a traditional chef," and as a result underwent a "pretty seismic shift" in the way he thinks about food and food systems. Together with Jeremy, who spent years working with brands like Patagonia to make fashion more sustainable, the brothers create products from overlooked and unused ingredients while advising food-service distributors in hospitality, fast casual, large-scale corporate kitchens, and groceries to address and capture waste and reintroduce it back into the market.
"We call our company Spare Food for an intentional reason," says Jeremy. "No one wants to eat waste, think about waste, or feel guilty around it. If we call it 'spare,' we start thinking about how to see more value in the system." If we continue to manage "waste reduction," Jeremy says, we'll continue to waste. If we look at food as "spare," on the other hand, we'll be better focused on what he calls "food optimization."
"There's this hamster-wheel race to keep producing more and more food," says Adam, explaining that the country needs to instead focus on maximizing the resources it already has. Spare Food helps companies invest in change management to capture product that is usually tossed, turning it into sauces, condiments, soup bases, dips, and dressings.
Introducing sustainable fish into a new kind of sushi kitchen
Zoku, WeWork Food Labs, 148 Lafayette St, New York
You won't find any eel or tuna on Zoku Sushi's menu. While these fish are two popular offerings in Japanese restaurants, their absence from Zoku is deliberate. "We do widely available products that we source based on season and flavor," says company founder Charlie Yi, who launched Zoku in February 2019. "You don't need to eat bluefin tuna to enjoy sushi."
Yi's goal is to provide fresh, sustainable sushi to customers at a sustainable price. Zoku's website hosts an "arrival board" updated daily to provide transparency about what type of fish is available on any given day, and from where it's sourced. "We're moving people to white fish because it's so much more widely available, and we can pass on the savings to the consumer," he says. To make sure the sustainable product is also delicious, Yi has enlisted a former Nobu chef to prepare the food, train the chefs, and create the menu.
Zoku is not a restaurant, but a "digital kitchen," as Yi has dubbed it. There is no seating, and orders are placed for delivery only. The industry is seeing more of these virtual kitchens pop up as consumers lean in to the delivery's convenience. "The prime cost of running a restaurant in urban centers like New York is too high," says Yi. Zoku is able to save about 50 percent of what a standard restaurant must invest in delivery, which allows its customers to save and its employees to make a fair living. "Our average kitchen salary is way above minimum wage," says Yi, adding that every employee makes more than New York's $15 per hour minimum.
Zoku's first orders were placed by WeWork community members searching for a tasty offering for a catered event. The partnership has proven symbiotic, and it's only growing: Zoku currently delivers to about 25 WeWork locations in the New York metro area. Next, the digital kitchen is coming to the West Coast.
Supporting innovation to make plant-based eating a global standard
The Good Food Institute, WeWork One City Center, North Carolina
According to the Good Food Institute, a nonprofit working to make plant-based foods ubiquitous, eating animals will soon be an outdated practice. Launched in 2016, the Institute offers a range of services and insights to early-stage companies focused on both plant-based foods and cell-based meats. GFI also rallies its growing community of enthusiasts to support more established plant-focused brands and celebrates plant-based wins—like Dunkin's recent partnership with Beyond Meat—within the food industry.
Bruce Friedrich, GFI's cofounder and executive director, believes that the future is a world in which protein is sourced from animal- and slaughter-free meat. In fact, according to Friedrich, "innovation will remove animals from industrial systems" altogether.
"Why would companies keep producing factory-farmed meat if plant-based and clean meat were more profitable? They wouldn't," Friedrich recently wrote. "History has shown this over and over. Just look around. We don't use horses for transportation, we don't use oxen for plowing, we don't kill whales for oil, we don't use pigs for insulin, we don't use carrier pigeons for mail. There is no historical example where creating a better alternative to animals has entrenched the industrial use of animals."

Cutting the carbon footprint of nondairy milks with a made-to-order system
NüMilk, WeWork Food Labs, 148 Lafayette St, New York
There's no question that almond milk has earned the status of a modern kitchen staple, and a virtuous health halo to go along with it. And yet, while the nondairy alternative is considered compassionate (as in, it doesn't rely on animals for production), transporting cartons of the liquid from point A to point B can be rough on the environment.
NüMilk presents a fix that reduces the environmental impact associated with production and transportation: A kiosk machine makes and dispenses nondairy milks in less than a minute. "Our innovative supply chain enables NüMilk to offer fresh, more nutritious, better-tasting dairy-free milk than today's national brands—that's with a smaller environmental footprint," says Will Finkelstein, NüMilk's chief operating officer. "Shipping liquid around the country is not the most efficient financially and, more importantly, environmentally."
One truckload of NüMilk ingredients makes the same amount of dairy-free milk at a NüMilk kiosk machine as eight truckloads of factory-made milk that has to be shipped around the country. Removing liquid from the product's supply chain reduces the weight of the product, thus reducing the weight of the products transported, Finkelstein explains. "The machines are mini factories, making a product right there for you," he says of the dispensers, which are available at several Whole Foods locations in the New York Metro area.
Distributing humanely raised, organic, farm fresh eggs at scale
Handsome Brook Farm, WWeWork Food Labs, 148 Lafayette St, New York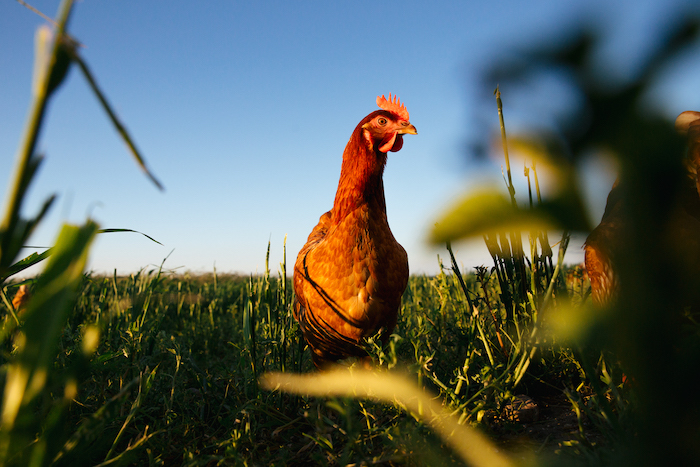 The conventional egg industry has figured out how to produce eggs at an incredibly efficient rate—think 9 billion eggs per month—but these methods don't provide hens with much, if any, quality of life. Not only is this industry tough on birds, but it eats up a host of environmental resources, too. To produce so many eggs at such an astonishing rate, massive amounts of energy are used for cooling and heating barns while vast amounts of waste are created in the process.
Eggs from Handsome Brook Farm are farmer market quality, but available at scale (meaning you don't have to track down a local farmers market to get them). The eggs are sourced from a network of more than 65 small farms across 10 states, and all are pasture-raised and organic (aka the crème de la crème in the egg world). More specifically, each Handsome Brook Farm hen has at least 108 square feet of pasture on which to roam and forage, and each is fed an organic, chemical- and pesticide-free diet. The company applied supply-chain thought to an industry that reaches most of its consumers through mechanized systems with grim realities for animals while maintaining a personal and humane approach that tends to be prioritized by individual contributors.
"It turns out, when you treat an animal better, they produce better," says Matt Sherman, the company's chief marketing officer. Over the past six years, Handsome Brook Farm has become the largest producer of organic, pasture-raised eggs in the U.S. By clustering its network of farms together, Handsome Brook has built a "sustainable system that allows farmers to have small farms they can afford while sustaining an agricultural lifestyle," says Sherman. "The result is a better-tasting product."