Before Revolve hit the New York Stock Exchange at $18 a share earlier this month, the billion-dollar fashion company had something to prove to potential investors. Namely, that "influencers"—which have buoyed the brand more than any other in retail history—were as sound an investment as the trendy, millennial-beloved clothing itself.
They are. And, as it turns out, it's impossible to divorce Revolve from the influencers who not only help to promote the clothes, but in some cases, also help design them. Take Aimee Song, an interior designer-turned-"mega-influencer" (it's a thing) behind the also-mega-popular fashion blog Song of Style.
In May, Song released her first clothing line with the retailer—a summery, 50-piece collection in sizes XXS to XXL, with a wide scope of aesthetic influences that range from the early 1990s supermodel era to Sex and the City's Samantha Jones—that sold out rapidly. Clearly, Song's collection, the first in-house influencer label for Revolve, satisfied a craving within the company, because just last week, the retailer announced another influencer collaboration with Brazilian blogger Camila Coelho.
Though she now has 5.3 million Instagram followers to her name, Song wasn't always one of fashion's most in-demand voices. She started her blog as a side project devoted to interior design more than a decade ago, in 2008.
"While going to school for interior architecture, I created an interiors blog that evolved into a fashion-focused one, because my followers started noticing my outfits when I took photos in my mirrors," says Song. She kept her day job—interior architecture and design—until "influencing" became an industry itself, and her priorities changed.
"At the time I started my blog, bloggers weren't making money," she says. "I never imagined it could be a career until after about four or five years of doing it, and realizing I could make revenue from ads."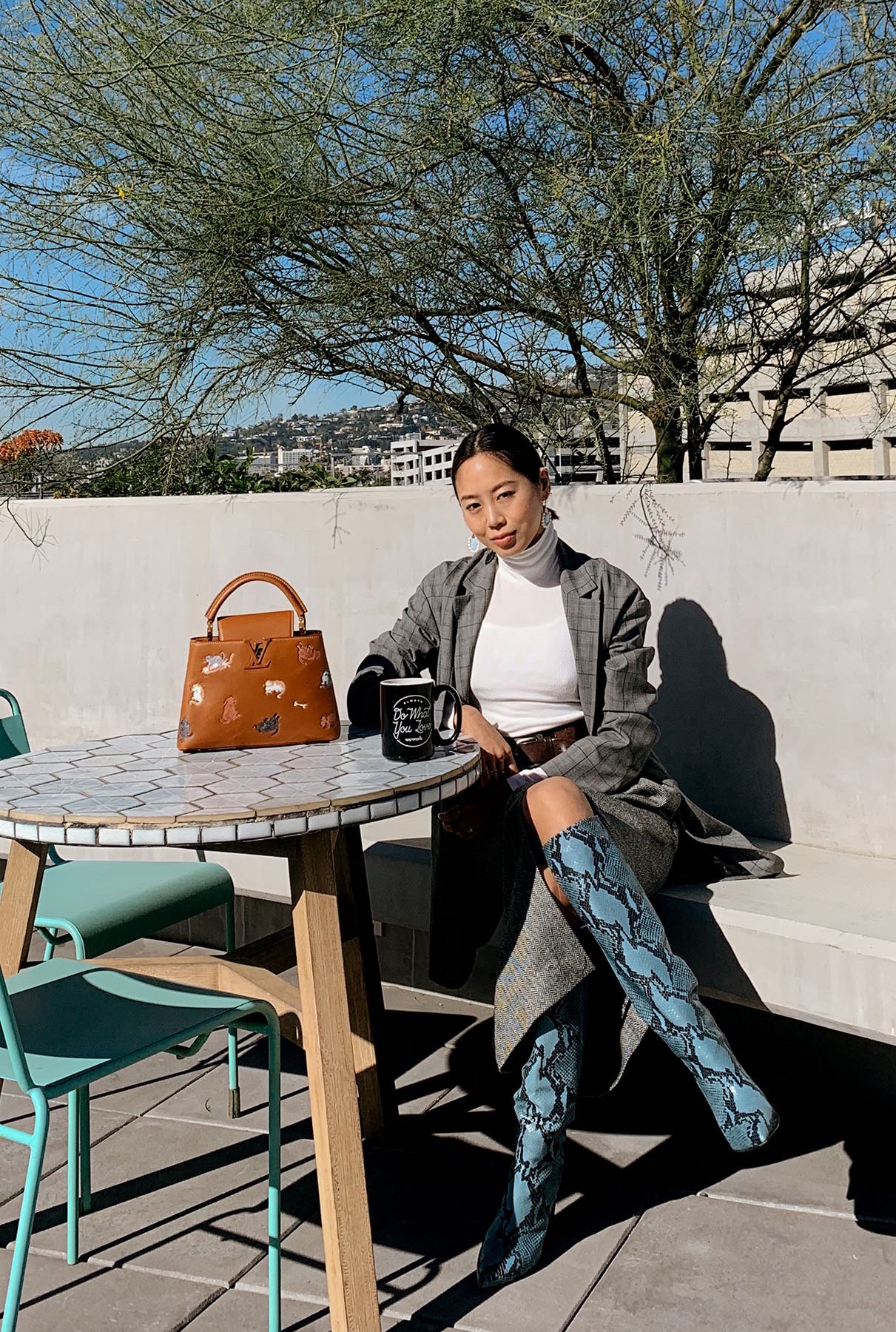 By 2015, fashion bloggers, from early adopters to professionals—including Arielle Charnas, Chiara Ferragni, and Leandra Medine—had begun venturing out in new and financially lucrative ways. (Ferragni launched her namesake footwear line, Chiara Ferragni Collection, in 2013; by 2019, her brand has grown to become a €30 million, or roughly $34 million, business.) It was around this time that Song stopped treating Song of Style as a fashion blog, revamping its offerings to become a full-fledged content destination.
The site receives 2 million page views a month, according to Business of Fashion, and covers fashion, beauty, and travel topics from Song's perspective. Naturally, interiors remain a focal point, but she's also vocal about career-building, especially as it relates to building out her own team.
In late 2018, Song moved Song of Style into a WeWork location in Los Angeles and discovered that WeWork came built in with what she calls an "inviting community and creative work environment."
"WeWork has exposed us to so many different types of businesses and people, each of whom inspire us on how to approach our business differently," says Song. "I realize now that working in a private office [outside WeWork] as we did before was very insular; we weren't able to draw inspiration or ideas from people who work in totally different industries than we do."
Before moving her team into the space, Song gave it a makeover—and published a post (with plenty of photos) of the newly revamped office. That post has become the top trending story on SongofStyle.com.
From an artistic standpoint, Song set out to decorate to maximize joy. "If someone comes to an office and doesn't feel inspired or happy in their workspace, it's going to have an effect on their mood and their work," she says.
This came to life in both form and function. To start, she moved the desks, which had faced the walls, to two groupings in the center of the room, facing each other. "Now we can see each other's beautiful faces without having to turn our chairs around," she says.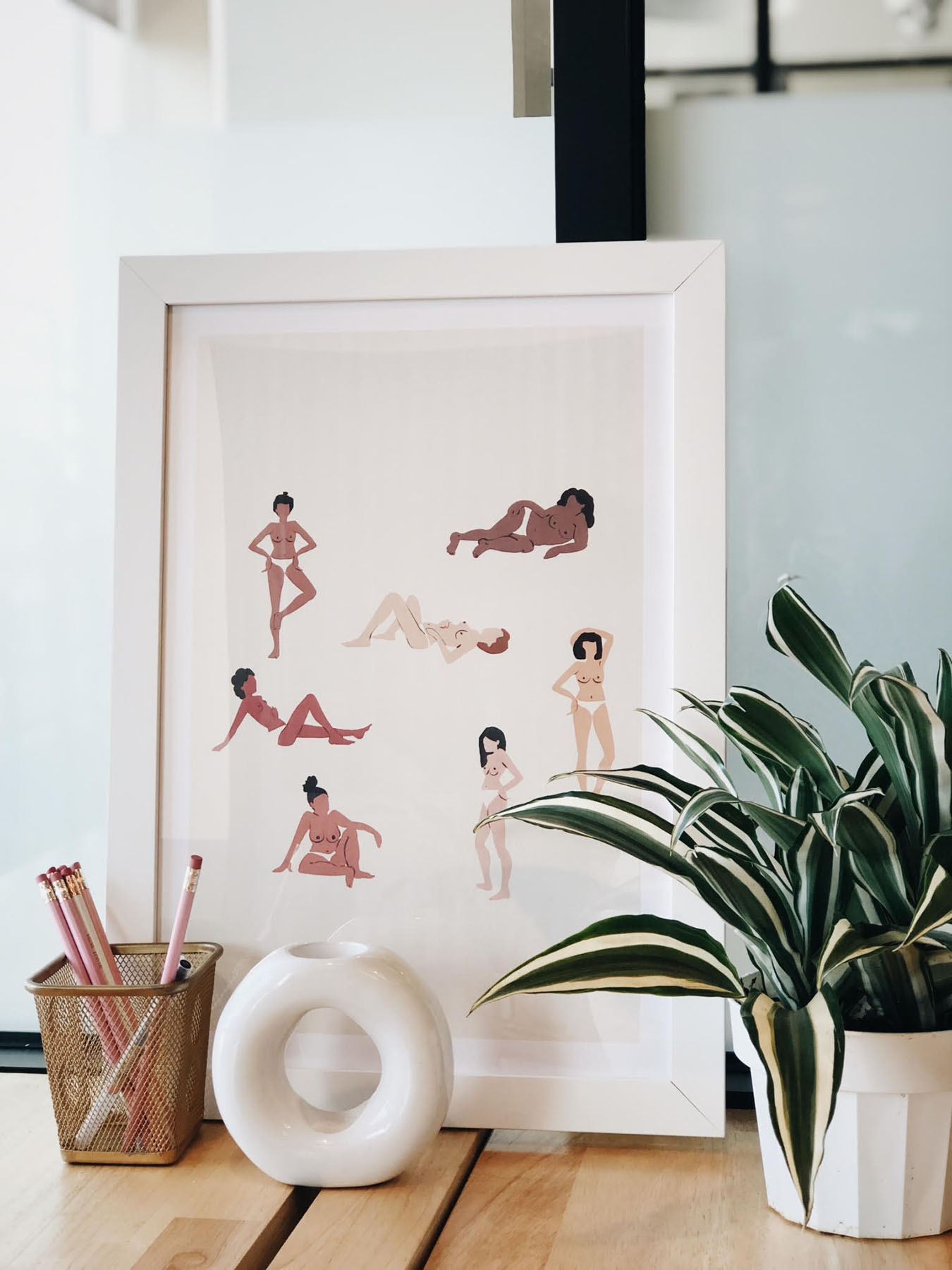 Plants—faux ones, to mitigate the upkeep required by real greenery—energized the studio. Then the final touches: assorted artwork; zippy, gold-flecked furnishings; and a vintage-inspired neutral rug that floods and softens the light wood floor. "I have an inviting and inspiring place for people to work, which means a happier place to work," says Song of her new workspace, which plays host to as many as six Song of Style employees. "These days, offices need to be both functional or productive, and creative or conducive to joy."
The final product, she admits, is "very Instagrammable." Though she doesn't design specifically with social media in mind, she does consider it a significant foundation of her business; as social media evolves, so does Song of Style. Likewise, Song maintains an agility with physical-product development. As collaborations with fashion labels have become increasingly lucrative for influencers of all levels, Song—who's had a clothing line in mind for a decade—knew that now was the right time to bring it to life with Revolve.
"Nothing happens overnight," she says. "Having my own fashion brand has been a dream of mine for 10 years, but I waited for the timing to be right before I executed. I finally felt like I knew exactly what my audience wanted and that I knew who I was, and that shows in my collection."
It took Song more than a decade to get here, and she's chock full of advice for those currently making the same climb. Below, she shares her top tips for influencers looking to bring their business to the next level.
Put your head down and do the work, potentially as a one-person show. Song has always had a strong support network, but in her earliest days, she worked long hours, almost all on her own. "You'll learn to be resourceful, and that definitely comes in handy down the line," she says. But the hard work never ends, which is one of the most common misconceptions about her position. "Although I do sometimes get to go to fun and glamorous events and places, I can spend up to 16 hours a day shooting content," she says, "and quite often miss the charm and experience of where I am."
Your community may be your heart and soul, but nothing can replace your gut. Song credits much of her success to the close connection she's forged with her audience. "Listen to your audience and be engaging—you'll learn a lot from them," says Song. "If you're about to hit a million followers or launch a collection, you've already done something right. Stay true to yourself."
Make the effort to learn every single day. It's what Song says allowed her grow as a creative director while working with Revolve, despite already having a solid baseline after years as a blogger. "Over the last year, I've gained so much knowledge about the fashion industry, from marketing to fabric and production," she says. She owes much of that to the teams she works with at Song of Style and Revolve. "It's made me more confident about my decisions, and I know that each collection is going to get better and better."