When a medical student reached out to She Codes for help creating an app for women to track their fertility treatments, Shiran Kfir knew the right team for the job. The 31-year-old software developer, a volunteer at She Codes, brought together nine women to work on the project, including some with very little knowledge of coding.
Kfir says that including young women dreaming about being a "part of something that is really important" is the biggest reason behind the project.
"The mixing of these very experienced women with those who have no experience at all is really good for mentoring," she says. "We show them how it feels to work on a team."
There are a couple of connections between all of these women. The first is that they all are a part of She Codes, a non-profit organization that teaches coding, design, and management skills to women at no charge. Founded in 2013, She Codes now has more than 30 locations across Israel. In addition to programming learning tracks, She Codes offers career coaching and other services for its approximately 20,000 members.
The other connection is WeWork. Kfir and the five women helping develop the app are on the technology team at WeWork Israel. WeWork is home to two She Codes branches: WeWork Menachim Begin 144 works with more experienced women who are seeking to improve their skills, and WeWork Dubnov focuses on high school girls who are just starting out. They learn programming languages and use them to build their own apps.
Weekly courses in tracks including web development and data analysis run for 18 to 25 weeks and are held at all 30 She Codes locations, most of which are housed at universities or technology companies. Attendees of the meeting include women of all races, religions, and ages, from high school-aged girls to retired women.
Rotem Haber, an engineering lead on WeWork's technology team, began volunteering at She Codes two years ago, even before she joined the staff at WeWork. Haber, now a vice president in charge of the various branches at She Codes, said that there are now nearly 300 other volunteers who help to manage operations.
When Kfir joined WeWork three months ago, Haber's dedication to She Codes inspired her to start volunteering herself. Kfir started attending meetings and eventually became the manager of the She Codes branch at WeWork Menachim Begin 144.
Both Haber and Kfir use their expertise on the WeWork technology team in Tel Aviv to collaborate with She Codes, working with women who want to pursue careers in software development or data science. They also help women who need help pursuing their own personal projects.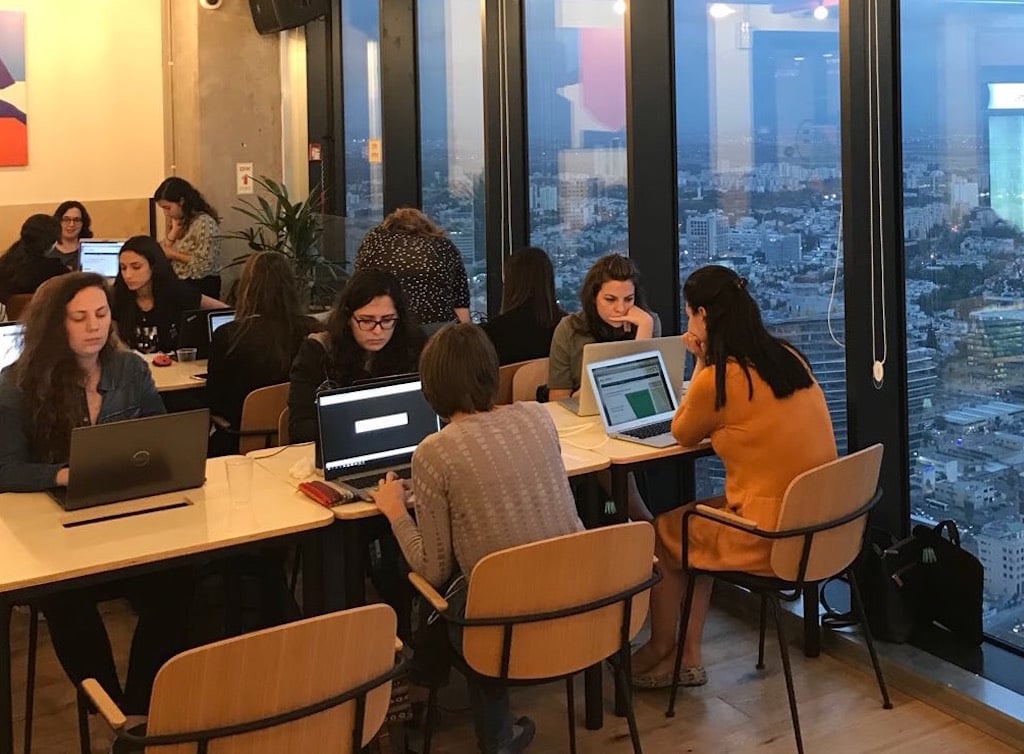 The mentorship doesn't end when classes are over. Haber and Kfir say they also help girls strengthen their resumes and practice for job interviews.
Ron Gura, vice president of product at WeWork Tel Aviv, says he was genuinely excited when he saw the work that his team was doing with She Codes.
"It has the potential to move the needle for our tech industry as a whole," says Gura. "WeWork is committed to giving back to the communities surrounding it, and supporting She Codes is an outstanding way to do so while facilitating diversity in tech."
Each year, She Codes commits to advancing its member's careers, helping them find jobs in the tech field. She Codes is not an easy program, as some courses require attending up to 25 weekly meetings and a significant amount of time studying in between classes. This year, hundreds of women will graduate.
"We see a lot of girls who have changed their career paths and who are really motivated," says Kfir. "Every day after I leave, I feel like I am helping women achieve their dream to become software developers in the tech industry."