After attending church one afternoon, a group of friends in the nation's capital asked themselves this question: How could they start an organization to meet the needs of children without asking for anything in return?
"I've been doing community service for years," says Steve Messeh, "and it bothered me that a lot of the time when people are doing good, there are strings attached."
Messeh is a co-founder of the Washington, D.C.-based HOPE Association, a faith-based nonprofit with the mission of transforming the lives of children in need. It's a religious organization, but it also tries to meet the "physical, emotional, and social needs" of these children.
They raise money in some very innovative ways. One volunteer who is an avid long-distance runner ran 3,000 miles to raise cash for a new pediatric mobile health clinic that will serve some of the poorest neighborhoods in the D.C. and L.A. areas.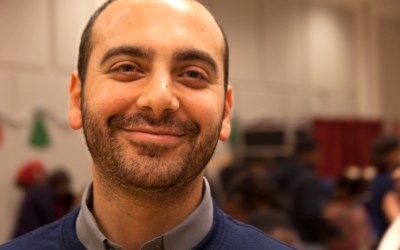 Founders: Steve Messeh, Anthony Girges, Paul Hakim, Maged Sharabi, and Nadeen Weybrecht
Year founded: 2012

Employees: 5 directors, 1 full-time staff member, and 4 part-time staff members
Where we're based: WeWork Member in Washington D.C.

Moment of inspiration: "I remember sitting in a board meeting and giving this vision of the organization," says Messeh. "The board members laughed, saying I was talking about an organization that's huge and global with an investment that doesn't match. Either we need to increase investment or lower expectations and visions—which was true. I needed to invest my whole life. That was when the burden was laid on me to leave my job as a financial analyst."
Biggest hurdle: "The biggest hurdle in a nonprofit is volunteer management," says Messeh. "You have full-time and part-time staff trying to manage volunteers who don't have that same level of engagement and commitment. You have limited time with volunteers, so you have to maximize it and appreciate them at the same time."
How we want to change the world: "We want to change the world one person at a time," says Messeh. "What hinders most people from serving one person is the idea that they can't serve a million. There's a famous quote that says 'Do what you wish to do for a million people—for one person."