Many entrepreneurs dream of their moment in the spotlight, but for 23-year-old Sharon Winter, that dream became a reality when she was tapped to star in Startup U.
"When I got there, I didn't really know what to expect," Winter says about her stint on the ABC Family reality series, which premieres August 11. "I didn't even know what kind of clothes to pack. It was very up-in-the-air."
But there was little time to worry about things like wardrobe, as Winter and the nine other contestants were immediately thrown into a competition pitting them against each other.
"It's a very fast-paced entrepreneurial environment," Winter says. "You're working around the clock, 24/7."
Winter, creator of a social media app called Hotpoint, got involved in the show when she was accepted to Draper University, a seven-week training program and accelerator for young entrepreneurs. Founder Tim Draper is also behind Draper Fisher Jurvetson, a private venture capital firm with hundreds of millions invested in companies like SpaceX, Tesla Motors, Twitter, Tumblr, and Skype.
On the show Draper and other venture capitalists decide which of the students' businesses to invest in, a premise similar to anyone who's seen the popular show Shark Tank.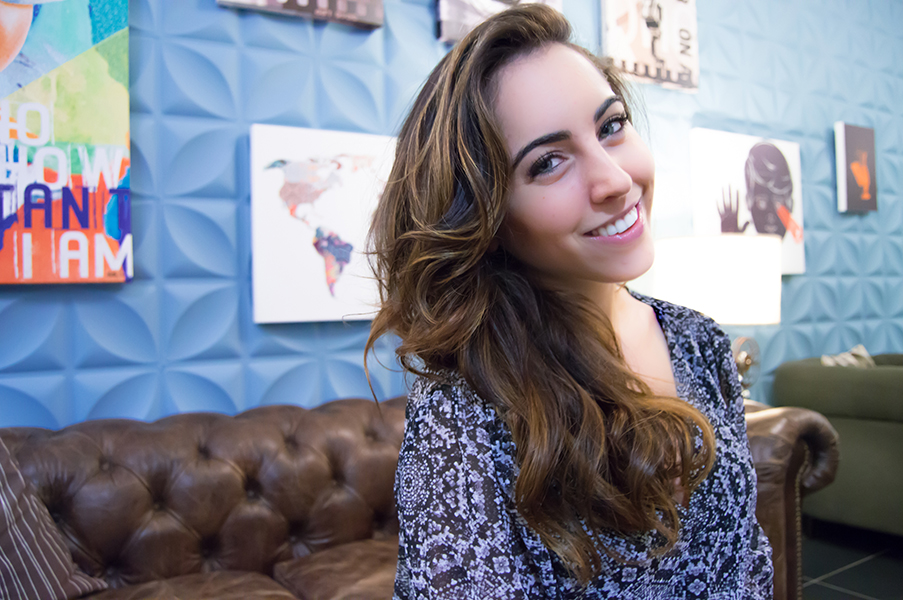 "I didn't know if I was behind or ahead in the game," Winter says. "That was my biggest concern—how I stood among the other people."
The close-knit nature of the program meant forming complex relationships with her fellow contestants.
"We all become a sort of a bonded family, because we're going through this every day, and it's non-stop," she says. "It's competitive at the same time, so it's hard to balance. You're competing against your friends."
But Winter believes the challenge was its own reward.
"It's definitely stressful, but it pushes you much harder. I think I grew so much in those few weeks because of that stress," she says.
Winter is the founder and COO of Hotpoint, a social networking video app. The idea for her business, Winter says, came naturally to her.
"I grew up in L.A., and I loved going out," says the WeWork Hollywood member. "Everyone has that experience where they've been working all week and they have that one night that they're free and excited to go out, and they go somewhere that doesn't fit their vibe or mood. It's frustrating."
Winter decided to come up with her own solution soon after graduating from Carnegie Mellon University a year and a half ago. Hotpoint was a way to peek into exclusive venues in L.A., from nightclubs and bars to restaurants and salons.
The free downloadable app on iOS, and soon on Android, allows users to upload 15-second video snippets and post them to a virtual "map," which other users can then view. The company also has another unique component—"video booths" are installed in 24 of the most exclusive venues in Los Angeles.
The appeal of the service, Winter says, is broad.
"You get to understand the vibe before you go there, so you're not wasting a night jumping around," Winter says, "especially in a city like L.A. where you're driving around for 30 minutes, looking for parking for 20 minutes, and waiting in the line outside."
The app, she says, is helpful to amateur and seasoned nightlife enthusiasts alike, and the publicity the service offers its venues has led to rapid growth. Hollywood celebrities often frequent the video booths, which are being added to venues in Miami and Las Vegas throughout August and September.
Winter says she's thrilled with the reaction so far to Startup U.
"My realm of expertise was definitely shown in a certain way," Winter says. "I have a lot of strengths that I taught to the people, and there were other people who I felt knew much more about topics than I did. It was nice to be able to ask for help, and it was a very friendly environment."
Photo credit: Sharon Winter / ABC Family