The audience for "Metalsmith Matriarchs: Makers, Memory, and Reciprocity"—WeWork's recent event held in celebration of Native American Heritage Month—hailed from cities across the country. Each was eager to hear metalsmith Nanibaa Beck talk about this jewelry-making tradition.
Beck, a second-generation Dine' (Navajo) jeweler and founder of NotAbove, shared the ways Native women metalsmiths integrate Indigenous knowledge, practice, and tradition into their craft. In many cases, she explains, these skills are passed on from generation to generation. For instance, she learned silversmith skills as a young teen, working beside her father in his studio.
The connection, she says, was simple: "My dad needed help and I just wanted to make something with him." But that sparked an interest in an art form that dates back more than a century, and is reflective of the diverse geography, culture, and history of the Native American people.
Finding inspiration within and without
While some may hear "Native American jewelry" and think simply of stamped silver and turquoise, Beck explained that the art form goes far beyond that. Artists use many different techniques—including fabrication, stamping, and tufa casting, in which flat bricks made of stone are etched and then used as a cast for liquid metal. Likewise, materials vary from local stones to pearls and rubies to tanned hide. Each artistic decision is influenced by place and identity.
"We allow ourselves to be identified as NA [Native American] through the jewelry we create," says Beck, who was motivated to learn more about Native American art in school. She studied anthropology, American Indian studies, and museum studies at Arizona State University, and has worked with renowned museums and organizations including The National Museum of the American Indian, The Peabody Essex Museum, and The Arizona Humanities Council.
Today, the artist belongs to a vast network of fellow craftspeople and patrons, one she describes as a tight-knit community connected to one another through their heritage and identity. Among the connections Beck holds dear are fellow female metalsmiths doing work that reflects their heritage and a uniquely personal sense of design.
Metalsmith matriarchs
Connie Tsosie-Gaussoin (of Picuris Pueblo and Dine' tribes), Keri Ataumbi (of Kiowa), and Robin Waynee (of the Saginaw Chippewa tribe) are three metalsmiths Beck has chosen to showcase; they each represent the scope and breadth of Native American metalsmith design. "Their work says so much about nurturing intentionality and [paying] attention to details," she says.
"Connie utilizes the earth as a canvas," Becks says of Tsosie-Gaussoin, who assisted her relatives as a child and often hiked nearby mountains with their tools to find tufa stone from her Navajo homelands. "She has a cool, raw way of combining materials to articulate what she feels." Tsosie-Gaussoin learned the craft as a young girl from her father and uncle, both jewelry designers. Today she works primarily in tufa casting, and has been showing her work since the late 1960s.
We allow ourselves to be identified as Native American through the jewelry we create. These are memories that we form and forge with the metal.

Nanibaa Beck, jeweler and founder of NotAbove
Where Tsosie-Gaussoin's work has a raw, natural beauty, Waynee's feels more contemporary. "She has an abstract, structural approach to jewelry," Beck says. "She is very exact in her presentation."
Waynee uses a mix of wax casting and fabrication to create her sleek, graphic pieces. The daughter of an artist whose medium was mostly wood, Waynee learned metalwork from her husband, and the two often work side-by-side in their studio, on individual or shared projects.
Waynee's homeland plays a large role in her design style, says Beck. "Her current work shows a woodland influence, with floral designs that reflects her Chippewa culture in Michigan."
Ataumbi's work reflects her combination of formal and informal training: She grew up in a household of artists and culture bearers, then studied at the Rhode Island School of Design before continuing her education in New Mexico.
Frequently, Ataumbi works with what some might consider a surprising combination of materials. She described one necklace in particular: a combination of glittering diamonds, deeply colored rubies, and tanned buckskin. "These are items of value," Beck says. "Items that are precious to Ataumbi and our culture." Another piece Beck showed the audience was a buffalo horn cuff inlaid with sapphire and a gold arrow design.
Preserving and reinventing tradition
In showcasing the different design styles of these metalsmith matriarchs, Beck highlighted the diversity within the Native American jewelry art form. She noted that many current artists learned from the generations before them, before bringing their own unique perspective to their work. And yet, their heritage is always part of the piece.
"We allow ourselves to be identified as Native American through the jewelry we create," Beck says. "These are memories that we form and forge with the metal."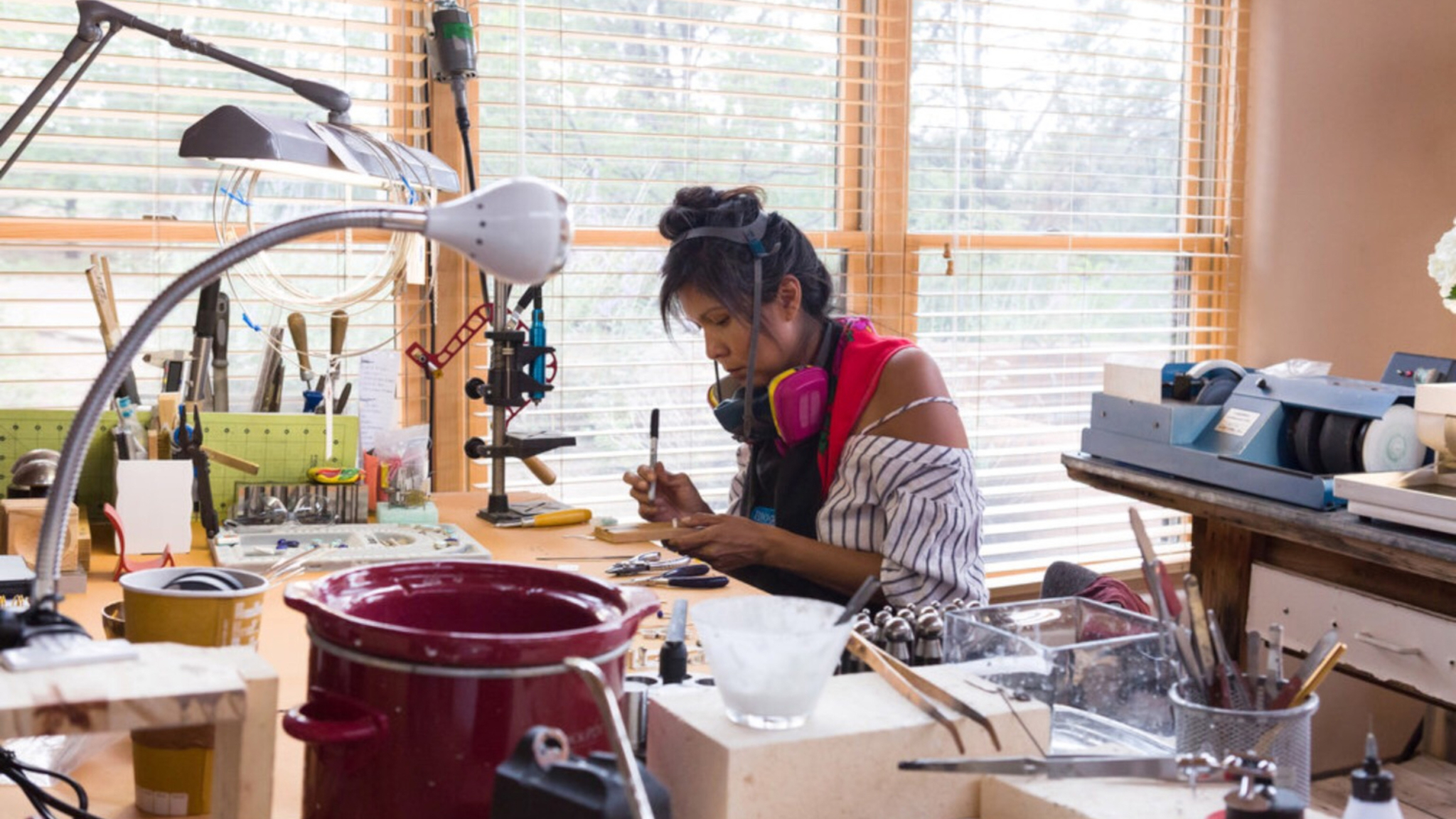 One of Beck's own favorite pieces is a necklace she made after her mom passed away. It took her 11 months—a process of grieving and creating, she says. In the design, she incorporated stones from the sacred mountains surrounding their reservation. "When you're making a piece, you want to represent yourself and also your growth," she explains. When a woman who'd recently lost her own mother wanted to purchase it, it just felt right to Beck.
Looking ahead at the next generation of Native American metalsmiths, Beck sees their connection to their past and their unique place in the present reflected in their work and perspectives. "Connie's kids create pieces that have a raw beauty," she says. "It's a traditional design, as it represents continuity of the word tradition—built on respect for their tribe."
That connection as well as respect for their land and their people stays with the artists, Beck explains, no matter where they are. For her part, she's always looking to foster young talent within her community. And in spreading the word about other Native American metalsmiths, Beck feels that she's staying true to her belief in reciprocity. "It allows me to speak to people about something I feel so passionate about," she says. "The idea is to nurture the interest and pass it on."
Melanie Mannarino is a writer, editor, digital strategist, and author of several books, including The (Almost) Zero-Waste Guide: 100+ Tips for Reducing Your Waste Without Changing Your Life.
Rethinking your workspace?