When it comes to working in a startup, the experience can be likened to a roller coaster ride. "Think of the biggest roller coaster you've ever seen," says serial entrepreneur and Bindo co-founder David Bozin. "Now multiply that size by 10 with intense rises and falls — that is the typical life of an entrepreneur."
But after working in multiple startups like Sprigeo and No Right Brain Left Behind, David has become quite accustomed to the unpredictable pace associated with working in a nimble and scrappy environment. Currently, David runs business development and operations at Bindo, an app that helps store owners run their businesses more efficiently by offering a point of sale system that accepts credit cards, readily transforming iPads into the next generation of POS. Bindo likes to call it "flipping the lid on retail".
As a West Coast transplant, David finds the energy of the New York tech scene to be exhilarating, a nice change of pace from the easygoing California vibe. "I find comfort in discomfort," he explains. (Which should come as no surprise considering his favorite extra-vocational activity is cliff diving.) And since making his move from the Golden State, David has discovered countless means of challenging himself every day.
Such means include David's fully hands-on (and slightly unorthodox) approach to new customer acquisition. Upon joining the Bindo team at WeWork SoHo in 2013, David found the company trying to push their product to market while relying only on very lean resources. Of course, David decided to tackle this challenge in the only way he saw fit: Touring Brooklyn and New York City on his road bike in the middle of summer, working tirelessly to pick up traction, and amp up Bindo's customer base.
"One of my least favorite statements is 'It is what it is'. In startups, it's all about, 'It's what you make of it,' he says. "Great companies don't build themselves; it takes blood, sweat, tears, and an awesome team to make it happen."
Refusing to ever settle for the status quo, Bindo is constantly innovating and developing new features as they build their presence in a highly competitive landscape of other point of sale apps like Square, Intuit, and ShopKeep.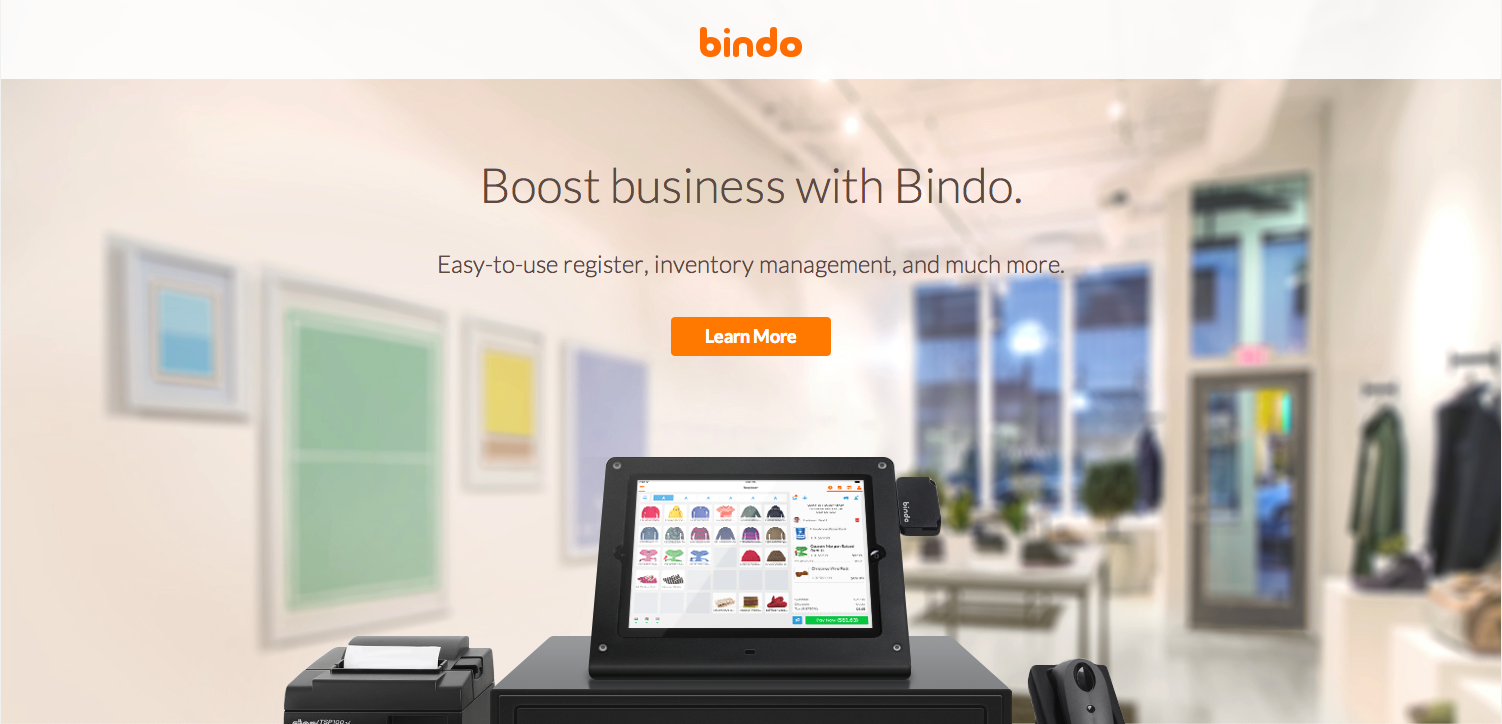 The company began as a marketplace focused on intuitive inventory-recognizing technology, an idea sparked by co-founder Jason Ngan's experience with local commerce fulfillment while in college. Jason soon brought on his co-founder JoMing Au, a study mate who also had experience in personal e-commerce. Together, the two searched for a person with experience in UI/UX, ultimately discovering their next hire and co-founder, Brad Lauster, on LinkedIn. The team was finally ready to start building.
However, the trio soon discovered a significant gap between marketplaces and the systems that local businesses use on a daily basis. Their solution? To develop an easy-to-use tool for merchants, consumers, and of course, brands, which brought them where they are now – a fully integrated point of sale, marketplace, and data analytics platform.
"We're constantly pushing forward, despite countless people calling us crazy for going after such big goals," shares David. "But that's what it takes – nothing worth achieving comes easy." David points out that a localized app is in the making as well.
So, while Bindo is busy revamping its offerings for merchants and consumers, David credits stress as the driving factor to moving the company and team in a forward direction. "The great athletes gain success by continuous physical and mental stress. Each time we break ourselves down, we give ourselves the ability to rebuild and make ourselves stronger. The same goes for being an entrepreneur – we're always challenging ourselves to rethink, redo, and rebuild."