Although Jen Atkin is known for the list of trendsetting celebrities that consider her their must-have hairstylist—Jennifer Lopez, Sofía Vergara, Jessica Alba, Katy Perry, and just about every Kardashian in the book—that's just part of what she does.
The Los Angeles transplant is also a serial entrepreneur, having struck out on her own at a point in her career when most stylists would have been happy to have a spot in a prominent salon. Then she started the website Mane Addicts as a hobby, but it quickly became an obsession for women who want to copy Atkin's signature style: the effortless look that lets them go from the gym to dinner with friends to a night of clubbing with a minimum of fuss.
Now the WeWork Fine Arts member has moved on to the next big thing: her own hair care line called Ouai. It's an affordable line for women on the go, just like her high-profile clients who can afford to go to a stylist but want to "feel like they can do this on their own."
Developed over the past few years, the line is expected to make a splash. Industry experts say it will make $7 million to $9 million in sales in its first year.
We talked with Atkin about how she got into the business, who has helped her along the way, and which women are her style icons.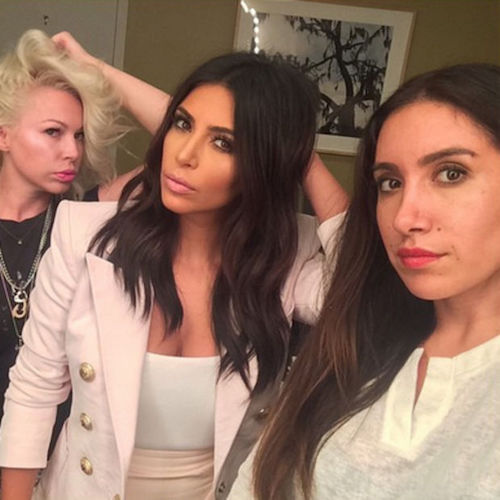 Your parents wanted you to go to business school. How long did it take them to realize that hair was really your calling?
They're still hoping I'll go to business school.
You're known for all the celebrities that consider you their go-to stylist. Did you follow celebrities when you were young?
Growing up Mormon in Utah, I definitely idolized some celebrities when I was young. I was obsessed with Gwen Stefani (still am!) and when I got to work with her for the cover of Vogue, all my teenage dreams had come true. I also was fascinated with pop culture and beauty as a child. I loved the supermodels of the '90s, and Paula Abdul!
I heard Dave Matthews helped you get your start. How was that?
I was living in Salt Lake City and got to meet Dave Matthews on a movie set. He told me and my best friend that if I wanted to really do hair, I should move to L.A. or New York. He talked us in to leaving and moving to L.A. to pursue our dreams. I owe it all to him!
One of your first jobs was going on tour with Madonna. Was that intimidating?
It was intimidating because it was so early on in my career and it was a lot of hard work. There were 10-plus dancers and I was responsible for all of their hair, and had to do it fast. It was a lot of fun, but we were literally working 12 hours a day, every day, then flying at night. It was like hair boot camp. It was pretty incredible seeing the world for the first time at 26.
You struck out on your own very early in your career. Was it hard to make that decision?
It wasn't something I ever really thought about or made a big decision to do. I was working at the Chris McMillan Salon as a stylist and was going to pursue a traditional salon stylist career, but after my clients were taking me on location and having me do shoots, my schedule outside of the salon became busier and busier. I used to call the Wall Group—my agency—every month to get them to sign me until finally someone returned my call and I met my agent, Dana, who has been by my side for nine years. It was really a natural progression for me.
Tell us what it was like creating your own line of hair products. Did you have a certain type of customer in mind?
I know the Ouai girl. She works hard and wants to have fun. She is grounded, effortless, smart, and cool.
Creating my own line has been a dream. I've worked endlessly for the past two years to create something that I believe in and that is authentic to who I am. With a major lack of cool and curated products in the marketplace, I've struggled finding a hair care brand that my friends or I could relate to.
I saw a lack of supplements used in hair care, so that was important for me to include. I also wanted to create an easy-to-navigate website, app, and especially a subscription model. Hair care is a necessity in life, and I want it to now be easily accessible. It was important for me to engage my customer in a unique digital experience.
With Ouai, I wanted to create a "breath of fresh hair"—a line for real life, for real women. Luxury products that are simple, affordable, and classic in a world full of loud noise.
Did you stick to your original vision for the new line, or did it change at all along the way?
I was lucky enough to partner with investors who understood my vision and encouraged me to go with it. Fortunately, little changed, and I had a clear goal in mind. I am constantly listening to my followers and my fellow stylists' comments and feedback, so I feel like I have my finger on the pulse.
You've often said women can buy the cheap drugstore shampoo. What's the one product that they shouldn't skimp on?
Conditioner. If you want moisture in your hair, the right hair mask is key, and the cheap ones just won't have the ingredients to get the job done.