It was Scott Dunn's fifth networking event in two weeks. After waiting for an hour just to get in the door, he discovered that he was just one of hundreds of entrepreneurs competing for the time of prospective investors.
"It was pretty much a waste of time," he remembers about the November event. "There was no access to Wi-Fi, so I couldn't even demonstrate my website. And on top of everything, I didn't even meet the investors I had come there for."
Walking the 20 blocks home, Dunn had a revelation.
"Everybody there was having a pretty miserable time," says Dunn. "Looking for investors is a very expensive and very exhausting process. And it takes your attention away from your product. I realized that there had to be a way to make it better."
His idea was a simple one: an app that connects angel investors and early stage startups. So by January, Dunn had pulled the plug on his first startup—a sports apparel seller called Tackl—and started working full-time on his professional networking app Unicorn.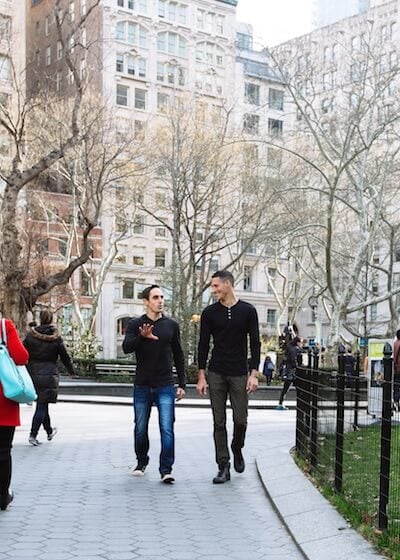 "It's kind of ironic," he says. "Technically you could say that Tackl was a failure, but it bridged the gap to the project that I'm doing now."
Dunn says while he was looking for a second round of funding for Tackl, he wasted months trying to find the right investors—time that could have been spent perfecting his product. That's where Unicorn comes in. Investors can identify companies that they might be interested in funding, and entrepreneurs can zero in on the funders that would be the best fit for their company.
Dunn didn't have to go far to find colleagues interested in his soon-to-be-released app Unicorn. Two of his brothers are part-time co-founders—one is in design, the other in finance.
When he was looking for office space, he talked with his friend and mentor Jamie Cohen. The co-founder of the content mobility platform Shodogg, Cohen told Dunn about his office in WeWork NoMad.
"I hadn't even heard of WeWork before," says Dunn. "I stopped by, and I absolutely loved it. More than anything, I loved the energy around here. Anybody can replicate the layout, the setup, the amenities, or the Ping-Pong table. Anybody can do it. But WeWork stands out because of the culture and the community. That can't be replicated. It happens organically."
Dunn secured space in WeWork Labs, a shared workspace for early stage startups. It proved a great fit, for reasons that Dunn didn't even expect. Two of the people at nearby desks—attorney Kelly Peters and financial expert Max Spiegel—soon became involved in his company.
"One sits directly next to me, the other a row away from me," says Dunn. "And we're all friends, too. We're truly good friends, not just collaborators."
On top of that, Dunn recently hired a software development firm that sits about 15 feet from his desk.
Daniel O'Duffy, director of WeWork Labs, says he's impressed by Dunn's ability to make friends and connections in seemingly unlikely places.
"A great example here is that whilst most people want a nice, quiet desk by the window, Scott asked to be by the door so he could say hi as people came in and get to know everyone," O'Duffy says.
Dunn must be doing something right. He says he's on the verge of closing a $300,000 round of funding, and he gives much of the credit to the strong team he has assembled.
"Simply put, I couldn't have done this without WeWork," he says. "I have greatly valued not just my time spent here over the last year, but the relationships I've managed to cultivate."
Photos: Katelyn Perry