The ways we work have fundamentally changed. People no longer seek just work-life balance. They want the power to choose when, where, and how they work. They want the freedom to create their own schedules, to do work they find meaningful, and to be in a space that suits their unique needs. Gone are the days of a one-size-fits-all nine to five. In All the Ways You Work, WeWork members share how they're reimagining their professional lives and thriving in this new world of work.
There's a pervasive stereotype of the content creator: someone who sits at home, staring into a webcam and running the whole operation on their own. However, as the demand for content grows, and the profession gains more and more legitimacy, creators of all kinds have moved from the bedroom to the boardroom, building global businesses with large teams and powerful clients.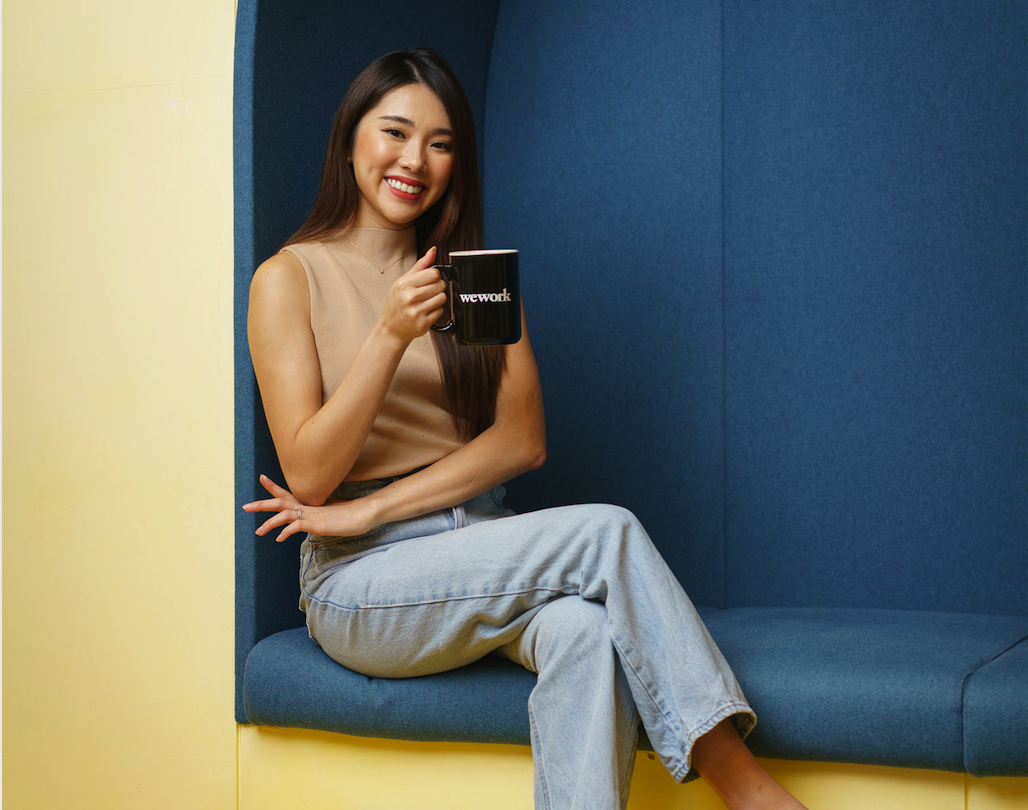 Mongabong, whose real name is Mongchin Yeoh, is a lifestyle content creator who has a large following on YouTube and Instagram for her fashion and beauty content with a distinctly Singaporean style. She creates bespoke content for fashion, beauty, and health brands—including reviews, unboxings, and promotional content—on a near-daily basis. She now has an illustrious list of clients for whom she creates sponsored beauty and lifestyle posts.
Consistently posting videos, images, and day-in-the-life VLOGs takes a lot of work and an ever-growing team to help create it. Yeoh was just a year or so into her career when she realized she needed a proper workspace.
"I work with a lot of interns, many of whom are only on six-month stints, so I was looking for a space that would allow me to expand my team when I needed to, and sometimes downsize," she explains. "Most of the conventional office spaces in Singapore were on two-year leases, and I wasn't sure how long I'd be there, or how much space I'd really need…and then I found WeWork."
Yeoh opted for a membership at WeWork Beach Centre in Singapore's Downtown Core, and hasn't looked back since. Today, with a social media following in the hundreds of thousands and an endless amount of content to produce, she's happy to be in a professional workspace designed with 21st-century business needs in mind.
I've gotten way more productive since I opted for a [WeWork] membership. It's a breath of fresh air, all the time.

Mongchin Yeoh, lifestyle content creator (known online as Mongabong)
A WeWork membership allows Yeoh and her girls (as she refers to her team) an unparalleled level of flexibility. Every day, she says, "my team goes in, finds a place to sit down, and gets to work. We like to roam around, changing up our environment. We love how welcoming the community is—all the hot-deskers know each other, we smile at each other in the pantry."
The different spaces within WeWork suit her different needs as a content creator, providing a space to both run her business and edit the content she creates. "I use the soundproof booths a lot when I have meetings and also for voice-overs," she says. "If you need to record something in silence, or hear someone clearly, they're a really nice space to do that in."
Conducting meetings with clients, collaborators, or potential business partners is a vital part of a content creator's job, with brand partnerships often resting on the way a content creator presents themselves and their ideas. The meeting rooms at WeWork allow Yeoh and her team to carry out both informal and formal sessions.
"There's so much variety," she says. "There's one that has AV output, so you can do big presentations, and one where you can have just a cozy coffee chat."
The coffee, Yeoh admits, is one of the biggest draws of a membership. "When I get in, the first thing I do is go for the coffee," she says with a laugh.
Yeoh also thrives on the connections with other members. "Our community manager makes a point of introducing people, creating a connection when they see someone needing a social media influencer or any other kind of expertise," she says. "A lot of fruitful working partnerships have come from that."
Having a full-time community team on hand, making sure that everything runs smoothly, is another bonus for Yeoh. "I love the concierge service, because I'm not always in, but I get a lot of parcels," she says. "I know they're safe, as there's always someone there."
She says she would "absolutely" recommend a WeWork membership to other content creators. "It's great for any kind of freelancer: writers, PR agents, anyone! There are so many different memberships you can go for, from a desk to an entire floor," she says.
In the chaotic, demanding life of a content creator, a WeWork membership also provides a welcome bit of consistency.
"It's been four and a half years now, and I haven't moved," says Yeoh, admiring perhaps the one evergreen fixture of her working life. "I've gotten way more productive since I opted for a membership. It's a breath of fresh air, all the time."
Clive Martin is a writer and journalist based in London.
Use promo code WORKWITHMONG to get 50% off WeWork All Access. Terms apply.