Tim Philosophos and Kevin Silverman take every aspect of their company, Falcon Capital Management, very seriously.
First, there's the Capital Management aspect of things: they invest in smaller companies, referred to as small-cap and mid-cap investments. They're damn good at it, too, having worked in market investment for more than 30 years each. Then they also pride themselves to being like their namesake bird.
Philosophos describes their office as an "aerie" and sings the bird's praise: the "falcon has the keenest eyesight on the planet, and we liken that to our task of mining the investment landscape for opportunities unrecognized by the general market."
"And then," he adds, "we have fun with it."
Silverman jumps in, noting the falcon's reputation for speed. And he's right, of course: the peregrine falcon can reach speeds up to 200 miles per hour when going in for the kill.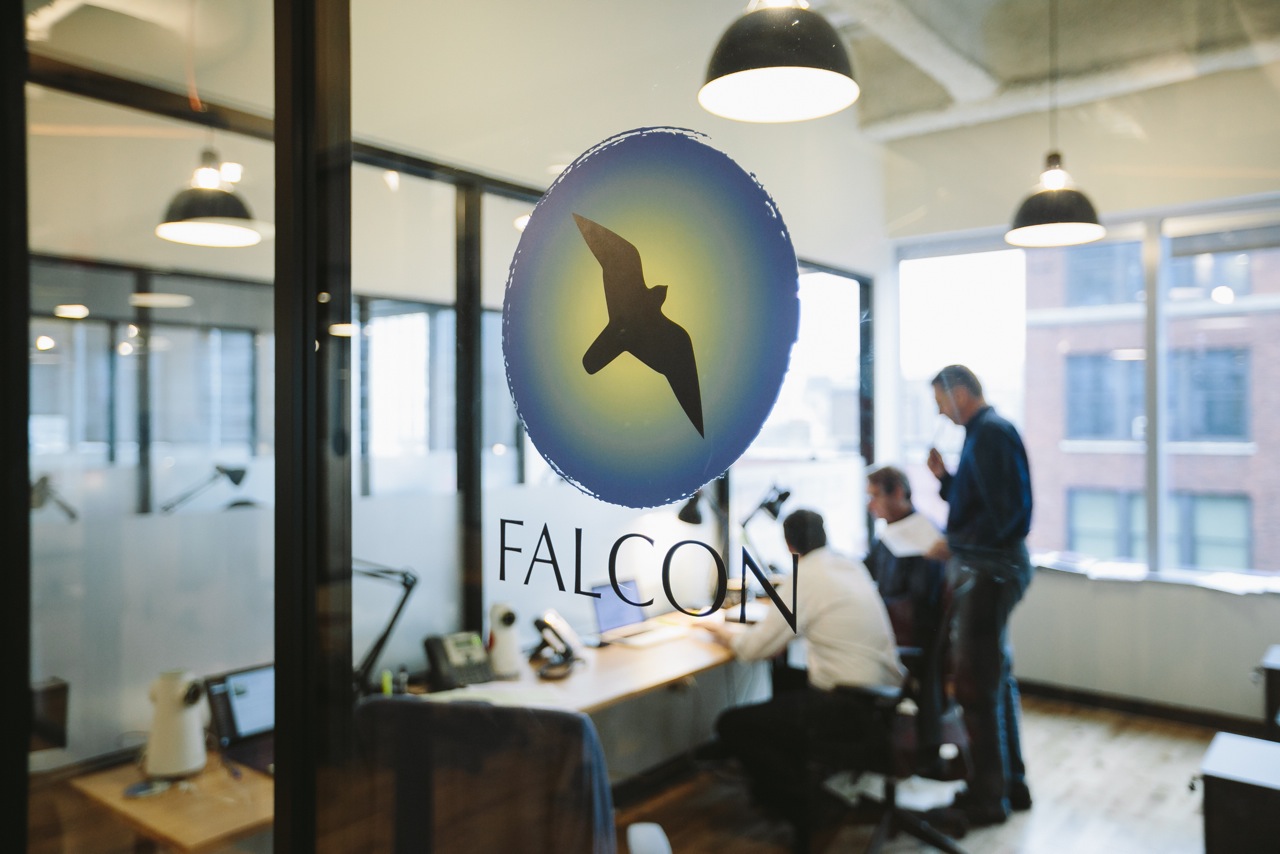 "Part of being fast," Philosophos says, "is being here at WeWork River North. That's part of the reason we're here. I like to say we've escaped the towers of isolation and conformity in our old office building. By comparison, that's what they are compared to our experience here."
WeWork has proven to be an essential part of Falcon's growth, letting it fly from the first day out of the nest.
"We've gone native with the people who will reshape the productivity of America," Philosophos says. "We think that's provided us with an edge."
Falcon looks to small-cap and mid-cap companies because that's not just where the excitement is these days, it's also where the profit is. Larger companies sometimes buy these smaller companies, they explain, and sometimes they get undermined. And there's no better place to explore that ecosystem, they say, than a WeWork space.
Both of Philosophos and Silverman have worked extensively in The Loop, Chicago's central business district.
"We've worn suits, we've worn three-piece suits, we've experimented with casual Fridays, horn-rimmed glasses with shiny shoes and all that," Silverman says. What we've learned over time is that what it comes down to is: 'How do we serve our clients with great investment ideas that outperform the market?' That's really our job."
By moving into their new space, they've been able to embed themselves among the very companies they want to steer their investors towards.
"It's not only about finding great companies that we or some of our related companies might want to be involved in as an investor," Silverman continues. Being at a WeWork, at this hotbed of the new, "teaches us what the cutting-edge technologies are that our existing holdings should avail themselves of. And if they're not doing that, it helps us understand which companies we should not hold. So it works both ways for us, and it enhances our advantages relative to our small-cap value competitors, who are staying in the tower of conformity."
What's happening in those towers of conformity? Not much, Silverman reports. What it comes down to is: they're "increasingly ignorant, I would say, about the changes in technology that they will end up reading about a year after we've been hearing it at the water cooler—I mean, beer tap."
Photo credit: Lauren Kallen