The ways we work have fundamentally changed. People no longer seek just work-life balance. They want the power to choose when, where, and how they work. They want the freedom to create their own schedules, to do work they find meaningful, and to be in a space that suits their unique needs. Gone are the days of a one-size-fits-all nine to five. In All the Ways You Work, WeWork members share how they're reimagining their professional lives and thriving in this new world of work.
What if you could get a dental checkup with no tedious scheduling, stiff plastic chairs, bright lights in your face, or metal tools in your mouth? What if you didn't have to sit in a waiting room or hear a dentist scold you for not flossing more?

That's the vision of entrepreneurs Jie Feng and Kevin Duffy and their tech startup Kells. The company has developed an artificial intelligence (AI) system that analyzes scans of a patient's mouth, which a dental hygienist completes. Kells aims to provide patients with an on-demand dental screening in minutes, without ever having to set foot in a dentist's office.
"We realized you don't need to bring in a full dentist at a thousand dollars a day just to examine someone's mouth," says Feng, the CEO of Kells and an engineer who has worked for companies like Amazon and Google. "We can bring a dental hygienist to someone's workspace and conduct a 'first-look' screening in under five minutes," says Feng.
When you have a tech business, you can't afford any technical interruptions. WeWork understands basic services have to be delivered.

Kevin Duffy, cofounder and COO of Kells
Kells's business model involves a dental hygienist who uses a hand-held X-ray scanner around the size of a large camera. The hygienist visits the patient's office, clinic, university campus, or other site and can take scans in just a few minutes. One hygienist with one scanner can conduct around 50 screenings in a single day. Kells's AI software analyzes the scans and produces a standardized report—the "Kells Report"—that can be provided to an actual dentist for further analysis and care. A link to the report is then delivered to the patient via email.
"Just like a credit card report, our customers will have all the information they need to understand their health status," Feng says. "We have 100 million people in the United States not going to the dentist annually. Cost, inconvenience, lack of insurance, lack of trust, all of those are huge problems."

The platform is still in its pilot stages. Kells conducted the first pilot at its own office in WeWork Gotham Center in New York, where it provided dental screenings for 20 people. It will be a few months before a full-scale launch, but Feng says the company is already coordinating with businesses, hospitals, and public clinics to conduct its first commercial screenings. Kells is initially focusing on New York, but Feng and Duffy expect to expand rapidly. The business model is light and efficient; it requires no shops or brick-and-mortar warehouses, only a team of hygienists.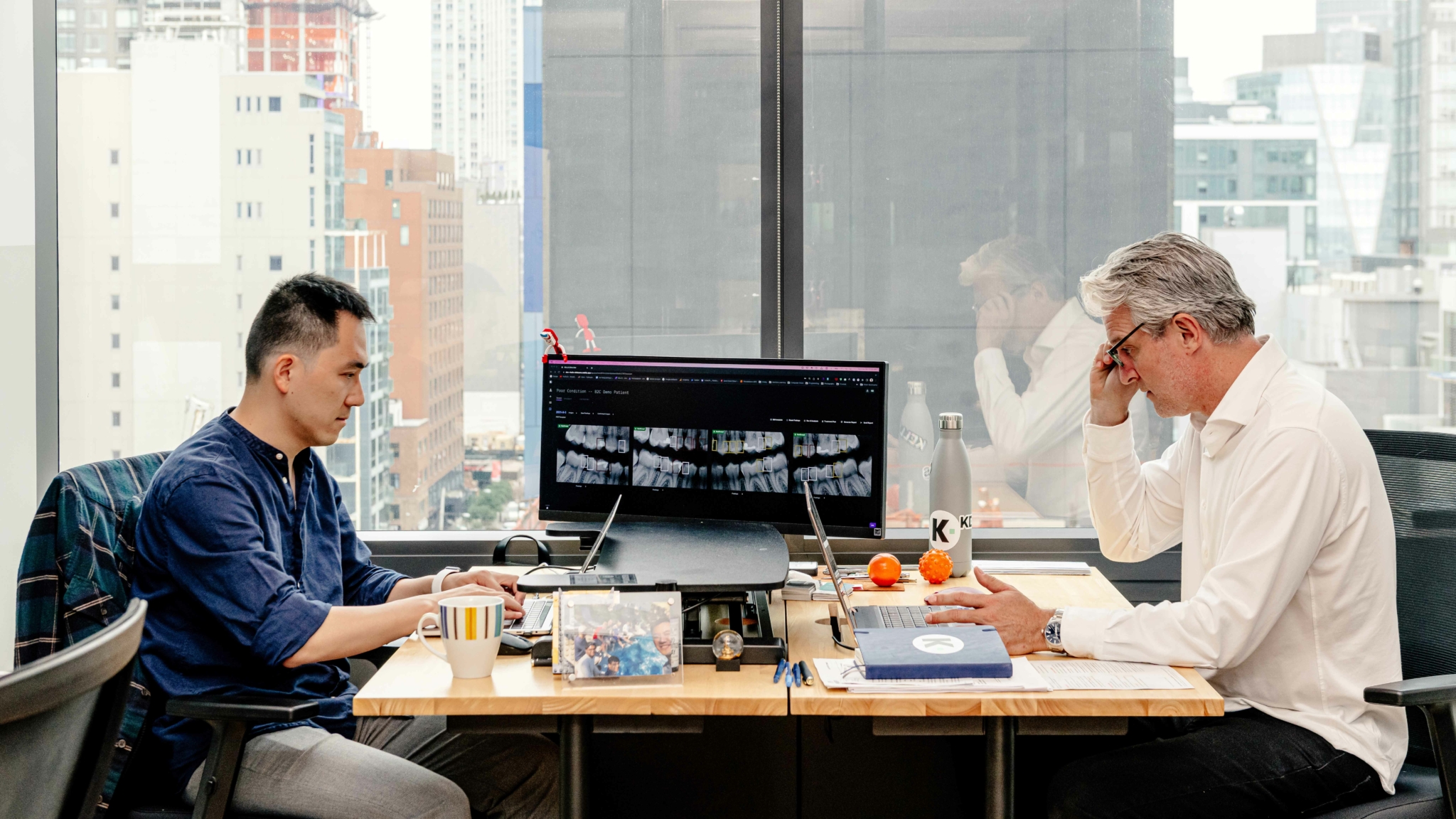 Duffy, the COO of Kells, met Feng through a mutual friend; both are Columbia University alumni. He says the U.S. is rife with "dental deserts," i.e., places where brick-and-mortar dentists' offices are few and far between. A dental desert could be a low-income urban housing unit or a small town far upstate. A tool like this could serve several of these communities. He says Kells has been in talks with public health agencies and insurance companies seeking services for their patients and clients.
It might seem counterintuitive for an insurance company to voluntarily pay for on-demand dental care for their customers. But Feng says the screenings could save a lot of money in the long term. Studies have linked seemingly mundane mouth maladies like periodontitis and gingivitis to serious illnesses like diabetes and heart disease. "We want to improve access so we can prompt people to take action early, before bigger problems arise," he says.
A minimal operation using a nationwide network of workspaces
Kells currently has 10 employees across the country, including administrators and software engineers. Most work in New York, but a few are based in Dubai and Poland. Thus, Feng and Duffy say WeWork's flexible, bespoke workspace solutions are perfect for a lean and efficient startup.
They currently use a single office with six member seats in the WeWork Gotham Center in New York. From there, Feng and Duffy meet and coordinate with prospective clients, both in-person and remotely, and their software engineers perfect the platform from their computers. Kells uses X-ray scanners that are already on the market and currently contracts with independent dental hygienists.

"The operation is a lot more minimal than you might think," says Duffy.

They require no warehousing, no large workshops, no garages full of medical vans. It is an extremely low-overhead structure, and even as it expands, Feng says WeWork's bespoke workspace solutions and locations throughout the country will be perfect for their company, which runs on flexibility and efficiency.
Just as mundane daily hygiene is the most important part of dental health, for Duffy, the most important features of the workspace are what most people might not even notice: things like basic maintenance, cleanliness, and electronics that always function.

"The mayor of New York once said, 'To run a city, you have to keep it safe and make sure the garbage is picked up,'" Duffy says. "When you have a tech business, you can't afford any technical interruptions. WeWork understands basic services have to be delivered."

And the camaraderie with other entrepreneurs and companies in adjacent industries is an added bonus.
"You feel like you're a part of a community rather than these honeycomb cells," says Feng. "We even have a toothpaste company on our floor. We started talking, and now we're looking at working together."
Jared Downing is a writer, journalist, and podcast producer based in New York City.
Rethinking your workspace?