Tucked inside a conference room at Chicago's WeWork 515 N State, around a table littered with laptops, snacks, and Post-Its, two dozen teenage girls were getting ready to present their final coding presentations.
Just two weeks earlier, the majority of the teens knew nothing about coding; the ability to make a website or build an app was intangible. But now, nearing the end of their experience at supermodel Karlie Kloss's nonprofit camp, Kode With Klossy, the girls were jittery in anticipation of demonstrating their new skills.
Kode With Klossy, which launched in 2015, teaches young women ages 13 to 18 to code in two-week sessions. For the second year, the nonprofit partnered with WeWork to host these confidence-building classes throughout the country.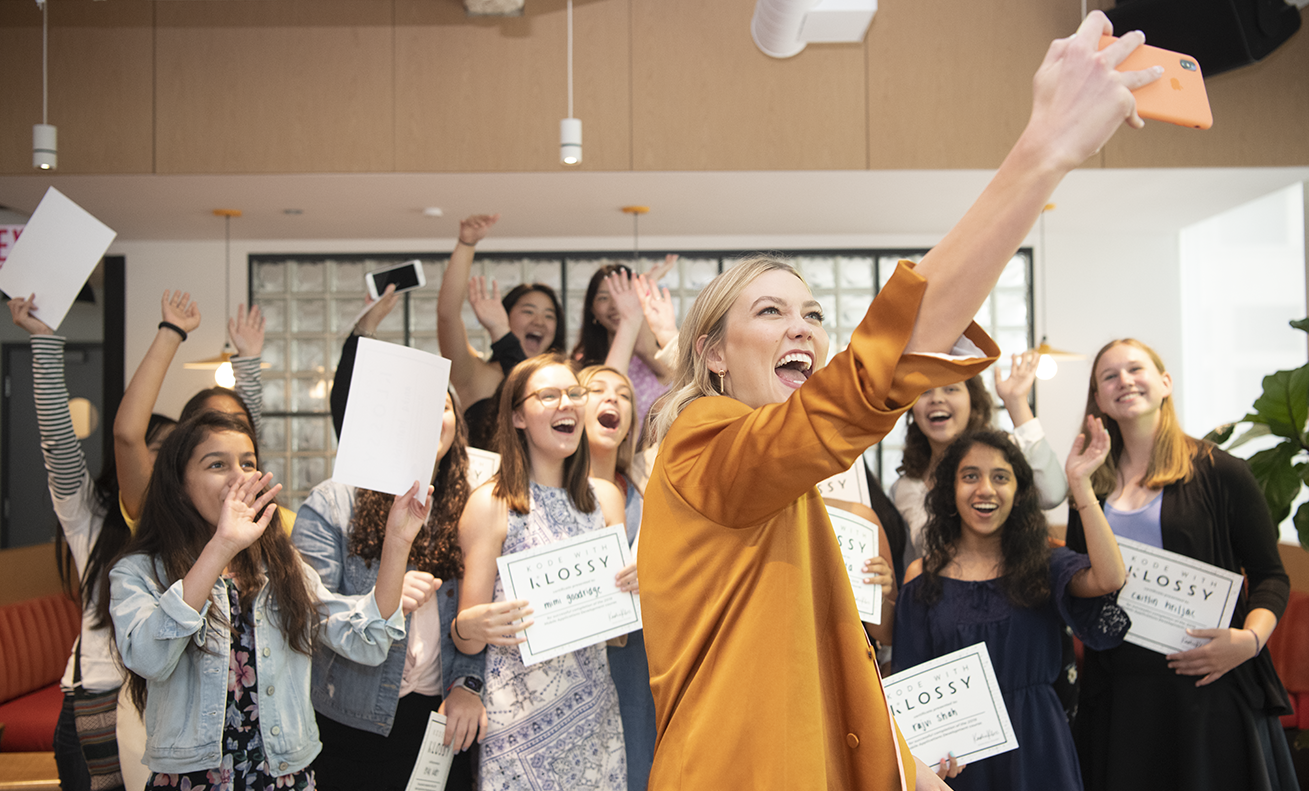 The goal is to get more women into the coding space, said Zoë Dumas, 21, a rising junior at Covenant College and assistant teacher at Kode With Klossy. Dumas was a scholar (aka a camper) in 2016. "There's been a lot of exclusion, and women are not pointed toward science and math," she says. "It's so important to bridge this gender gap, and we are going to push our way in."
The teens, who developed platforms ranging from a politics website aimed at younger voters to an app that encourages users to eat healthful meals, were clearly doing their part. They were helped along the way by Kloss, who surprised them with a visit at the program's end.
"I can be anything I want to be," said Kloss, urging her audience to think the same way. Kloss, who says she had an affinity for science and math long before she started modeling, took her first coding class in 2014 at the Flatiron School in New York City. "It opened my eyes to the power of code and all the ways this very technical language can be used in very creative ways," she said, noting that her class was mostly male. Kode With Klossy was born from both the gender disparity in the classroom and the fact that women could be just as stimulated by—and talented in—computer science as any man could.
Back in Chicago, Kloss explained to the somewhat-starstruck group that coding may seem intimidating, a skill only for the uber-intellectual—but that the women in the room shouldn't let this false narrative limit them. Research shows that women are just as capable (if not more capable, in some cases) of coding work, yet men outnumber women 4 to 1 in computing jobs. Part of Kode With Klossy's mission is to build confidence in young women and end the gender bias in tech.
"Create, and be the change in the world that we want to see," Kloss encouraged the girls. "You are the next generation of changemakers; make the world a better place."
At a camp timed later in the season, hosted at WeWork 199 Water Street in Manhattan, Kloss stopped by again to play memory games with a new group of scholars. "You guys are already off to a really great start," she told the teens during their first week of camp, noting that they'd be learning Javascript and more backend work in their second week. After crouching down for a group selfie, the 6'2″ model shared a few laughs (and a few more selfie ops) before heading out.
"I'm so proud of you," she told the girls as she left.
With reporting by Danielle Braff.