WeWork's community team members are the soul of the We community. Heart of We highlights how their hard work and passion improves the daily lives of WeWork members across the globe.
Eugene Clowney wants every WeWork member to feel as at home as possible. "You think about how much time people spend in the office… they're probably here more than they are with their families," he says. "This becomes their second home." The problem Clowney challenges himself to solve is, as he puts it: How do we create a vibe so there's never a headache within the space?
The solution, it seems, is to bring the spirit of what he considers home into the office. Born and raised in West Harlem in New York City, Clowney's upbringing in the "urban city, the hood, whatever anyone wants to call it," informs everything he does. In 2017, Clowney began his WeWork career at Harlem's WeWork 8 W 126th Street as a community associate, where he supported black entrepreneurs and witnessed their success in the process.
"To be a part of something that can be a resource to people of color in that neighborhood… it was such a magical time," he says of his time there. "Being part of something that could be an incubator to all of the creativity in Harlem and being part of the team that helped bring creatives together was extremely special. I don't have words to explain how it feels to help push positivity and growth in a neighborhood that I've seen change since the '90s and early 2000s," Clowney says.
Growing up in Harlem could be "real bleak," according to Clowney. "I never thought, coming from where I come from… you don't really know where you want to go, and the disadvantage is always there." Seeing firsthand how businesses can thrive within WeWorks spaces—especially the one in Harlem—has made Clowney want to make the WeWork platform accessible to everyone.
"Bringing more people that look like me, who may have never seen this kind of space, who may have not understood or who may not have felt like they fit in" is Clowney's motivation for getting up in the morning. "Everyone should be a part of this," he says. "No matter what you look like, no matter what you represent. From being a person of color to representing the LGBTQ community, every person deserves to use this platform for their growth."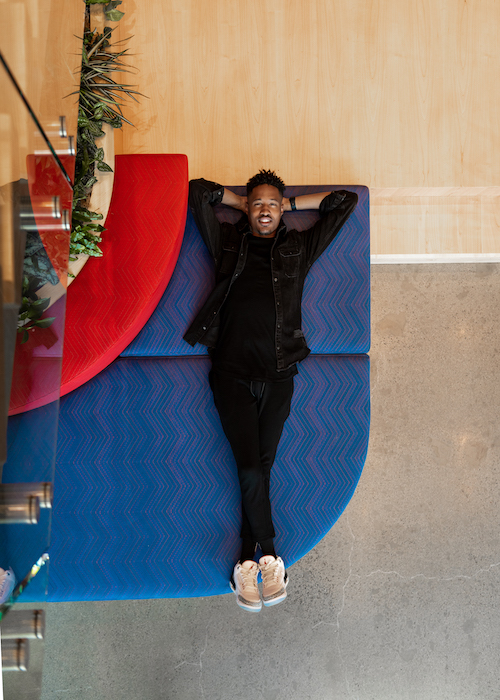 A few years into his gig in New York, Clowney left to serve as a community lead at the WeWork 31 St. James Ave in Boston, bringing a piece of Harlem with him to the next chapter of his life in New England. Clowney knew he wanted to make Black History Month a full-blown celebration throughout the Boston buildings. "Black History Month is really huge where I come from—we celebrate." In February 2019, Clowney and his team hosted more than 15 events throughout Boston's nine WeWork locations, including a vendor market that featured products from Boston's black-owned businesses.
Beyond the robust calendar he created for Black History Month, Clowney produced the inaugural WeWork Basketball Tournament last November, which included 64 players from all nine of Boston's WeWork buildings—and plenty of fans. The event raised money for Volo City Kids, a nonprofit that creates free youth sports programs.
"I was a huge after-school sports kid and went to all the summer programs, so I understand how fortunate I was and how healthy those programs can be for the mental growth for young people," says Clowney. "And, on the other end, [it was] creating an unmatched member experience by getting our massive companies out of their offices and out of our WeWork locations to another place where they can connect, socialize, network, have fun, and shoot hoops." Clowney is running Boston's second WeWork Basketball Tournament this month.
Through all his work in Boston's WeWork community, Clowney has found a second home. But, he says, he'll never forget where he came from. "That Harlem building is really part of my heart—it's probably the first place I visit when I go back home [to New York]," he says. "That building is where I come from."
Interested in joining the WeWork community? Visit our community jobs page.