Have you ever wondered why schoolchildren are allotted a particular chunk of each day to run and play outside? It turns out a trip across the monkey bars or a spirited game of four square can successfully boost kids' concentration, creativity, and contentment.
Is it possible to replicate this result in real life, when most of us spend our days sitting at desks or in conference rooms? That's just one of the things that Lindsay Baker thinks about every day.
Baker, the newly announced head of sustainability and wellbeing at WeWork, is passionate about how humans relate to their environments, especially at work.
Baker has spent the majority of her 16-year career at the cutting edge of sustainable building. She was an early member of the team that built the LEED green building rating system, now in use around the world.
This May, she joined the ranks at WeWork as head of sustainability and wellbeing, a newly carved-out title within the organization.
WeWork's "heart has always been in the right place when it comes to sustainability and health," Baker says, noting that co-founders Adam Neumann and Miguel McKelvey hit upon the idea of WeWork after starting an earth-friendly coworking company Green Desk.
The technologist's professional journey has taken her to where she "can have a large-scale impact."
"This company, more than any other I know, first and foremost needs to make great environments for people," Baker says. "It's our business. So my team is building the feedback loops and systems to ensure that our spaces are healthy and productive for all our members."
She is organizing her team's work into three buckets – energy impact, materials lifecycle impact, and human health impact.
"We will be driving down WeWork's energy consumption through design and operational changes [and] looking into carbon footprint reduction via renewables purchasing," Baker says, adding that materials will be sustainably sourced and a series of checks and balances will be put into effect to ensure ethical labor practices.
Baker says the effort will involve the entire company.
"We could never get to our sustainability goals and vision if we were doing it within the confines of the sustainability team alone," Baker says. "It's very much an all-hands-on-deck attitude. Everyone has something to contribute."
'Buildings impact people'
Armed with a master's degree and pursuing a PhD from the University of California Berkeley, Baker's curiosity stemmed from the recognition that buildings failed to provide flexible, sensitive solutions to accommodate the people inside.
"I got really into the ways buildings impact people," she recalls, completing her academic research inside public school settings, where she observed how the physical space impacted kids' ability to learn.
"We need an active feedback loop for designers," Baker says. "Buildings have fundamental impacts on health. But how do we make people healthier and happier?"
One of the ideas that inspires Baker is biophilia, the idea that natural environments have health benefits that we can design into indoor environments.
"I don't want to be reductive about the concept," Baker says, explaining the addition of natural elements in indoor settings isn't as simple as "putting plants in the office and calling it a day. It's about thinking about what it feels like to walk through a forest—breezes, sounds, light, smell, patterns—and bringing those indoors in creative ways."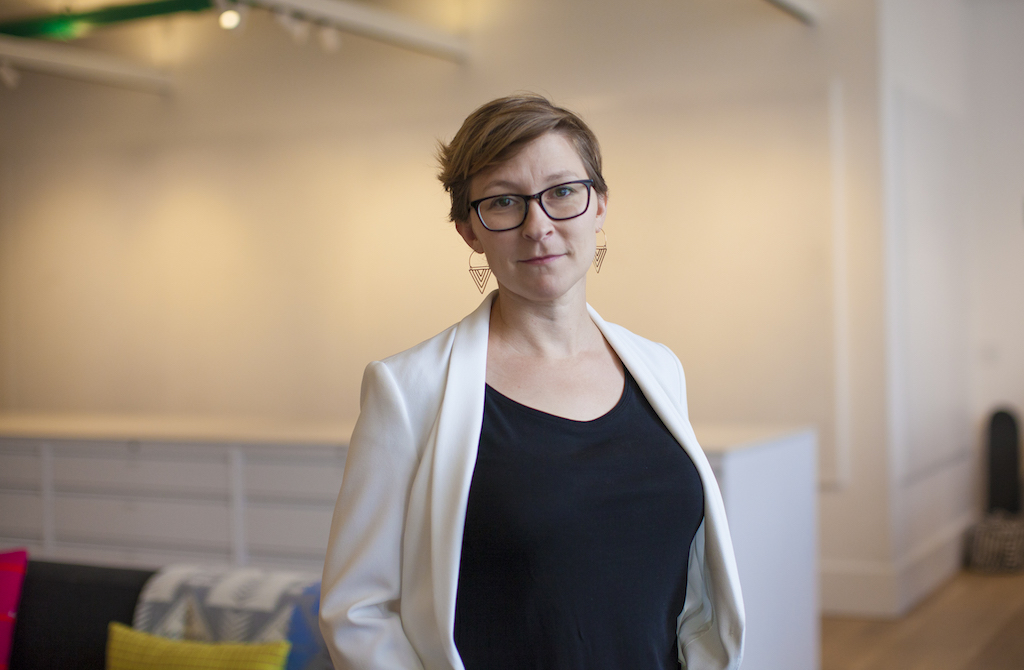 Before she joined WeWork, Baker served as president of Comfy, an Oakland-based software firm. The company—recently acquired by Siemens—allows workers to control more of their workplace environment, including temperature, lighting, and meeting space.
Nearly three years ago, WeWork became a client of Comfy's, and the rest, as they say, is history.
Asked about whether people or the planet take precedence in her work, Baker says:"You can't optimize a system without first understanding the people who it serves, so we put together interventions to improve global health, but ones that are very people-centric."
As an example, she wants to think carefully about recycling stations at WeWork.
"Our stance is, design realistically," she says. "Most people aren't going to spend time deciding where to throw a piece of trash––it just has to be natural. We have to approach people where they're at and find what works for them."
At the top of her to-do list is creating WeWork's sustainability program to redefine the model towards much higher impact..
"A lot of programs are heavy on compliance checklists," she says. "I get it. But most of us got into the world of sustainability because we wanted to solve big global problems, and we aren't getting there yet. We need companies to be moving much faster than they're already moving."
Photos by Frank Mullaney