In her classes at Mexico's Tecnológico de Monterrey, Dulce Jimenez was told that she had to behave in a certain way and dress in a certain style if she wanted to be taken seriously in the workplace. But all that changed when she began her internship at WeWork Mexico City.
"They don't judge you or try to confine you to certain standards," says Jimenez, 23. "Now I can be authentic. I used to think that you had to have two lives, keeping your life at home separate from work. I don't feel that anymore. You can bring your life to work."
Jimenez is one of 150 students who participated in WeWork's summer internship program. WeWork received thousands of applicants, narrowing down the field after a series of video interviews.
The eight-week paid program was the first offered by the company on a global scale. Interns worked one on one with staffers in New York, San Francisco, London, Shanghai, and Mexico City. According to Olivia Sinclair, campus recruiting lead, interns were placed in departments ranging from interior design to software engineering.
"Our main goal is to give interns a full picture of what it's like to work at WeWork in a full-time capacity," says Sinclair.
Jimenez interned with WeWork's people team, where she followed up with new hires and helped them with administrative tasks. She was surprised not only by the immediate responsibility she was given, but also by the respect that came with it.
"They treated us as employees, not interns," Jimenez says. "I thought I would be bringing someone coffee, but I received several tasks during my first day. The team put confidence in me and empowered me to do this work, which is a confidence that I will have for good."
After her experience this summer, Jimenez says she's decided to pursue a job in human resources after she graduates.
"I'll be happy no matter what because I now really understand the importance of this area for the whole company," she says. "And I want to be part of it."
Emma Ding had a similar experience interning on the enterprise sales team in Shanghai. She applied for the internship mostly out of curiosity about the company and its presence in Shanghai.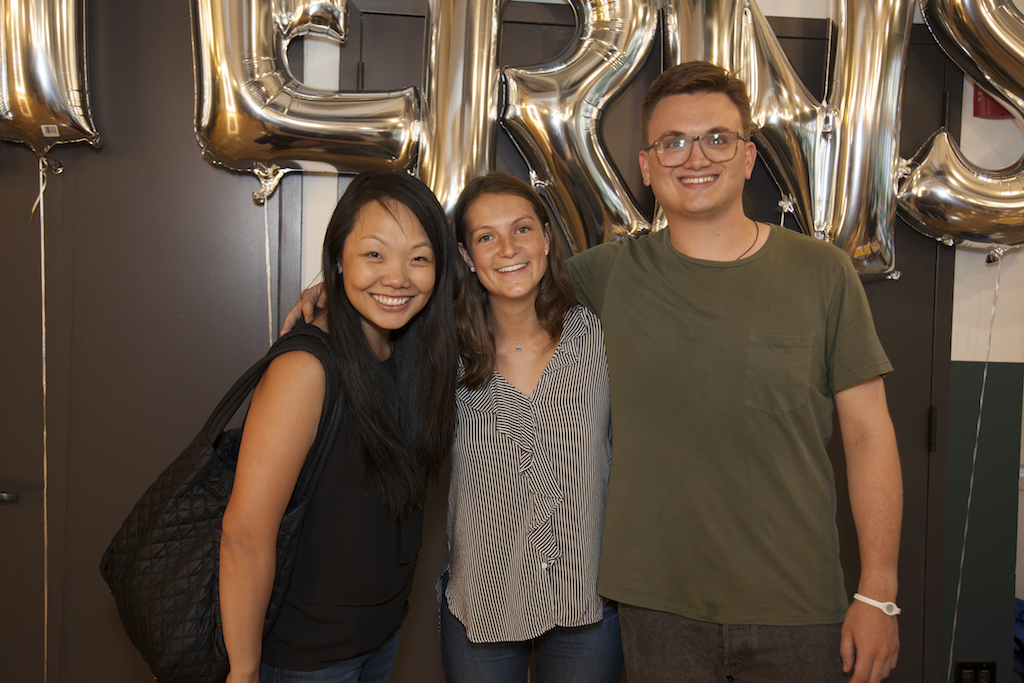 "I major in finance and economics at school, so I haven't touched anything like a sales position before," says Ding. "But after this summer, I feel that I have grown a passion for the job."
She spent her summer researching some of the world's largest companies. She says the freedom she was given in doing the research allowed her to be creative.
"There's no direct place to look, so maybe you can find it on the company's official website, or on their LinkedIn, or on their hiring posts on other websites to see if they're planning on entering a certain city," says Ding, 20. "It's up to you to find your answer, and exploring the many ways to do so was really exciting."
Hitting the ground running
With the intern program spanning only eight weeks, Olivia Bashiri worried that she wouldn't learn as much as she had at longer internships. But she hit the ground running, coordinating and scheduling candidates for recruiters on the people team during her first week at WeWork's London HQ.
"The pace with which WeWork operates was a steep learning curve, but now it's my norm," says Bashiri, a 21-year-old student at Aston University in Birmingham, England. "I like working this way; time really flies by. There's nothing worse than sitting at your desk and wondering when it's time to go home. Now, people have to tell me that it's six o'clock, and time to leave."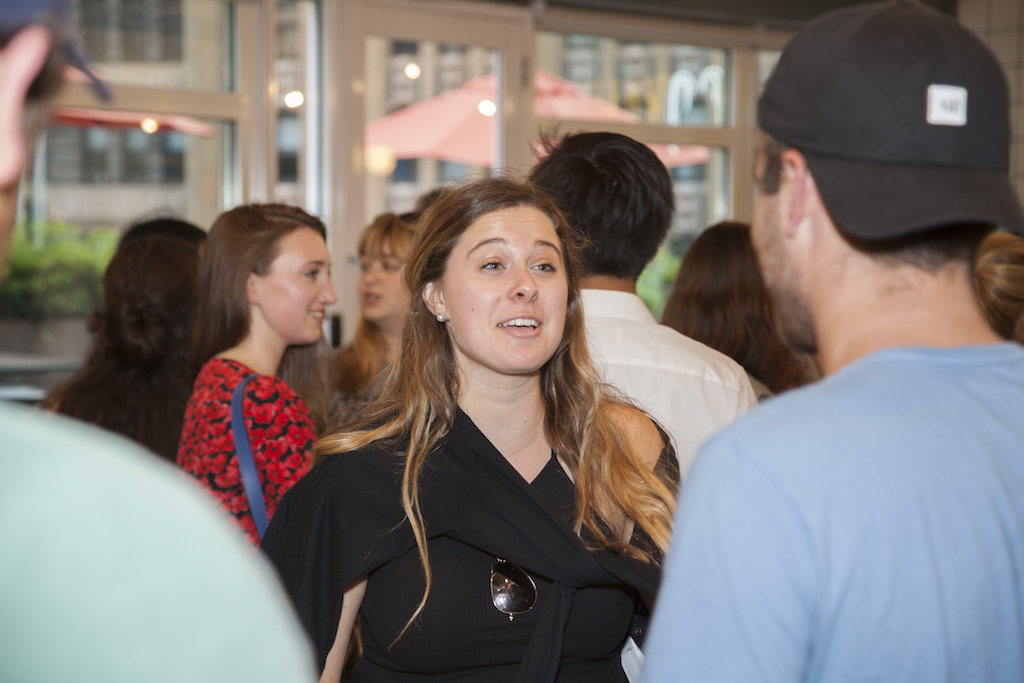 In addition to those in London, Bashiri worked with job candidates in WeWork locations all over the region. This gave her a look at how WeWork operates at an international level.
"Recruiters here are recruiting candidates from Germany and Israel, which has given me an understanding of different cultures and how people work there in contrast to here," she says.
WeWork London intern Sebastian Hervas-Jones says that, before his internship, he'd heard of the concept of a changing workplace—of the idea that people wanted more out of their profession than just money.
"But before this summer, that seemed like just an ideal. WeWork has really solidified and normalized that as a baseline," says Hervas-Jones, a 19-year-old student at Scotland's University of St Andrews. "Now it's like, if I'm not working in an office with this level of connection, what am I doing?"
Hervas-Jones says that as an intern on the community team—responsible for running each WeWork building—he was tasked with interacting with as many members as possible.
"I've gained the ability to strike up conversation with anyone and everyone on a meaningful level," he says. "I find that to be true anywhere, like if I'm sitting in public transportation next to someone. That's not something I would have done before."
Exploring career paths
Aziza Rishmawi, an intern at WeWork in San Francisco, spent her summer doing competitive analysis for new markets that the company is entering. She says that while she expected her work to be limited to the growth operations team, she found the opposite to be true.
"One of the best parts about this internship has been the ability to explore so many other career paths," says Rishmawi, 20. "We got to hear from people on other teams and learn about their different functions, even if those things weren't necessarily our focus."
A student at the University of California Berkeley, Rishmawi says that this made her more excited to join the workplace after college.
"I was surprised simultaneously by how fast WeWork is growing but that, considering how big it is, employees still have a lot of mobility and freedom to take on new tasks," she says. "It makes me feel inspired about where my career can go."
Bashiri found the WeWork environment to be much more fun than she expected, especially in comparison to the recruiting positions she has held in the past.
"You hear about WeWork being a social company and community where everyone interacts—you kind of think that every company must say that," Bashiri says. "But there is no quiet moment in our office. I'm laughing most of the time, because I sit next to a really funny recruiter."
Claire Keener, an intern on the interior design team in New York City, says that events like the monthly all-company meetings were unique ways to see WeWork come together as a community.
"I could see how focused the company is on its values and how they try to implement those everywhere that they can," says Keener, age 24, who's pursuing her master's degree from Pratt.
Interacting with executives
One unique aspect of the program is access to top executives, including co-founders Adam Neumann and Miguel McKelvey.
"In the last few days, we've had both Adam and Miguel in London and we got to meet them," says Hervas-Jones. "They're these huge executives, but they're also normal people who are trying to connect people to make them a little happier."
Over the course of the summer, interns also worked together in groups to tackle questions facing WeWork's leadership team right now, from which new amenities should be offered to how events and social platforms can be used to spread awareness about the company. Finalists had the opportunity to present before McKelvey.
"There's not a lot of companies who would allow interns to share their ideas with someone so senior," says Denys Woolley, a 22-year-old student at the University of Leeds whose group made it into the final round of presentations.
Woolley interned in London this summer, working on the energy team within the operations department. He says that he was surprised to learn how much work it takes to keep WeWork buildings running smoothly.
"In each building, there are tons of different variables that have to be tracked, from the types of taps we use to the amount of heating that's required," he says, adding that despite the workload, the atmosphere was laid back. "The biggest priority was being part of the team."
Ding says that before her internship, she thought of WeWork as a traditional coworking space, but that the vigorous and lively atmosphere has made her realize it's about something more.
"I had a very vague idea about WeWork's business model, but when I got here I realized it's more about building relationships and an environment that makes work part of your life," she says. "I'm much more excited about the idea of work because of the people that I've met here."
Photos by Frank Mullaney