LaQuinza Montgomery was terrified. WeWork cofounder Adam Neumann was taking one final question from the audience, and she felt her heart pounding in her chest as she rose to her feet.
Neumann looked at her expectantly. The crowd turned toward her as she began to speak.
Her question: What's the plan for helping her and other members of the cleaning staff move up the company?
Neumann, speaking at WeWork's Global Summit 2018, asked what position she was hoping for. Part of the front desk staff, she replied. After giving her a bear hug, Neumann told her she was getting a promotion on the spot. The hundreds of colleague surrounding her burst into applause. Some cheered, while others wiped away tears.
But Montgomery, who says the experience gave her an "overwhelming joyful feeling," wanted to make sure others would benefit as well. And since that moment she's continued to work to make sure her fellow Community Service Associates, or CSAs, can advance in the company.
"When CSAs come onboard at WeWork, they're told they have the opportunity to move up," says Montgomery. "But since I've been here, I've noticed that it's difficult to move up."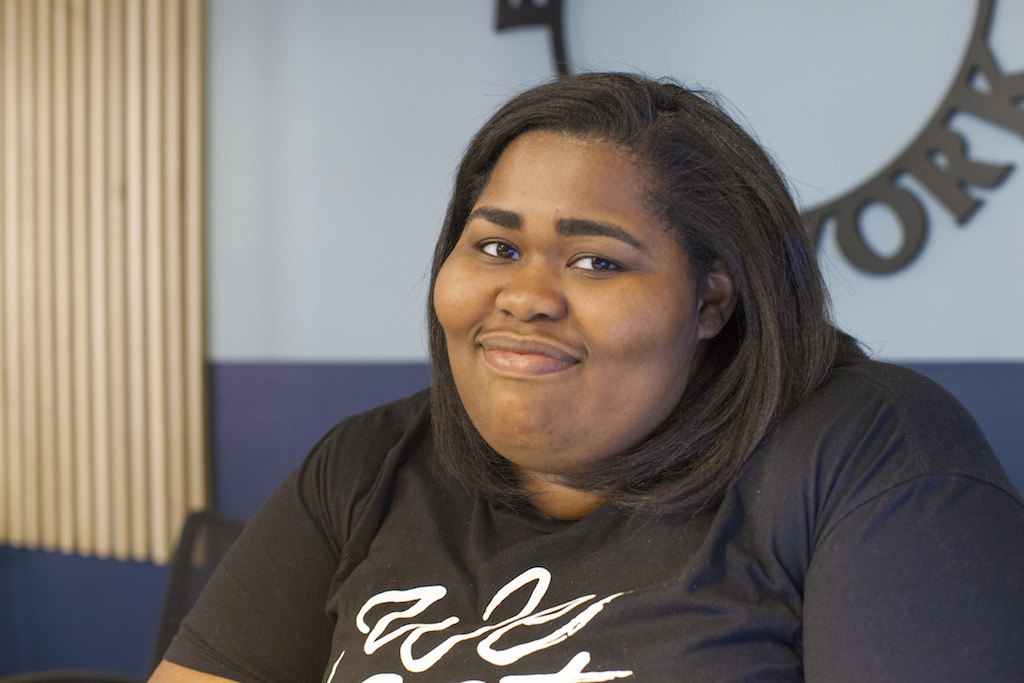 The staffers at WeWork 575 5th Avenue has a lot of plans, including bringing CSAs from various buildings together once a month to talk about opportunities that are coming their way. She'd make sure the meetings were accessible to staffers working both day and night shifts so that nobody was left out.
She also envisions frequent low-key Meetups so that CSAs can get to know each other. Right now those working in one building might not even be acquainted with those at another building down the street.
And most of all, she wants WeWork to know the wealth of knowledge and experience that CSAs already possess.
"I've met a lot of smart people in WeWork," she says. "They would like to work in IT, design, or different departments. The company should take advantage of the talent that we have."
Take Montgomery, for instance. She has an associate's degree in business administration, and has taken classes towards earning her bachelor's degree. She's thrilled to use the skills she learned in college in her new job.
The Brooklyn native was working at Sweetgreen when a friend told her that she had been hired at WeWork. She visited her friend at work a few times and was excited by what she saw.
"I was impressed by how the company was out to change the way of working," she said.
About two years ago she started at WeWork. The team at WeWork 575 5th Avenue has been pleased by how much she seems to care about the members.
"She goes out of her way to make people feel welcome," says Community Manager Rachelle Borja. "She really makes an effort to get to know all of the members and their needs."
This week Montgomery is off to a new job at the front desk and a new building: WeWork Penn Station. She's already talked with her new team, and is looking forward to learning from them.
"I feel so lucky," she says. "WeWork has given me an opportunity to work with such wonderful people."