Isis Miller knew something was wrong when she saw that Fremont High School teacher Jasmene Miranda's normally joyous demeanor had disappeared.
As a member of the community team at WeWork's HQ at Salesforce Tower in San Francisco, Miller has spent six months spearheading a partnership with the school, including a supply drive and a program for WeWork employees to mentor the technology- and design-focused student body.
It was the second day Miller had helped out in Miranda's media studies classroom and, unlike the previous day, she repeatedly checked her phone and looked worried. After class, Miller waited for the students to file out before asking what was wrong. Miranda confided in her that two students, siblings Robert and Saundra Buyard, were about to become homeless. After stringing together nights in their car and on the floor of an aunt's apartment, they were running out of options. Unfortunately, they weren't her first students in this situation: According to news reports, around 900 students in the Oakland Unified School District are homeless.
Miller had planned to give students pointers on their websites and LinkedIn profiles, but she couldn't get past the monumental challenge these two students were facing. "I just didn't know what to do," says Miller, who lives in Oakland. "It was still on my heart."
She decided to start a GoFundMe—at the very least, she thought, a couple thousand dollars could buy some food and new clothing to ease the burden. But when she hit launch on the campaign on Dec. 13, she had no idea just what it would amount to.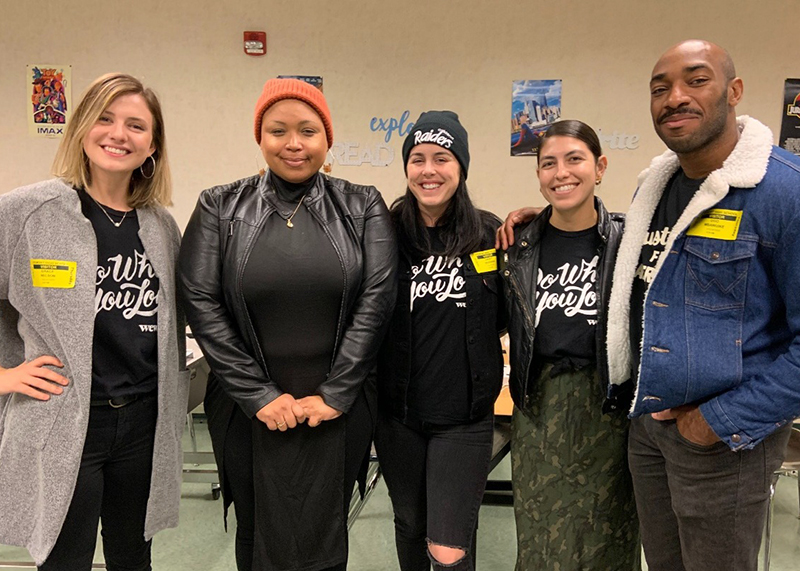 WeWork members and employees were quick to help with donations and publicity for the fundraiser, she says, particularly We of Color, the group for WeWork employees of color that Miller leads in Northern California. "When we say that we're community-minded, we prove it, and that should remain at the core of who we are," she says.
It wasn't long before the donations and publicity caught the eye of local news.
"I'm trying to stay positive, [but] sometimes it gets to me and I just kind of break down a little bit," said Robert Buyard, now a sophomore, on the news segment that aired four days later.
"From going from friend's houses to motels to cars, that's the worst feeling any mother wants to put on their kid," their mother, Margie Rollerson, said.
Through it all, both students have stayed on the honor roll and are planning to perform in the school's upcoming musical.
"It was so wonderful and brave of them to share their story," says Miller. "They spoke on behalf of so many kids in Oakland who are going through the same thing."
Miller wasn't the only one who thought so: Donations started pouring in as soon as the news report ran. The following day, WeWork's executive chair Marcelo Claure announced that he would match all donations over the next 24 hours. With his match, the family received $39,661 in donations over the holidays.
The money meant that they could afford the cost of first and last month's rent on a new apartment, and for the first time in a long time, they know where they're going to sleep at night. They've even shared some of the funds with another area family facing the same problem.
"Everybody that has reached into their heart and is helping, I appreciate you from the bottom of my heart, I thank you from the bottom of my heart," Rollerson said in the same news report.
For Miller, the experience has also been transformative. She's planning to spend 2020 starting a nonprofit to help students facing housing insecurity in the Bay Area.
"It was an amazing reminder that we're more than capable of changing someone's life," she says. "I forgot that was something that we could do."