The first time the teams at WeWork and Flatiron School got together, the one thing on everybody's mind was love.
That was in April, when WeWork cofounder Adam Neumann brought a few dozen people to the school's campus in Lower Manhattan to experience firsthand how it teaches its students to code. It seemed clear that this might be the first step to a partnership.
"Adam had told us he wanted me to teach a class, and that it had to be about love," said Flatiron School cofounder Avi Flombaum. "I said to the rest of our team, 'He's joking, right?' They were like, 'No, and this has to be the best lecture you've ever given in your life.'"
So for a little over a half hour, Flombaum talked about how he believes that "love is a teachable thing." What really seemed to catch everyone's attention was when he riffed on WeWork's belief that everyone should "do what you love."
"What I think your goal in life should be is actually to learn how to love a lot of things," he told the crowd. "The more you can learn to love, the more you can actually do. That's why I think what we've done really well is teach people how to love things."
Chatting with Neumann afterward, Flombaum's cofounder Adam Enbar mentioned that as much as they wanted to partner with WeWork, they were also meeting with other potential investors.
"'Don't talk to anybody else,'" Enbar remembers Neumann saying as he stepped into the elevator. "As door was closing, he said, 'You love us and we love you. And when you love someone, you don't talk to other people.'"
Fast forward to October 23, when WeWork announced that it had acquired Flatiron School. Neumann said that Enbar and Flombaum had "worked to create a new educational model that is accessible, transformative, and delivers fulfilling careers in today's tech-oriented world."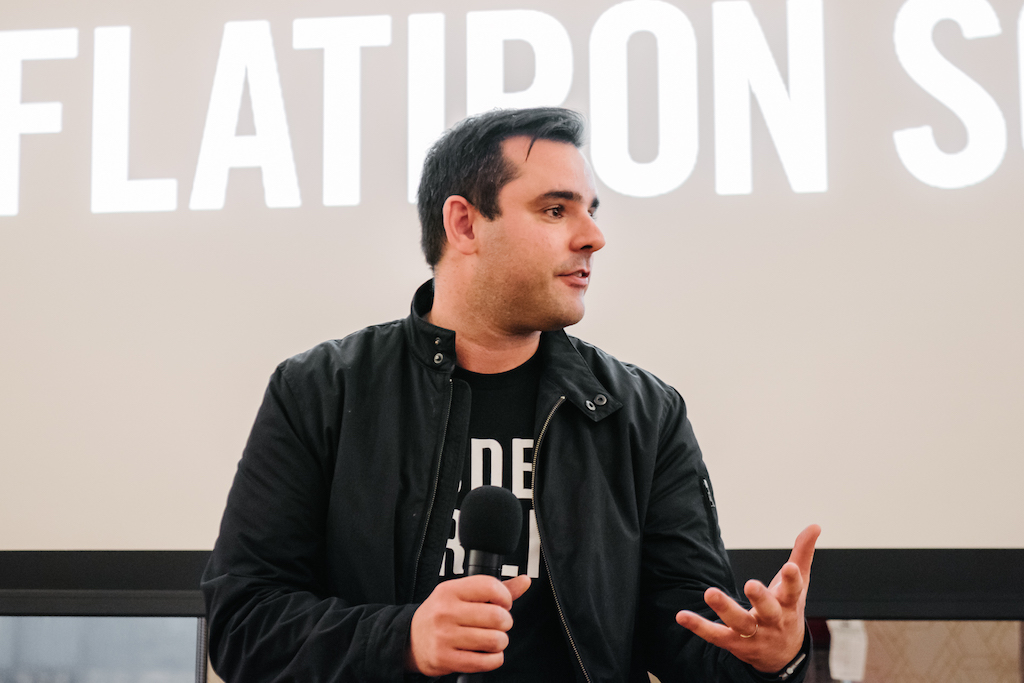 The move will mean big changes for Flatiron School, which up until now has not expand past its main location directly in front of the iconic Charging Bull statue not far from Wall Street.
"Up until now we've been very good about not sacrificing quality, not doing things until we're ready," said Enbar. "Now we're ready."
Enbar expects his team of about 64 educators, engineers, and innovators are excited to begin offering in-person classes out of WeWork locations and online courses to WeWork's membership of more than 150,000 people.
The school's online portal, called Learn, makes it easy for students to connect either online or in person. Enbar says he foresees it being a way for WeWork employees and members to reach out to others in the same program.
"I can imagine a student walking into a WeWork in Los Angeles," said Enbar. "When they open up their computer, they're notified that three other students in the building studying the same thing. They can create a study group right there on the spot."
'Technology isn't important—people are'
Enbar and Flombaum founded Flatiron School in 2012 after discovering their shared interest in transforming education. A graduate of Cornell University and Harvard Business School, Enbar wondered if the debt students rack up in college is worth it.
"I thought a lot about education, specifically the return on your investment," Enbar said. "The price of higher education has increased faster than anything else in this country. At the same time, average salaries are flat or down, graduation rates are flat or down. No other industry has seen this massive increase in price along with a drastic decrease in outcome."
Flombaum was a kid who had founded his high school's computer club, only to be kicked out for spending too much time there. He dropped out of college at 21 when a hedge fund recruited him to be a programmer. After a few years, he left that job and started teaching people how to code.
"I have a hard time with engineers who are really into coding and forget about the people," he said. "Programming, to me, was never about the technical stuff. Technology isn't important—people are."
Without realizing it, Flombaum was building the model that would eventually become Flatiron School.
"Every time I taught a class, I would take the three best students and have them work with me on contracts I had with these large companies," said Flombaum. "When I gave the work to my clients, I'd say that my student did much of the work and that they should hire them. I knew I was working up to something, but I didn't know what it was yet."
'We had to make it more accessible'
Flatiron School was a completely new model. The 15-week coding bootcamp costs significantly less than a traditional college education, but it provides enough hands-on experience that graduates can snag good-paying jobs in the teach field.
They knew that they had hit when they realized, soon after launching, that the school's acceptance rate was less than 10 percent. But at the same time they didn't want Flatiron School to become an elite institution, open just to those who could afford it. They wanted it to be accessible to everyone.
"We knew that to be really be impactful, we had to make it more accessible," said Enbar. "Education shouldn't just be for those who can afford it. So we partnered with the City of New York to reach out to low-income populations."
They also worked hard to ensure that women—often underrepresented at coding schools—were at least half of the student body. Enbar said that well over half of their employees are women.
Enbar and Flombaum said that they wanted to make a difference in the world, so they partnered with Re:Coded to teach computer skills to Syrian refugees living in refugee camps in Iraq.
"It's an amazing program," said Enbar. "If they can get remote jobs that pay well, they can rebuild their lives wherever they end up."
'Our missions and our values are the same'
Enbar said that WeWork's commitment to giving back—from sending staffers to Houston to help dig out debris after Hurricane Harvey to sponsoring a Halloween party for children in Harlem—is part of what convinced them that a partnership was a great idea.
"If you look at our missions and our values, they're the same as WeWork," said Enbar. "That's part of what got us excited."
Flombaum said that he knew the two companies should join forces that day when Neumann and his team attended his lecture on love.
"Based on their questions afterward, it was clear they understood that this was a different perspective of teaching," Flombaum said. "We were teaching in a manner that really develops that sense of love and connection. And they really got it."
Photos by Katelyn Perry