Adam Wacenske is nursing a sore ankle, which he twisted on the court during a recent basketball game.
Anyone who knows him wouldn't be surprised that Wacenske plays on the basketball team for WeWork, where he works as an expansion lead. An athlete from way back, he played lacrosse during his years at Ithaca College.
Another benefit he got from college: his connection to WeWork. His college roommate snagged a job the company, and from the first time Wacenske saw a WeWork space he wanted to be a part of it.
Now Wacenske has been with WeWork for more than two years, almost half the history of the company. WeWork was much smaller when Wacenske started—he started off in the compact SoHo West space, as opposed to the impressive current HQ at Fulton Center—but he never had a feeling that WeWork would be anything other than a success.
"That's because from the top down, there's always been this mentality that we will grow that large," he says. "From the first day, I knew that this was something that was going to change the world. I don't know about most people, but I could see that natural progression."
What's an expansion lead, anyway? Well, a WeWork building isn't just office space, it's a self-contained ecosystem. And Wacenske's job is to make sure that any WeWork space exudes the energy that members have come to know and love.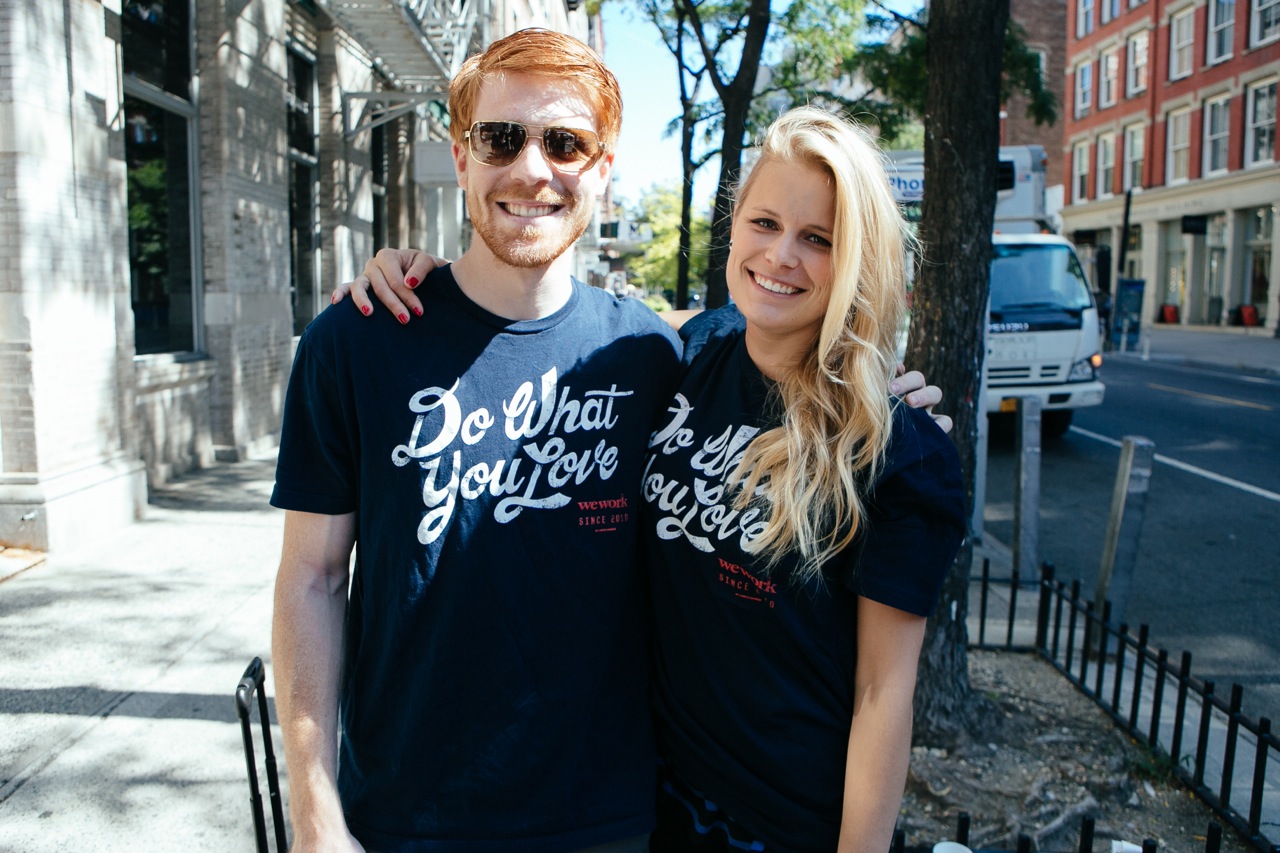 Like many WeWork employees, Wacenske began his career as a community manager. Although very different, both jobs have the same overall goal: fill a building with the right vibe for WeWork.
Wacenske says his time running buildings for WeWork was "really tough," but ultimately "really rewarding."
"It's so rewarding to see that you're actually making a difference in people's lives," he says. "You're introducing them to the person next door or you're fixing their air conditioning so they can work comfortably. Whatever it may be, you actually have an impact and they're actually grateful for it."
As a community manager it was Wacenske's job to foster a sense of community at his buildings, and he found that job magnified tenfold in his new position as expansion lead.
As soon as WeWork launched its first space in London, Wacenske was asked to travel there to make sure the New York style was fully implemented in England.
"I trained the community team over there, helped fill up the building, and made sure that it was WeWork," he says. "I can confidently say it is. And I'm not saying that's because of me."
Wacenske says the secret to this success is the members.
"No matter where you are, WeWork still feels like WeWork," he says. "You still have very like-minded people, it doesn't matter if they're Israeli or in London, they have the same goals as someone in New York and Miami. They all want to connect. I think that WeWork is going to be so successful, because we can make those connections."
Wacenske says that to call his trip an eye-opening experience is an understatement. Having spent his entire life in New York, he was eager to see how other people took advantage of things that make their cities unique. In London, for example, Wacenske bonded with members of the WeWork team over their favorite local restaurants.
But Wacenske's favorite place he's traveled for work has been Israel. The reason? He says it's easy to pick a favorite when "it's 80 degrees and you're swimming in the Mediterranean."
As he was working with the local teams to build their spaces, Wacenske noticed that despite oceans and borders, everyone's experience with work was similar.
"Even though their cultures may be different, they still want the same things," Wacenske says. "That's probably the most rewarding, the most valuable thing I've learned so far."
Photography by Lauren Kallen.