Welcome to Community Corner, a series highlighting the work, passions, and impact of our community teams around the world.
Community manager Carol Piguin has always been comfortable around entrepreneurs—eager to help them reach their full potential. It's something she learned from her dad.

"My father was really poor when he was born, and his family lived on a little farm in Sorocaba, but they didn't own it. It was a precarious situation," says Piguin, 28, who works at Sao Paulo's WeWork Nações Unidas 12901 in Brazil. "He went into programming, learned it on his own, and went to work for IBM. He changed his life."

This story inspired Piguin's own career. "I realized how your environment can change a person's life, and that's how I began in startups," says Piguin, who holds an MBA and was working at a startup that was about to become a WeWork member when she realized she wanted to work for the company directly. "I learned that WeWork wanted to [change people's lives]—and I wanted to be part of that," she says. After successful interviews in 2017, she joined the team.

Around WeWork, Piguin is known for mentoring both WeWork members and her fellow employees. As community manager, she also tries to change cultural perceptions around work and what she believes is a lack of confidence. "There's a belief among people in Brazil that they aren't good enough or aren't going to make it," she says. "That holds people down. I try to take this idea off them and open their minds." By listening to their insecurities and offering advice, she tries to help them personally (which she says can then lead to professional growth).

Piguin also regularly schedules one-on-one conversations with others to help them succeed. She's especially proud of BossaBox, a computer-programming company that started with just four people in December 2017. Fast forward to 2019 and it's grown to a team of 10 people. This year, the company's poised for even more growth.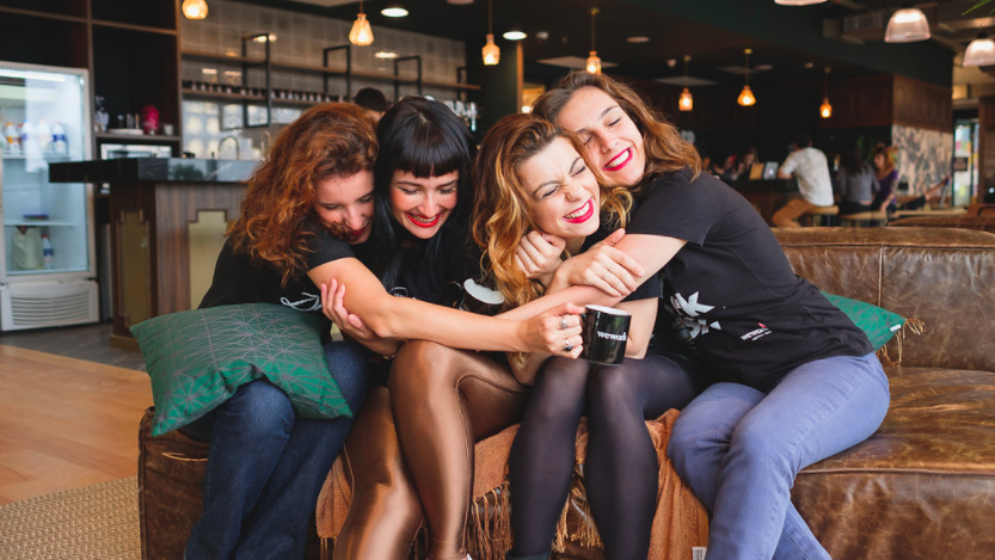 Piguin regularly grabs coffee with BossaBox's founder, Giovani Salvador. They talk about success, problems the company's facing, books, and more. "It's a friendship, really," she says. "It doesn't seem like work."

Those coffee dates led to a greater partnership for BossaBox. "We started to exchange contacts and members to reach out to," says Piguin. "As a community, we always encourage members to search [and use] services within WeWork." Eventually, Talita Passos, one of WeWork's enterprise sales leads, conducted sales mentoring sessions with BossaBox to help it automate its processes.

"BossaBox closed deals with several members in different locations," Piguin says. "Being in a position where I can help big companies engage better with startups and [help] startups engage better with big companies is such an opportunity. It's a blessing, really."

We asked Piguin to share her favorite hobbies outside WeWork, her core values, and more.

Main interests: Nature. "I have ADD, so nature really calms me and puts me in my center," she says. "I like to garden." She began gardening last year and has even made perfumes and soaps from the herbs she's grown on the balcony of her apartment. She has also started a small succulent garden with her fellow WeWork employees.

Favorite place to visit: Bahia, which is about two hours away from São Paulo. "I love Bahia here in Brazil. Great weather, great nature. I go to the beaches, I eat a lot; I love the food there. I don't know every beach there, but I love the nature of Bahia."

Her communities: "I am a member of the LGBT community, and I am bisexual." For Piguin, being authentic about her sexuality at work and the fact that she has a wife has been a powerful experience, especially since she felt the need to hide her real self in previous jobs. "I'm free to be who I am and just do my best work," she says. Along with that community, Piguin says her wife is a huge fan of the Carnival community in Brazil, which sparked her own passion for the annual festival. "I love Carnival and everything that's related," she says.

Her core values: "I believe in equality and justice," says Piguin. "I want to be treated fairly—and for others to have the same opportunities I have." It's not always easy for Piguin, who admits she's "very shy" most of the time. But that quality doesn't stop her. "Every time I see someone who might need help, I feel like it is my duty to brighten their day. I didn't realize my full potential in the past, and I've learned that the only thing holding me back was myself," she explains. "I don't want anyone to fall into the same trap."
This interview has been edited for grammar and length.